Downton Abbey creator Julian Fellowes has hinted that the next series of the hit show could be its last.
The ITV1 drama, telling the story of the aristocratic Crawley family, is set to return to television screens later this year for a fifth series, having made its debut in 2010.
But Lord Fellowes has now said in an interview that the saga will not "go on forever".
He has been commissioned to write a new American drama called The Gilded Age but told The Wall Street Journal that work on the programme would not start until Downton had come to an end.
Lord Fellowes said: "It's for NBC Universal and it will happen when Downton finishes because I just couldn't do both at once.
"I haven't written it yet, but it's about the old aristocracy, the Winthrops and the Stuyvesants and the new money of oil and gas and shipping in the 1870s. It will all be fiction - it won't be real people - but when those families descended on New York, they took over."
The writer, who is also an actor, reassured fans that there would be a fifth series of Downton but referring to a long-running US courtroom drama, added: "I don't know yet if there is a season six, but it's not going to go on forever. It won't be Perry Mason."
Downton Abbey is to go head to head with EastEnders in the Christmas ratings battle.
The ITV period drama, which will be shown at 8.30pm on Christmas Day, will also be up against Mrs Brown's Boys on BBC 1, during the two-hour long episode.
Downton, which is returning to ITV for a fifth series next year, has been sold to more than 220 territories and watched by an estimated 120 million people around the world since its debut in 2010.
Advertisement
Oscar-nominated actor Paul Giamatti will be joining the cast of Downton Abbey for the Christmas Day special.
The American star, who was nominated for the best supporting actor Oscar for his role in boxing drama Cinderella Man, will play Lady Grantham's brother.
Not a lot has been given away about Giamatti's role in the ITV drama, but producers have let slip the Christmas Day episode will revolve around Lady Rose MacClare's (Lily James) entry into London's high society.
Shirley MacLaine returns as Lady Grantham's mother Martha and James Fox joins the cast as aristocrat Lord Aysgarth.
The two-hour episode of the award-winning ITV series, which will be shown at 8.30pm on Christmas Day, picks up the story six months on from the end of series four.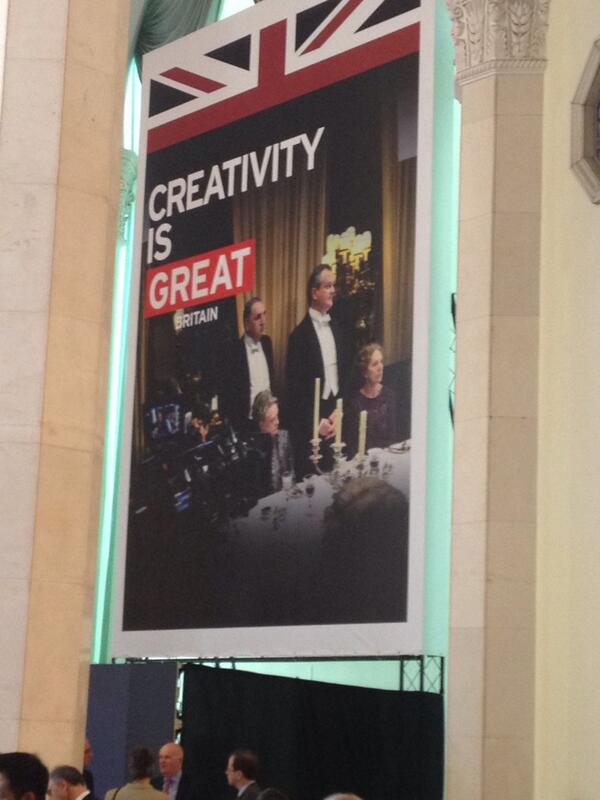 Travellers from long-haul markets such as the USA, Canada, China and Sinapore are increasigly looking to the UK as a possible holiday destination, according to a survey by TripAdvisor.
Internet search traffic for the UK has continued to grow on the site, year-on-year:
USA is the fastest growing market - with searches up 23%
Canada was next - with searches up 21%
UK was next, as the staycation continued - with searches up 20%
Searches from Singapore rose 19%
Searches from China rose 19%
Looking at sheer numbers rather than the rise in growth, UK residents made up the majority of searches for UK destinations on TripAdvisor, with the USA second and Germany third.
Royal baby news and the success of TV shows like Downton Abbey are driving increased interest in the UK from American would-be tourists, according to holiday website TripAdvisor.
The USA topped the list of fastest-growing markets, with a 23% year-on-year growth in internet searches for the UK, the company said.
Advertisement
ITV and the makers of Downton Abbey, Carnival Films have announced the drama will be returning for a fifth series.
Audience figures for the fourth series hit an average 11.8 million viewers, making it the highest rated drama on television in 2013.
ITV's Director of Drama Commissioning, Steve November said:
"We are enormously happy to have Downton Abbey on ITV and we are delighted to be announcing this new series.
"With Julian Fellowes writing and Gareth Nearne and Liz Trubridge producing we know it will be as warm, witty, romantic and dramatic as previous series and we can't wait to catch up with our favourite characters again."
ITV's Downton Abbey may not have taken any silverware at last night's Emmy Awards but the show's stars told Daybreak they are proud to have been nominated - and are still celebrating the success of the hit period drama.
Downton Abbey lead the British charge ahead of the Emmy Awards but the period drama could not compete with the gritty US shows.
Read the full story ›
Load more updates