Downton Abbey's Oscar-winning star Dame Maggie Smith has been elevated to a Companion of Honour.
For TV viewers, the 79-year-old is now inextricably linked with her role as the Countess of Grantham in the ITV period drama, while Harry Potter fans will recognise her as Professor McGonagal.
Her career stretches back to the 1950s, beginning at the Oxford Playhouse in 1952 and within four years appearing on Broadway.
Her stage performances have continually drawn acclaim and she has collected numerous awards for roles in plays such as Hedda Gabler, Three Sisters and Private Lives.
She earned the first of six Oscar nominations in 1965 for best supporting actress in Othello, going on to win best actress four years later for her commanding performance in The Prime Of Miss Jean Brodie. Dame Maggie won a further Oscar in 1978 with the supporting actress prize for California Suite.
Actress Sue Johnston, famous for her roles in The Royle Family and Coronation Street, is to join series five of Downton Abbey, it has been announced.
Johnston will take on a guest role in the Emmy and Golden Globe award-winning drama as the character of Denker, Lady's Maid to Violet, Dowager Countess of Grantham.
Johnston joins other guest actors on the show, including Richard E. Grant, Anna Chancellor and Rade Sherbedgia.
Downton Abbey will return this autumn with a fifth series and again at Christmas with a special episode.
Advertisement
Withnail and I star Richard E Grant is joining the cast of ITV1's Downton Abbey, as Simon Bricker, a guest of the Grantham family.
His appearance in the hit period drama marks the actor's second collaboration with its creator Julian Fellowes - he previously starred in the writer's 2001 film Gosford Park, also alongside Maggie Smith, who plays Downton's formidable Dowager Countess of Grantham.
Four Weddings and a Funeral star Anna Chancellor also joins the cast as Lady Anstruther, while 24 actor Rade Sherbedgia joins as a refugee, Kuragin, who has fled the Russian revolution after World War One.
The show's executive producer Gareth Neame said: "We are delighted to welcome these talented actors to the world of Downton. The characters they play are set to bring yet more excitement and intrigue to the show."
Ant and Dec are up against themselves as two of their shows are nominated in the same category at the National Television Awards.
Read the full story ›
Downton Abbey creator Julian Fellowes has hinted that the next series of the hit show could be its last.
The ITV1 drama, telling the story of the aristocratic Crawley family, is set to return to television screens later this year for a fifth series, having made its debut in 2010.
But Lord Fellowes has now said in an interview that the saga will not "go on forever".
He has been commissioned to write a new American drama called The Gilded Age but told The Wall Street Journal that work on the programme would not start until Downton had come to an end.
Lord Fellowes said: "It's for NBC Universal and it will happen when Downton finishes because I just couldn't do both at once.
"I haven't written it yet, but it's about the old aristocracy, the Winthrops and the Stuyvesants and the new money of oil and gas and shipping in the 1870s. It will all be fiction - it won't be real people - but when those families descended on New York, they took over."
The writer, who is also an actor, reassured fans that there would be a fifth series of Downton but referring to a long-running US courtroom drama, added: "I don't know yet if there is a season six, but it's not going to go on forever. It won't be Perry Mason."
Downton Abbey is to go head to head with EastEnders in the Christmas ratings battle.
The ITV period drama, which will be shown at 8.30pm on Christmas Day, will also be up against Mrs Brown's Boys on BBC 1, during the two-hour long episode.
Downton, which is returning to ITV for a fifth series next year, has been sold to more than 220 territories and watched by an estimated 120 million people around the world since its debut in 2010.
Advertisement
Oscar-nominated actor Paul Giamatti will be joining the cast of Downton Abbey for the Christmas Day special.
The American star, who was nominated for the best supporting actor Oscar for his role in boxing drama Cinderella Man, will play Lady Grantham's brother.
Not a lot has been given away about Giamatti's role in the ITV drama, but producers have let slip the Christmas Day episode will revolve around Lady Rose MacClare's (Lily James) entry into London's high society.
Shirley MacLaine returns as Lady Grantham's mother Martha and James Fox joins the cast as aristocrat Lord Aysgarth.
The two-hour episode of the award-winning ITV series, which will be shown at 8.30pm on Christmas Day, picks up the story six months on from the end of series four.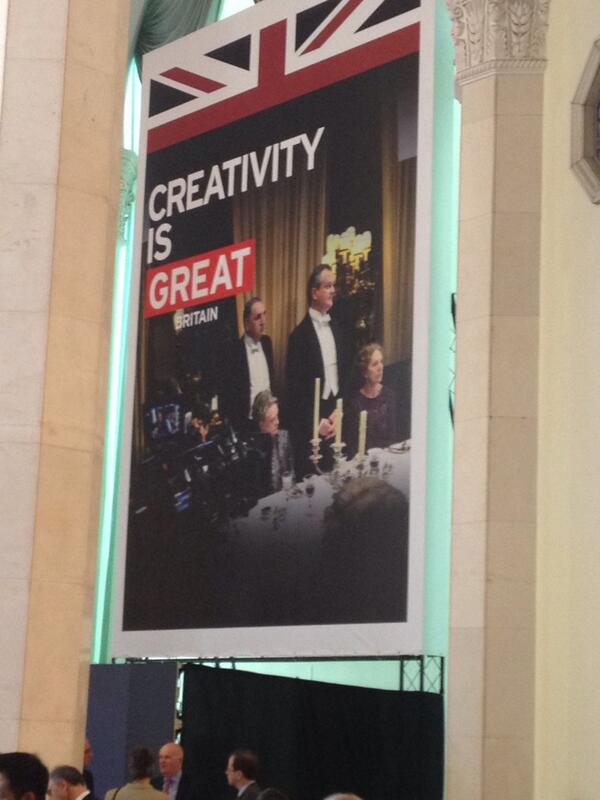 Travellers from long-haul markets such as the USA, Canada, China and Sinapore are increasigly looking to the UK as a possible holiday destination, according to a survey by TripAdvisor.
Internet search traffic for the UK has continued to grow on the site, year-on-year:
USA is the fastest growing market - with searches up 23%
Canada was next - with searches up 21%
UK was next, as the staycation continued - with searches up 20%
Searches from Singapore rose 19%
Searches from China rose 19%
Looking at sheer numbers rather than the rise in growth, UK residents made up the majority of searches for UK destinations on TripAdvisor, with the USA second and Germany third.
Royal baby news and the success of TV shows like Downton Abbey are driving increased interest in the UK from American would-be tourists, according to holiday website TripAdvisor.
The USA topped the list of fastest-growing markets, with a 23% year-on-year growth in internet searches for the UK, the company said.
Load more updates