The Duchess of Cambridge will not visit Malta this weekend because she is still suffering from acute morning sickness, Kensington Palace has announced.
The visit to Malta was going to be Kate's first solo overseas visit but Prince William will now take her place.
Kate has been forced to miss several recent public engagements since it was revealed the Royal couple are expecting their second child.
Her Royal Highness continues to suffer from the effects of Hyperemesis Gravidarum. The decision not to travel was taken by the Duke and Duchess on the advice of the Duchess's doctors. The Duke is honoured to represent Her Majesty The Queen on the visit, which commemorates the 50th anniversary of Malta's Independence.
– Kensington Palace spokesperson
After it was announced the Duchess of Cambridge is pregnant with her second child we look back at her last pregnancy spent in the spotlight.
Read the full story ›
Advertisement
During their last overseas trip Prince William appeared to 'drop hints' that Prince George could soon have a younger sibling.
When Cynthia Read presented the Duke and Duchess of Cambridge with a lace shawl she had made for the young prince, William told her: "You might have to make another one soon."
The presentation, on behalf of the New Zealand government, occurred during the couple's sixth day of their royal tour.
The storm these comments made was quickly dispelled as the Duchess was seen shortly after enjoying a glass of wine and a white water boat ride.
Leader of the SNP Alex Salmond has congratulated the Duke and Duchess of Cambridge after it was announced they are expecting their second child. Mr Salmond used their Scottish titles to send his 'best wishes' to the couple.
Congratulations & best wishes to the Earl & Countess of Strathearn. Wonderful to hear they're expecting their second baby – very happy news!
The Duchess of Cambridge is suffering from severe morning sickness, the palace has said, after announcing her second pregnancy. The Duchess was admitted to hospital during her first pregnancy when she was carrying Prince George.
A Palace statement said: "As with her first pregnancy, The Duchess is suffering from Hyperemesis Gravidarum. Her Royal Highness will no longer accompany The Duke of Cambridge on their planned engagement in Oxford today. The Duchess is being treated by doctors at Kensington Palace."
The Duke and Duchess of Cambridge are expecting their second child, the Palace has confirmed.
A statement said: "Their Royal Highnesses The Duke and Duchess of Cambridge are very pleased to announce that The Duchess of Cambridge is expecting their second child."
Advertisement
The Duchess of Cambridge "wears too much eyeliner", according to former Made in Chelsea star Millie Mackintosh.
The reality TV star said she would love to give Kate a makeover and said her re-styling would look "less middle-aged".
"As a trained make-up artist and a fashion designer I would love to give the Duchess of Cambridge a makeover. I think Kate wears too much eyeliner," Mackintosh told the Mail on Sunday's You magazine.
"She would look great if she toned down the eyes, wore some bright lipstick and mixed up her hairstyle - a scraped-back high pony would look fantastic."
Mackintosh, who is launching a clothing line and is married to musician Professor Green, also believes should the royal could look "sexier" in different clothes.
"She'd look great in one of my little wrap dresses as she has such a gorgeous body and I think it would look fun - less middle-aged - and a bit sexier without being too revealing," said Mackintosh.
Kate stands alongside style icons such as Oscar winners Cate Blanchett and Lupita Nyong'o, and also makes an appearance on the magazine's international best-dressed list for the fifth time.
Her entry notes the Duchess' love of Stella McCartney, Temperley London and Alexander McQueen, Erdem and Jonathan Saunders.
"A bright red Catherine Walker coatdress on a royal tour of New Zealand in April," was deemed to be Kate's "notable ensemble of 2014."
The Duke and Duchess of Cambridge were joined by Prince Harry as they met the families of soldiers who fought in the First World War.
New Editor Jonathan Wald tweeted from the St Symphorien military cemetery near Mons, Belgium: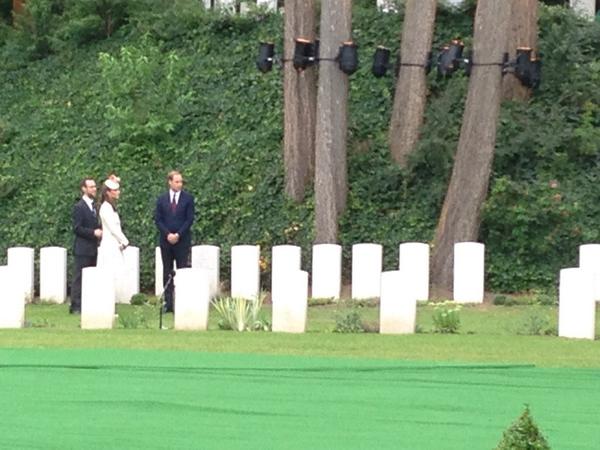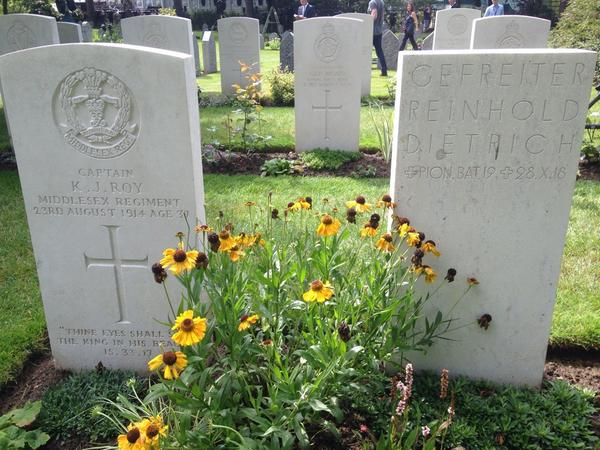 Load more updates