Prince Harry has said he is looking forward to meeting "beautiful" princess Charlotte. The prince was speaking at a press conference in Sydney, Australia where he has been meeting wounded soldiers.
Harry said: "I've been given a hell of a lot of cuddly toys from this morning and other things, so I look forward to it. I am looking forward to meeting her. She's beautiful, so it's great."
The Duke and Duchess of Cambridge have left Kensington Palace with four-day-old Princess Charlotte for their Norfolk home Anmer Hall.
William and Kate headed out of London with their new baby and her elder brother Prince George as they made their way to their home in East Anglia.
They will spend the first few weeks of the princess's life in their refurbished Georgian mansion on the Queen's private Sandringham estate as they get to grips with looking after both a newborn and a toddler.
The couple's Range Rover, being driven by William with Kate in the front passenger seat, was seen leaving Kensington Palace on what was Princess Charlotte's first outing since leaving hospital.
Kensington Palace confirmed the family had set off for Anmer Hall.
William is on two weeks paternity leave from his job as an air ambulance helicopter pilot and is expected to start the final phase of his training at the beginning of June.
Advertisement
The new baby princess is already proving valuable to UK firms, with many reporting a boom in business since she arrived on Saturday.
Firms making commemorative items honouring the birth of Princess Charlotte say sales have soared, while one company is making more of the special shawl she left hospital in with her parents.
It comes as the newest member of the royal family met her great-grandmother, the Queen, for the first time today.
ITV News' Royal Editor Tim Ewart reports:
The registrar who signed Princess Charlotte's birth certificate has said it was an "honour" to be able to officially register the arrival of the newest member of the royal family.
The Duke and Duchess of Cambridge have formally registered the birth of Princess Charlotte http://t.co/nY2hUxaEKi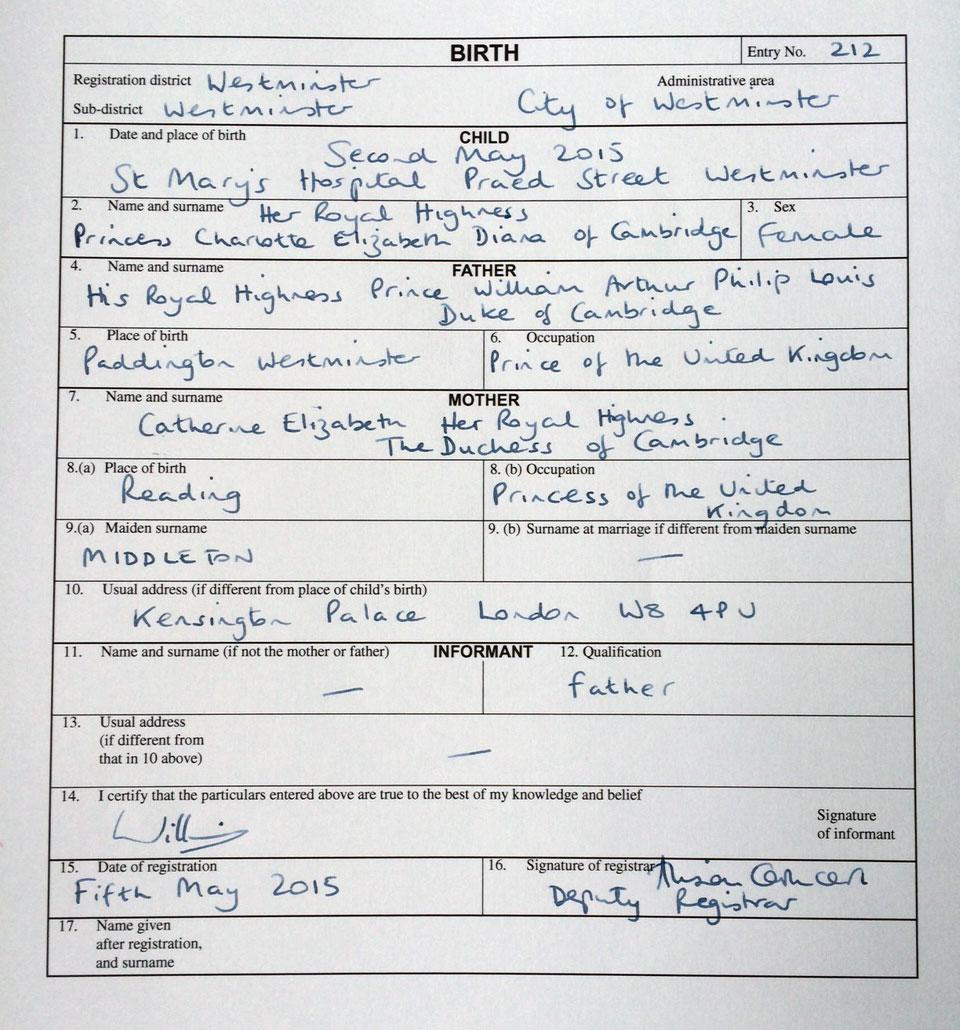 Kensington Palace revealed earlier today that the registration had taken place, with Prince William signing the certificate.
It was an honour to register the birth of Princess Charlotte Elizabeth Diana. Westminster City Council has a long history of registering royal births, including Prince George, and it's a pleasure to formally welcome the latest addition to the family.
– Alison Cathcart, superintendent registrar for Westminster City Council
She has also presided over several celebrity marriages including those of Sylvester Stallone, Joan Collins, Barbara Windsor and David Walliams.
The Queen has left Kensington Palace after meeting her newborn great-granddaughter, Princess Charlotte, for the first time.
Dressed in a lilac ensemble, the Queen arrived this afternoon to meet the newest member of the royal family.
Charlotte's grandparents - including Prince Charles and the Duchess of Cornwall, as well as Kate's parents Michael and Carole Middleton - have already visited the baby princess.
She was born on Saturday morning, weighing 8lbs 3oz.
The Duke and Duchess of Cambridge have formally registered the birth of Princess Charlotte.
The Duke of Cambridge signed the birth register at Kensington Palace this afternoon witnessed by a Registrar from Westminster Register Office.
Advertisement
The Queen has arrived at Kensington Palace to meet her great-granddaughter Princess Charlotte.
The Queen is due back in London on Tuesday and it is thought she will meet her new great-granddaughter for the first time.
Princess Charlotte Elizabeth Diana was born on Saturday but the Queen has been in Yorkshire on royal duties.
The latest addition to the royal family is the monarch's fifth great-grandchild.
In the next few days William and Kate are expected to head to Sandringham where they will spend time as a family for the first few weeks of Charlotte's life.
Bookies have had to pay out an estimated £1 million following the announcement the Duke and Duchess of Cambridge have named their second child Charlotte Elizabeth Diana.
Ladbrokes said Charlotte was the most popular bet since the princess was born - with three times as many wagers placed as other favourites Alice, Diana and Olivia.
Jessica Bridge, of Ladbrokes, said: "Charlotte was the hot tip over the weekend and royal watchers up and down the land are quids in.
"We may have lost a fortune but we're paying out with a smile and wish the Duke and Duchess all the best."
Coral called it "one of the most costliest results in royal betting history."
A woman from Barnes, south west London, is due to pick up £1,400 was the biggest winner at William Hill. She put £400 down at 5-2 that the baby would be called Charlotte.
Naming the royal baby Charlotte Elizabeth Diana will be seen as a tribute to the Duke of Cambridge's father, mother and grandfather.
Read the full story ›
Load more updates