An earthquake of 6.3 magnitude struck northern Thailand on Monday, the U.S. Geological Survey (USGS) said.
There have been no immediate reports of casualties or damage.
The quake struck 20 miles (32 km) southwest of the town of city of Chiang Rai, was felt in the capital, Bangkok, residents said.
A tsunami warning canceled for Papua New Guinea and the Solomon Islands the Pacific Tsunami Warning Center has said
Advertisement
An earthquake with a magnitude 7.8 has been recorded off Papua New Guinea, the US Geological Survey said.
The Pacific Tsunami Warning Center has said a tsunami warning was in effect for Papua New Guinea and the Solomon Islands after the earlier earthquake.
The quake, at a depth of 10 km (6 miles), hit 68 km southwest of Panguna.
Houses and cars were badly damaged after a 7.2 magnitude earthquake struck central and southern Mexico this morning.
The quake centred in the Guerrero province, south of the capital, Mexico City.
Rutland locals have been taking to Twitter all morning to say how the 3.5 earthquake affected them:
@therutlandtimes that's a relief - I thought I was going mad when I felt it as I walked through Hambleton Wood this morning!
Nottinghamshire and England cricketer Stuart Broad also told of his mum's cup of tea being spilled:
Mum just text saying an Earthquake knocked her brew off the table. Not normal news coming out of little Rutland!!
Advertisement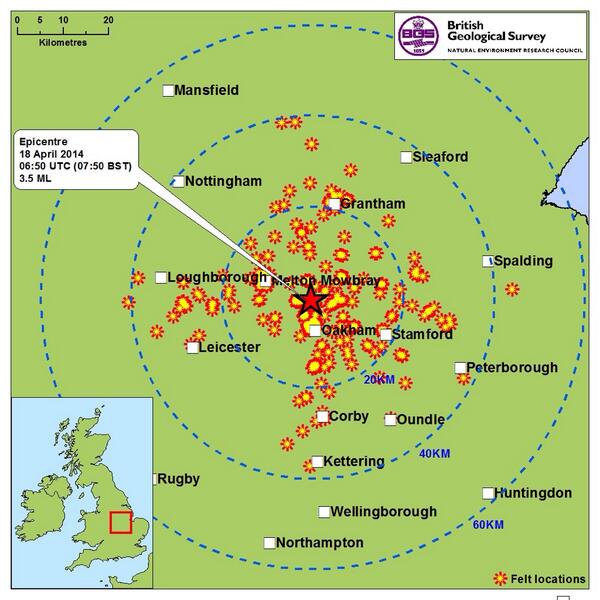 Another earthquake measuring 3.5 has struck the Rutland area of the East Midlands, which has come 24 hours after a 3.2-magnitude hot the area.
In comments posted on the BGS Facebook page, residents in the Rutland area and neighbouring Lincolnshire claimed the latest quake was more powerful than the first.
Facebook user Dave Stevens said: "Yesterday's was a sudden loud bang. This morning's felt more like the 2008 Market Rasen quake. It really rattled the doors of my shower!"
The earthquake felt in Rutland this morning was not powerful enough to have caused any significant damage, according to the British Geological Survey (BGS).
A spokesman for the organisation said earth movement measured this morning was around 100,000 times smaller than a recent 8.2 magnitude Chile earthquake.
In terms of energy release, the Rutland quake was 33-and-a-half-million times smaller.
The BGS says it has had 265 reports from members of the public who say they have felt the quake, with the furthest away coming from Wellingborough, 45 kilometres (27 miles) to the south.
Rutland felt a minor earthquake measuring 3.2 magnitude this morning, the British Geological Survey has confirmed.
Data from BGS shows the impact centred at Oakham at 07:07 this morning, with a depth of 4 kilometres.
Load more updates