Ed Miliband will pledge to cut public spending to tackle the deficit as he lays out Labour's economic plan.
Read the full story ›
Shadow chancellor Ed Balls has congratulated Labour's newest MP after she won the Heywood and Middleton byelection: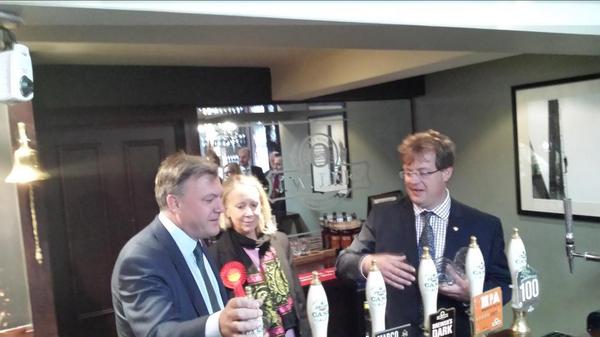 McInnes was elected just 617 votes ahead of the Ukip candidate and was jeered as she made her victory speech last night.
Advertisement
Ed Balls will join Tom Bradby for the first show of the series tonight at 10.35pm on ITV.
Read the full story ›
The Queen and other royals would pay Labour's mansion tax like any other wealthy property owner, according to Shadow Chancellor Ed Balls.
Labour plan to partly-fund a boost in NHS spending via a charge on homes worth over £2 million and Mr Balls told Sky News' Murnaghan programme that the tax will also be levied against Royal residences.
Mr Balls said: "We have fair and tough rules for the financing of the Royal Household but members of the Royal Household pay taxes just like everybody else and rightly so. There aren't different rules for anybody. That's the nature of our society."
Labour wants child benefit to rise within the next Parliament, but that will only be possible if it is capped for the first two years, Ed Balls has said.
The Shadow chancellor told Good Morning Britain he "would not be being straight" with voters if he did not put some restrictions on welfare, given the deficit the government has been struggling with after the 2008 crash.
The Shadow Chancellor has denied the Labour Party would stall extra powers being devolved to Scotland just because they want longer to examine the Prime Minister's English votes for English laws proposal.
Ed Balls told Good Morning Britain it was "a complete nonsense" and part of David Cameron's attempts to hold a "fractured" Conservative Party together.
He added, "David Cameron's proposal could end up with him saying, 'I want two parliaments'."
Advertisement
Child benefit would see cuts for the first two years of a Labour government, Ed Balls is expected to announce.
The shadow chancellor will present a 1% cap on rises in the help for parents as one of the "tough decisions" necessary to deal with the deficit if the party takes power next year - claiming it will save the taxpayer £400 million over five years.
He will seek to soften the blow by cutting ministers' pay by 5% and then freezing it until the party is able to "balance the books".
Addressing activists at the Opposition's final annual conference before the general election in May, he will vow not to "flinch from the tough decisions" needed to deal with the economy.
He will tell the Manchester gathering:
I want to see child benefit rising again in line with inflation in the next parliament.

But we will not spend money we cannot afford. So for the first two years of the next parliament we will cap the rise in child benefit at 1%.

It will save £400 million in the next parliament. And all the savings will go towards reducing the deficit.
– Ed Balls, Shadow Chancellor
Shadow Chancellor Ed Balls as he left an opponent bloodied in the annual football match between Labour and Lobby journalists.
The shadow chancellor was involved in a nasty clash with Northern Echo hack Rob Merrick as the politicians struggled to overturn a goal deficit at Manchester City's Etihad complex.
The pair were contesting a 50-50 ball on the edge of the Lobby penalty area when a stray elbow from Balls left a slash under the reporter's right eye.
Merrick had to leave the pitch for medical treatment as blood covered his shirt - but later returned to be named man-of-the-match.
Ed Balls has been ordered to pay more than £1,000 in fines and costs and has had five points put on his driving license after he admitted failing to stop after a minor road collision.
A district judge said the incident in the shadow chancellor's constituency of Morley and Outwood, West Yorkshire, was "at the lower end of the scale of seriousness".
The judge also rejected the option of a total driving ban.
Mr Balls hit the bumper of another car when he was moving out of a car park next to the Labour Unity Club, in Morley in April, causing minor damage.
The Labour politician already had three points on his license after going through a red light in central London in 2012.
Shadow chancellor Ed Balls could be banned from driving today for failing to stop after bumping into another car.
The Labour front-bencher claims he was unaware he damaged another vehicle as he attempted a "tight manoeuvre" in his constituency of Morley and Outwood in West Yorkshire on April 5.
His office said he would not be contesting the charge and would respond to Leeds Magistrates in writing.
The offence of failing to stop after an accident can incur five to 10 penalty points, disqualification, a fine of up to £5,000 or, in the most serious cases, a jail sentence of up to six months.
Mr Balls is understood to have three points on his licence already - and will be in line for a ban if he ends up with 12 or more.
Load more updates