Ed Balls has blasted the Conservative tax cuts, saying the numbers did not add up and that the public could not trust the party on VAT rise promises.
Mr Balls claimed the Tories had repeatedly claimed there would no VAT rises before previous elections before voting to rise the amount of tax paid on purchases.
Speaking in Leeds the Labour's shadow chancellor outlined Labour's tax pledges: "No rise in VAT, no rise in National Insurance, no rise in the basic and higher rates of income tax, but we will have a lower starting rate of income tax at 10p and we'll put the top rate up to 50% for people earning £150,000."
Ed Balls has claimed that tax changes introduced since 2010 mean the average household is "£1,100 worse off".
Balls said: "What the evidence shows - from the independent Institute for Fiscal Studies - is when you look at all the tax changes introduced since 2010, the average household in our country is £1,100 worse off. Because of higher VAT and cuts to tax credits.
"This is a Tory government which cut taxes for the richest, for people earning over £150,000, giving millionaires tens of thousands of pounds of tax cuts, but put up taxes for everybody else.
"They said we are all in it together. That is now being exposed as a nonsense. £1,100 worse off - that's what they delivered."
Advertisement
Ed Balls has said a further reduction to 40p would benefit them by £340,000, £1.94 million and £3.94 million over the course of the next parliament, it said.
While millions are paying more, millionaires are paying less.

David Cameron and George Osborne have given the very highest earners a huge tax cut. The Tories ditched the idea that we are 'all in this together' and looked after their friends first.

And if the Tories win the election, they're set to give the top 1% of earners another big tax cut - cutting the top rate of tax again from 45p to 40p.

How can this be fair when working people are struggling, our NHS is in crisis and when we still need to get the deficit down?
– Ed Balls writing in the Sunday Mirror
Ed Balls has insisted all of Labour's manifesto pledges would be fully costed and funded as he accused the Conservatives of planning "even deeper cuts in the next three years than we have had in the last five".
The shadow chancellor visited Swindon to set out Labour's plan to cut and then freeze business rates, which he said would save 1.5 million small businesses an average £400.
This would be funded by reversing a coalition cut in the main rate of corporation tax from 21p to 20p, due to come into effect on April 1.
"It's not right to go ahead with the further cut for larger companies when we can use the money in a better way to help us create more good jobs by backing small companies," Balls said.
Shadow chancellor Ed Balls has urged the Conservatives to "bring it on" as election campaigning on all sides gets underway.
Looking back at the Tory-led coalition government's record, Balls told an audience in Swindon, "If that is as good as it gets then we need change and a better future for our country."
"If George Osborne and David Cameron want to spend the next six weeks going round telling people, 'You're better off', then we say, 'Bring it on', Balls said.
"People are really struggling in our country and we can do better than this," he added.
Shadow chancellor Ed Balls has claimed that another hike in VAT is "the only way the Tories can make their sums add up".
He vowed Labour would not do so with him in No. 11 if the party takes power at the General Election.
The shadow chancellor said the Conservatives had a consistent history of raising the rate of the consumption tax after elections as he launched the Opposition's latest salvo ahead of the May 7 poll.
Balls, who believes Gordon Brown's refusal to accept his calls for a similar pledge in 2010 contributed to the party being defeated, said he would "resign rather than break this promise".
The Conservatives claimed the pledge left Labour with no option but to impose a "jobs tax" of higher national insurance or income tax to meet its own deficit-reduction strategy.
Advertisement
Ed Balls has announced that Labour will not raise VAT if it wins the General Election, saying: "I would resign rather than break that promise."
The Shadow Chancellor added: "VAT is a tax that hits pensioners and the poorest hardest. For many people on low incomes, it's the biggest tax they'll pay."
The next Labour government will not raise VAT - I am announcing our new manifesto commitment this morning http://t.co/WOeKd1GKC5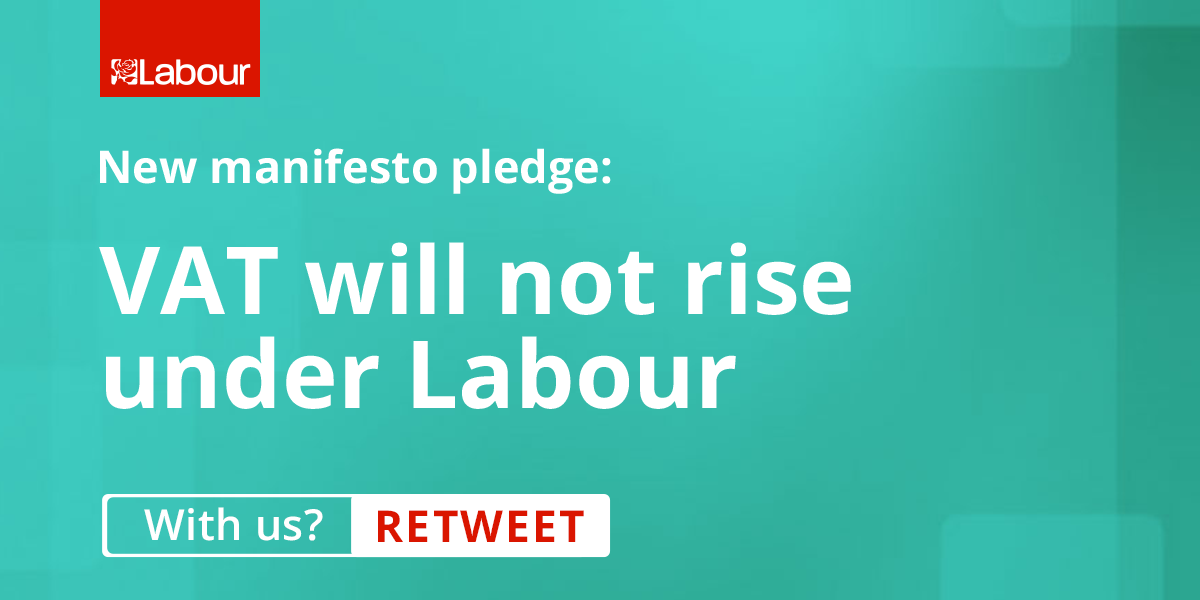 Labour will not increase the rate of VAT if the party is elected in May, Ed Balls is expected to say.
The shadow chancellor is expected to make the pledge in a speech in Birmingham.
During the speech, Mr Balls will renew warnings of a repeat of Chancellor George Osborne's increase in VAT - from 17.5% to 20% - immediately after the 2010 general election.
Mr Balls will say: "We will make our tax commitments in full in our manifesto. But I am clear that while millionaires have been given a huge tax cut, working people are paying more in tax after the last five years of the Tories.
"So today I can announce a clear pledge to the British people. The next Labour government will not raise VAT. And we will not extend it to food, children's clothes, books, newspapers and public transport fares.
"We will not raise VAT because it's the tax that hits everyone. It's the tax that hits you every day. And it hits pensioners and the poorest hardest."
Shadow chancellor Ed Balls has told Good Morning Britain that cuts in public services are "quite a chilling prospect" following George Osborne's final pre-election Budget.
Describing the Chancellor's Budget as "out of touch", Balls said, "This idea that it is going well for people I just don't think fits with our lives."
"Don't forget, a few years ago George Osborne said he was going to balance the books ... and he's failed," Balls said.
"it doesn't have to be this way. We could have had a better Budget for working people that boosted wages and got the economy growing in a more sustainable way - he didn't do any of those things".
Load more updates