Shadow chancellor Ed Balls has urged the Conservatives to "bring it on" as election campaigning on all sides gets underway.
Looking back at the Tory-led coalition government's record, Balls told an audience in Swindon, "If that is as good as it gets then we need change and a better future for our country."
"If George Osborne and David Cameron want to spend the next six weeks going round telling people, 'You're better off', then we say, 'Bring it on', Balls said.
"People are really struggling in our country and we can do better than this," he added.
Shadow chancellor Ed Balls has claimed that another hike in VAT is "the only way the Tories can make their sums add up".
He vowed Labour would not do so with him in No. 11 if the party takes power at the General Election.
The shadow chancellor said the Conservatives had a consistent history of raising the rate of the consumption tax after elections as he launched the Opposition's latest salvo ahead of the May 7 poll.
Balls, who believes Gordon Brown's refusal to accept his calls for a similar pledge in 2010 contributed to the party being defeated, said he would "resign rather than break this promise".
The Conservatives claimed the pledge left Labour with no option but to impose a "jobs tax" of higher national insurance or income tax to meet its own deficit-reduction strategy.
Advertisement
Ed Balls has announced that Labour will not raise VAT if it wins the General Election, saying: "I would resign rather than break that promise."
The Shadow Chancellor added: "VAT is a tax that hits pensioners and the poorest hardest. For many people on low incomes, it's the biggest tax they'll pay."
The next Labour government will not raise VAT - I am announcing our new manifesto commitment this morning http://t.co/WOeKd1GKC5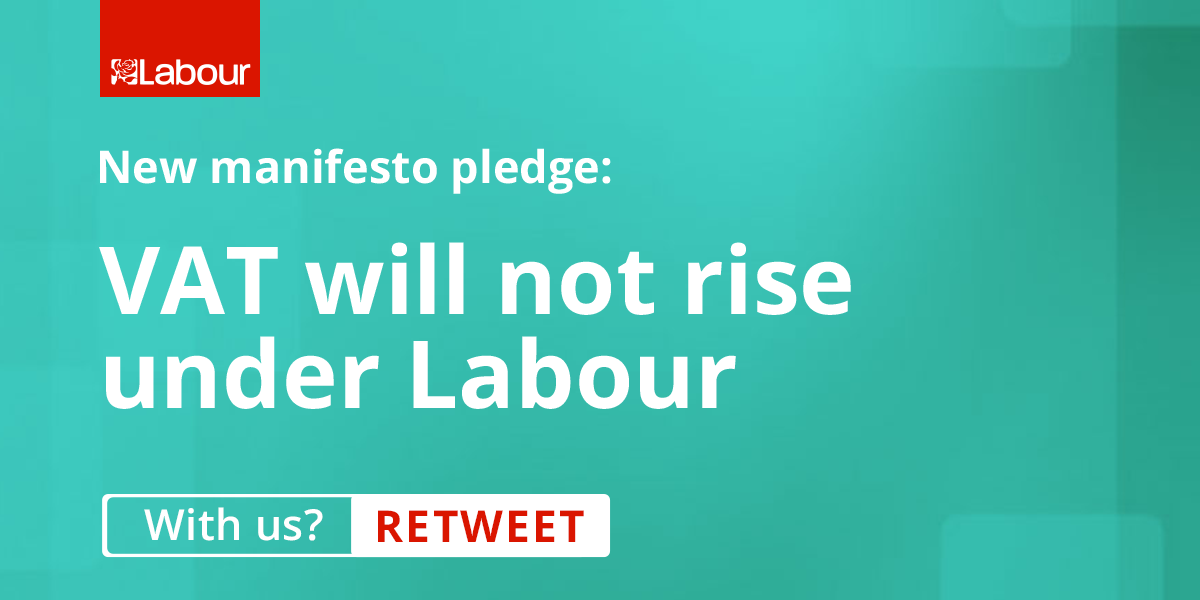 Labour will not increase the rate of VAT if the party is elected in May, Ed Balls is expected to say.
The shadow chancellor is expected to make the pledge in a speech in Birmingham.
During the speech, Mr Balls will renew warnings of a repeat of Chancellor George Osborne's increase in VAT - from 17.5% to 20% - immediately after the 2010 general election.
Mr Balls will say: "We will make our tax commitments in full in our manifesto. But I am clear that while millionaires have been given a huge tax cut, working people are paying more in tax after the last five years of the Tories.
"So today I can announce a clear pledge to the British people. The next Labour government will not raise VAT. And we will not extend it to food, children's clothes, books, newspapers and public transport fares.
"We will not raise VAT because it's the tax that hits everyone. It's the tax that hits you every day. And it hits pensioners and the poorest hardest."
Shadow chancellor Ed Balls has told Good Morning Britain that cuts in public services are "quite a chilling prospect" following George Osborne's final pre-election Budget.
Describing the Chancellor's Budget as "out of touch", Balls said, "This idea that it is going well for people I just don't think fits with our lives."
"Don't forget, a few years ago George Osborne said he was going to balance the books ... and he's failed," Balls said.
"it doesn't have to be this way. We could have had a better Budget for working people that boosted wages and got the economy growing in a more sustainable way - he didn't do any of those things".
Advertisement
A large majority of voters would not want a coalition government involving the SNP, according to the latest poll from Tory peer Lord Ashcroft.
Some 61% of those polled said they would be unhappy at the prospect compared to 31% who said they would welcome a coalition involving the Scottish nationalists.
The poll also found 57% of voters to be against UKIP taking part in government in comparison to 36% who would be happy for them to participate.
The telephone poll of 1,003 adults gave Conservatives a four-point lead over Labour, 34% to 30%.
Only the Liberal Democrats can provide the financial stability Britain needs, the party's finance chief has claimed.
Speaking as shadow chancellor, Ed Balls slammed the Tories' budget plans, Chief Secretary to the Treasury Danny Alexander said:
Both Labour and the Conservatives are saying they will lurch away from the centre ground. Labour will borrow too much and the Conservatives will cut too much.

The Liberal Democrats have been the rock of financial stability during this recovery.

We are the only party offering a fair and balanced approach to finishing the job of balancing the books by 2017/18.

And we are the only party that has a plan after that point that will allow the investment in our infrastructure and public services needed to build a stronger economy and fairer society.
– Danny Alexander (Lib Dem), Chief Secretary to the Treasury
A coalition with the Scottish National Party (SNP) is the "last thing" Labour wants, according to shadow Chancellor Ed Balls.
ITV News' political correspondent Libby Wiener tweeted:
Balls says deal with SNP is 'last thing we want' @itvnews
While Mr Balls avoided "categorically" ruling it out, he said the party would not be fighting the election on the basis of forming a coalition.
The SNP have said they don't want a coalition. It's not part of our plans. We don't want one, we don't need one, we're not after one.

No large party in the last 100 years - Labour or Conservative - has ever fought a general election on the basis they wanted a coalition or deal with a small party. It's the last thing we want. What we want is a majority Labour government.
– Ed Balls, shadow chancellor
Load more updates