Ed Miliband has told MPs the Treasury was "clearly aware" Britain's budget contribution to the EU would increase.
Citing a letter written on March 11, Miliband highlighted that Nicky Morgan noted changes were going to take place on this issue and stressed the "high priority" the Government were giving to addressing them.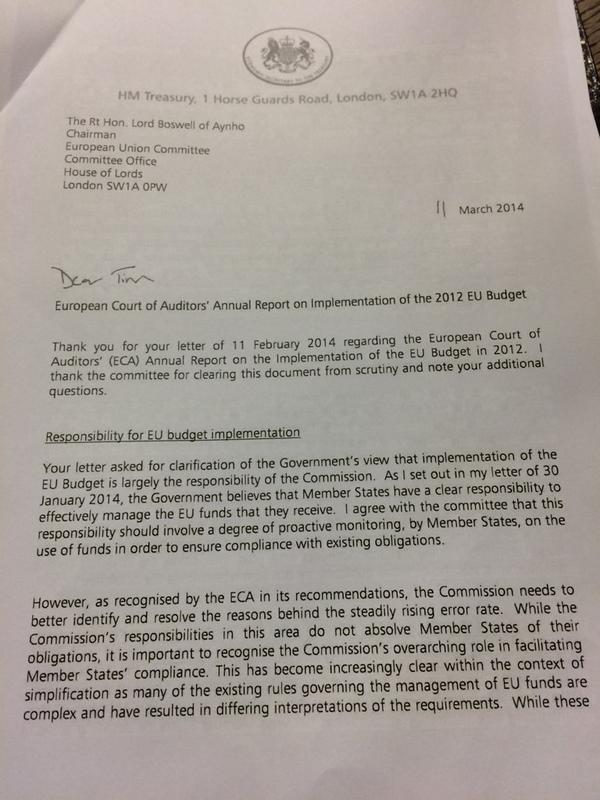 Ed Miliband suggested the Government "has not done its due diligence" in regards to the EU budget change.
The Labour leader told MPs: "The Chancellor said he had 'no warning'. But that is simply not the case."
"The scale of these changes shouldn't have taken anyone in Government by surprise."
Advertisement
Ed Miliband says Labour would guarantee that NHS patients in England will wait no longer than one week for cancer results by 2020.
Read the full story ›
Labour's victory in the Heywood and Middleton byelection was "a terrible win" because the vote margin had not been expected to be so small, ITV News Political Correspondent Carl Dinnen reports.
"When Ed Miliband stood on these steps a few moments ago he refused to take any questions from reporters," he said.
"Usually a leader who's just won a byelection will stand there all day telling you how wonderful they are - but he had a heck of a scare last night."
Labour's narrow victory in the Heywood and Middleton byelection shows "the scale of disillusionment with Westminster politics", Ed Miliband has said.
Speaking alongside the new MP Liz McInnes, the Labour leader said this disillusionment had led long-time Labour voters to side with Ukip - who came second in the seat, just 600 votes behind Labour.
Labour leader Ed Miliband said the Conservative Party lost a seat "in their own backyard" last night as Douglas Carswell took Clacton for Ukip.
After congratulating Labour's newly-elected Heywood and Middleton MP Liz McInnes, Miliband stressed that the Tories were also "in retreat on what used to be their frontline in the northwest."
He continued, "But there won't be a shred of complacency from us as we reach out to all of those voters who didn't vote Labour and those who didn't vote at all."
Advertisement
I think it is fair to say that was the best speech I have seen David Cameron give in the decade I have been reporting on him.
Read the full story ›
Ed Miliband has said that there needs to be a clear plan on any British military action against IS in Iraq.
The Labour leader said:
Some people would say that our intervention in Iraq means we should not intervene in this case. I think there is a heightened responsibility precisely because we did intervene in Iraq and with all kinds of implications the Iraqi state that has emerged is partly our responsibility.
– Ed Miliband
Ed Miliband has said that any UK airstrikes in Iraq would be "part of a coherent strategy, yes it's difficult, but the alternative is to turn away and say we're not going to take action."
Now I know that because of the 2003 Iraq war people will be fearful about this. We're determined we don't repeat the mistakes of the past but equally we don't turn away from the threats that we face.
– Ed Miliband
Ed Miliband said Britain "cannot turn away from the threat" of the Islamic State and that is why he has backed air strikes against the militants in Iraq.
We cannot turn away from the threat of ISIL which is a murderous organisation, has taken British hostages, threatens the stability of the region and is therefore a threat to the UK's national interest.

That is why we will be supporting the Government's proposal for UK air strikes in Iraq against ISIL. I want to reassure people there is no question of committing UK ground troops.

There is an alliance which includes countries in the region.

We will learn the lessons of the past - but we will not turn away from threats to our national interest.
– Ed Miliband
Load more updates