Ed Miliband has accused the pro-Scottish independence campaign of "ugly" tactics after he was heckled in chaotic scenes during a visit to Edinburgh.
The Labour leader was branded an "absolute liar" by protesters when he toured the St James Shopping Centre in what was supposed to be a trip to persuade undecided voters.
Mr Miliband told the BBC, "I think we have seen in parts of this campaign an ugly side to it from the Yes campaign."
Ed Miliband had a tough time on a walkabout in Edinburgh today as Yes campaign supporters attempted to shout down the Labour leader.
Mr Miliband struggled to move through a large crowd of reporters and supporters of both sides, although he did manage to stop for a selfie with a local student.
As he attempted to answer questions about the campaign, one Yes supporter repeatedly shouted "bow down to Mr Miliband, your imperial master".
Advertisement
News Editor at ITV News, Laura Wilshaw, reported from Edinburgh: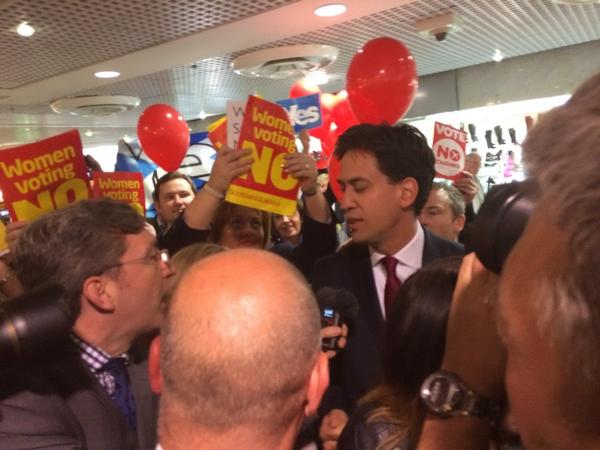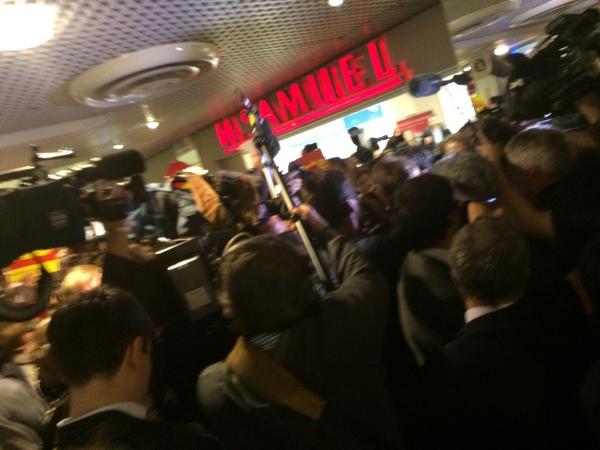 This has become a campaign like no other in modern political history. Extraordinary in every way. And still nine days to go.
Read the full story ›
David Cameron has been asked if the highly-unusual move to miss Prime Minister's Questions was a sign of panic in the no camp ahead of the Scottish referendum.
I really care about this issue.

I care passionately about our United Kingdom and I want to do everything I can to put the arguments in front of the people.

In the end it is for the Scottish people to decide but I want them to know that the rest of the United Kingdom, and I speak as Prime Minister, want them to stay.

All those steps we can take, making sure people in Scotland know that they can have the best of both worlds - more powers to govern themselves but also being inside the United Kingdom.
– David Cameron
Advertisement
Labour leader Ed Miliband and Liverpool City Council leader Joe Anderson have raised a Saltire and urged Britons across the UK to do the same.
Labour leader Ed Miliband will today call for the Saltire to be raised over buildings around the UK "to send a message to Scotland: stay with us".
He will join Joe Anderson, Mayor of Liverpool, in raising a Saltire flag from the city council building later this morning. He is expected to say:
We want to see the Saltire flying above buildings all across our country.

We are starting here in Liverpool by raising the Saltire to show we achieve fairness, equality and social justice better together than we do apart.
– ed miliband, labour leader
Work to hand more powers to Scotland if it rejects independence should begin immediately after the referendum, Ed Miliband is expected to say.
The Labour leader will argue that with offers of enhanced devolution already on the table from all three of the main parties in Westminster, the process should get under way "right after" the 18 September vote.
In a speech to the TUC general dinner in Liverpool, Miliband will also praise the trade unions for their role in campaigning for a No vote.
He will say that voting against "separation is also about saying yes to more devolution," which will see "more decisions being made in Scotland, by Scots, with a stronger Scottish Parliament, with more powers guaranteed".
Young people will have more opportunities than any generation of Scots if the country votes for independence said the Deputy First Minister.
On the campaign trail in Glasgow, Nicola Sturgeon said: "Scotland's one of the richest countries in the world - wealthier per head than France, the UK and Japan."
She added: "But for far too many people in Scotland it doesn't feel that way. More and more young people are finding out about the opportunities of independence and are deciding to vote Yes."
Sturgeon said that economic opportunities outside of Scotland would continue with a Yes vote, but added that they would be able to tailor job creating powers to Scotland rather than London.
She added: "A Yes vote is the opportunity of a lifetime for young people. We're better off with Scotland's future in Scotland's hands."
Load more updates