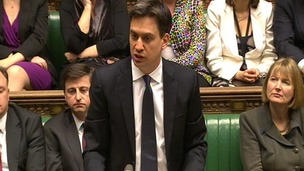 The timing of Mr Miliband's announcement condemning a possible pay rise for MPs' has raised a few eyebrows.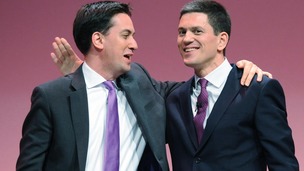 Ed Miliband has revealed that he and brother David are working on their relationship after they went head-to-head for the Labour leadership.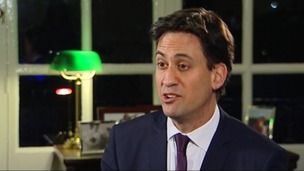 Ed Miliband has told ITV News that Labour behaved with "complete integrity" over the scandal surrounding the Co-op bank and Paul Flowers.
Live updates
Obama leads tributes to Mandela at memorial service
Remarkable speech by President Obama, applying Nelson Mandela's cause to the future and to his own personal journey.
Obama leads tributes to Mandela at memorial service
Great privilege to be representing the Labour Party at the Nelson Mandela memorial on behalf of so many who were integral to his struggle.
Advertisement
Obama leads tributes to Mandela at memorial service
ITV News Africa correspondent Rohit Kachroo has tweeted:
Gordon Brown and Ed Miliband have both arrived. Brown spoke of Labour's relationship with ANC, Miliband said he felt honoured to be here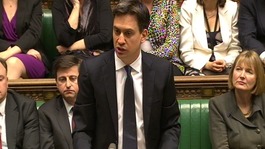 The timing of Mr Miliband's announcement condemning a possible pay rise for MPs' has raised a few eyebrows.
Read the full story
Miliband: 11% pay rise for MPs 'cannot go ahead'
Labour leader Ed Miliband has called for cross-party talks with the Conservatives and the Lib Dems over an expected 11% pay rise recommendation by the MPs' independent standards watchdog:
If the package of proposals being set out by Ipsa is as reported it cannot go ahead when people are going through the biggest cost-of-living crisis for a generation.

We cannot have an outcome for MPs which does not command public confidence.

Therefore we are asking the Conservatives and the Liberal Democrats for a cross-party approach which recognises the current economic circumstances where workers in the public and private sectors are going through such difficult times.
– Ed Miliband spokesperson
MPs to pay tribute to Nelson Mandela in the Commons
The world has lost the global hero of our age. Nelson Mandela showed us the true meaning of courage, hope, and reconciliation.
Deep condolences to Graca Machel, his family and friends and to all the people of South Africa.
Advertisement
Cameron views tidal surge damage in flood hit town
Labour leader Ed Miliband has said his thoughts are with the victims of the storm and those who have been evacuated from their homes.
My thoughts are with victims of the storms and the thousands being evacuated from their homes today.
The Labour leader Ed Miliband has defended his 'uncool' music tastes saying it is better to be blasted for not following the Zeitgeist than letting spin doctors decide what his preferences should be.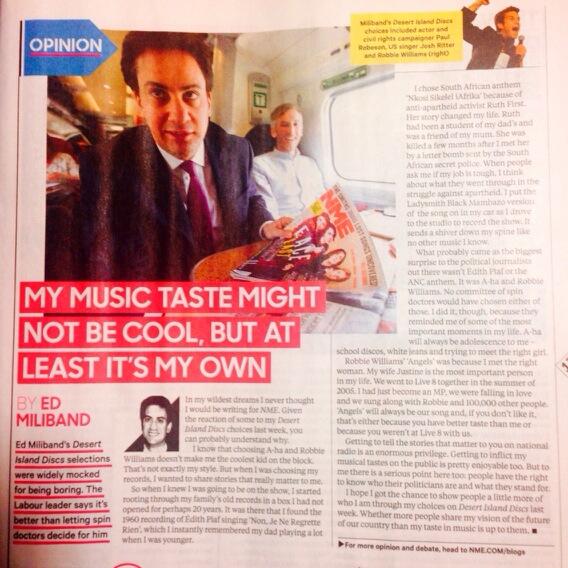 In an article in NME (£) following on from his Desert Island Discs appearance Mr Miliband writes that: "I know choosing A-ha and Robbie Williams doesn't make me the coolest kid on the block.
"No committee of spin doctors would have chosen either of those. I did it, though, because they reminded me of some of the most important moments in my life."
Some of his choices on the Radio 4 show included:
A-ha - 'Take On Me'
Neil Diamond - 'Sweet Caroline'
Robbie Williams - 'Angels'
Josh Ritter - 'Change of Time'
Edith Piaf - 'Non, Je Ne Regrette Rien'
When David Cameron appeared on the show in 2006 he was accused of letting spin doctors choose some of the bands, like The Smiths and Radiohead, in an attempt to make him look more credible.
Labour criticise gender pay gap
The cost of living crisis is "hitting woman particularly hard" with their wages falling "by £2,500 in three years" because of stagnant wages and inflating prices, Ed Miliband has claimed.
The Labour leader denied to Daybreak that focusing on the gender pay gap was a cynical ploy to get votes:
"When I have talked about the cost of living crisis, we're saying we can do something about it.
"So for example, we are going to give tax breaks to companies to pay a living wage, not just a minimum wage. That will make a difference to wages."
Labour criticise gender pay gap
The widening gap in pay between the genders is leaving women £159 worse off every year, according to figures from the Labour party.
After accounting for inflation, women working full-time have seen their annual earnings fall in real terms by £2,471 since 2010.
Men have seen a decrease of £2,312 in comparison, say Labour.
Load more updates
Back to top