Young people will have more opportunities than any generation of Scots if the country votes for independence said the Deputy First Minister.
On the campaign trail in Glasgow, Nicola Sturgeon said: "Scotland's one of the richest countries in the world - wealthier per head than France, the UK and Japan."
She added: "But for far too many people in Scotland it doesn't feel that way. More and more young people are finding out about the opportunities of independence and are deciding to vote Yes."
Sturgeon said that economic opportunities outside of Scotland would continue with a Yes vote, but added that they would be able to tailor job creating powers to Scotland rather than London.
She added: "A Yes vote is the opportunity of a lifetime for young people. We're better off with Scotland's future in Scotland's hands."
Welfare has been the key battleground in the run-up to the Scottish independence referendum today.
Benefit payments affect thousands thought to be undecided over how to vote.
Better Together supporters claim promises made by the Yes camp will cost the country heavily.
ITV News Scotland correspondent Debi Edward looks at whether Scotland will be richer or poorer if they vote for independence:
Advertisement
Ed Miliband has appealed to Labour voters in Scotland to get behind the 'No' campaign, and oppose the break up of the union.
Alex Salmond claims Labour supporters worried about the prospect of another Conservative government are turning to the 'Yes' campaign.
Scotland's First Minister Alex Salmond claimed Ed Miliband does not have "any credibility left" after the Labour leader said it was his party that would bring about the change Scotland needs.
"The Labour Party have pledged to continue the austerity of the Conservatives," Salmond said.
"They are also in bed with the Tories in this [No] campaign, so I don't see that Ed Miliband has any credibility left," he added.
Ed Miliband has urged Labour voters considering backing independence in the referendum to vote No so he can build a fairer Scotland within the UK.
The Labour leader travelled to Lanarkshire, where party founder Keir Hardie was born, to make a passionate plea ahead of the vote on 18 September.
Mr Miliband insisted it was his party, and not Alex Salmond's SNP, that would bring about the change the country needs.
"I know the way to get rid of this Tory government, that is to vote No and to elect a Labour government, and that is what I believe is going to happen," he said.
Advertisement
Ed Miliband is set to tell Scottish voters that a Labour government next year will provide the change they need rather than "erecting a new border" with independence.
With just two weeks to go until the vote on Scotland's future, the Labour leader will travel north of the border in a bid to persuade people to back the union.
It comes as Scottish nationalists claim that a growing number of Labour supporters will vote Yes on 18 September.
Last week, Scotland's First Minister Alex Salmond said "hundreds of thousands" could back independence.
Labour has responded to criticism that Ed Miliband did not write a personal message on a wreath laid at a First World War commemorative event.
On why Ed Miliband left no personal message on wreath in Glasgow, Labour says he wasn't given the opportunity - handed it seconds beforehand
Others who left no personal message on wreaths in Glasgow, include the DPM Nick Clegg and the Commonwealth Secretary General
The message left on the wreath states, "From the Leader of the Opposition".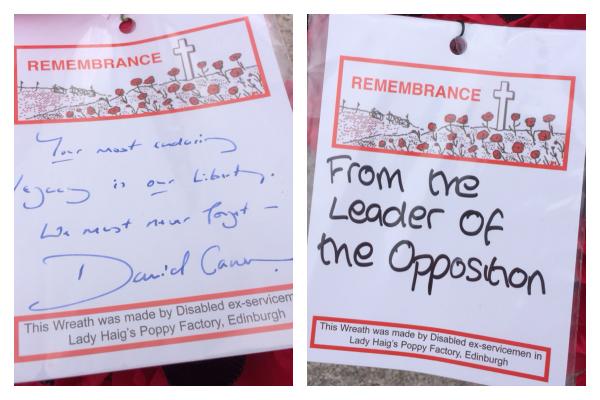 The messages left by David Cameron, Ed Miliband and Prince Charles have been tweeted by Channel 4 News correspondent Ciaran Jenkins.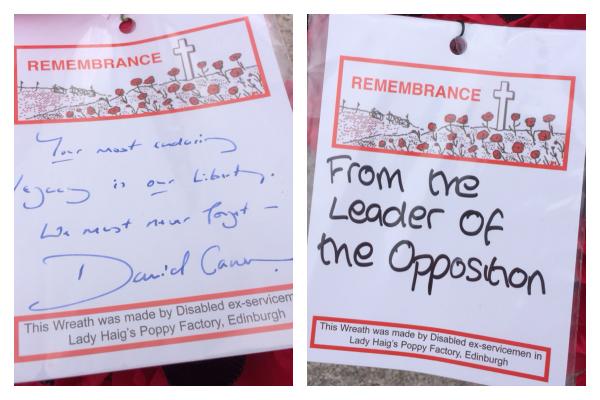 The Prime Minister's note reads: "Your most enduring legacy is our liberty - David Cameron."
Mr Miliband's says: "From the leader of the Opposition".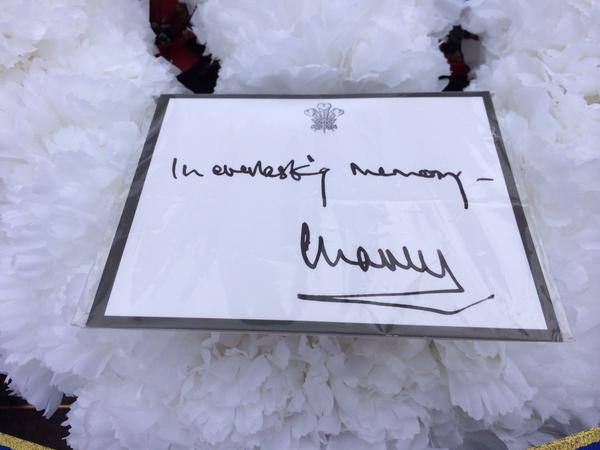 The note attached to the wreath laid by Prince Charles says: "In everlasting memory - Charles."
Liberal Democrat leader Nick Clegg's message on his wreath read: "From the Deputy Prime Minister".
Labour leader Ed Miliband has said the Prime Minister was "wrong" not to have spoken out in opposition of the Gaza crisis.
Mr Miliband branded David Cameron's silence on the killing of Palestinian citizens "inexplicable."
And he called for the British government to speak with a united voice to put pressure on both sides to end the violence.
However, Downing Street accused Mr Miliband of "playing politics" and insisted Mr Cameron had always been clear that both sides should observe a ceasefire.
The 26-day offensive has now killed more than 1,650 Palestinians - mostly civilians - with more than 8,000 wounded, according to local officials.
Israel has lost 63 soldiers and three civilians, its highest death toll since the 2006 Lebanon war.
Load more updates