A driver had a lucky escape as his car skidded in icy conditions and ended up nose down at basement level.
Read the full story ›
A female patient at Edinburgh's Western General Hospital has tested negative for the Ebola virus.
The patient admitted to the Regional Infectious Diseases Unit at the Western General Hospital yesterday has tested negative for #Ebola. 1/2
We have robust systems in place to manage patients with suspected infectious diseases and staff follow tested national guidelines. 2/2
Advertisement
A woman in Scotland is undergoing hospital tests after returning from Ebola-hit West Africa.
The patient is being screened for infection at Edinburgh's Western General Hospital.
She was admitted to the infectious diseases unit after reporting a raised temperature, NHS Lothian said.
Melanie Johnson, director of unscheduled care at the health board, said:
A patient who recently returned to Scotland from West Africa has been admitted to our Regional Infectious Diseases Unit (RIDU) at the Western General Hospital after they reported a raised temperature.

As a precautionary measure, and in line with agreed procedures, the patient will be screened for possible infections and will be kept in isolation.

We have robust systems in place to manage patients with suspected infectious diseases and follow agreed and tested national guidelines.
– Melanie Johnson, NHS Lothian
Revellers in London and Edinburgh are on standby to usher in the new year at midnight.
Edinburgh University has launched an investigation into rape threats said to have been made by members of an American-style fraternity.
Read the full story ›
Boxes containing postal boxes have been opened as the count starts in Edinburgh.
Advertisement
Ballot boxes have begun arriving at the Royal Highland Centre in Ingliston, Edinburgh, where the Scottish referendum vote count will take place.
Crowds of 'Yes' campaigners turned out in sunny Edinburgh for a photo call with Scotland First Minister Alex Salmond and his deputy Nicola Sturgeon this morning.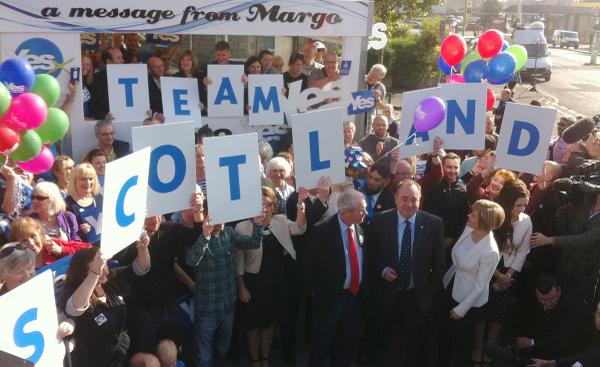 Edinburgh Zoo has announced that its latest scientific data suggests Tian Tian the giant panda is pregnant and may give birth at the end of this month.
Iain Valentine, director of giant pandas, said: "It is very likely that we will not know 100% if Tian Tian is pregnant until she gives birth; however very new scientific tests will give us a strong indication".
Last year, Tian Tian became pregnant through artificial insemination, but lost the cub at a late stage in her pregnancy.
A man cleared of murdering two young women is to be re-tried, prosecutors said.
Angus Sinclair, 68, was indicted for the 1977 murders of Christine Eadie and Helen Scott.
The two 17 year-old girls were last seen leaving the World's End bar in Edinburgh. Their unclothed bodies were found a day later.
Mr Sinclair stood trial in 2007 accused of their murders and was acquitted of the charges, which he had denied.
Earlier this year, judges granted prosecution the right to re-try him under the new double jeopardy laws passed in 2011.
Load more updates