The death toll in pro-democracy protests in Egypt on Sunday climbed to 11, according to security sources, Reuters reports.
Tight security in Cairo and other cities failed to contain protests marking the anniversary of the 2011 uprising that toppled autocrat Hosni Mubarak.
Last year several demonstrators were killed as protests to mark the anniversary turned into running battles between pro and anti-government camps.
The human rights lawyer has said she was threatened with arrest when trying to publish a report into Egypt's judicial system.
Read the full story ›
Advertisement
Lawyers for Al Jazeera journalist Peter Greste have applied for him to be deported after he was granted a retrial in Egypt.
His brothers Mike and Andrew Greste, who had hoped for his release, called on the Egyptian president Abdul Fattah al-Sisi to use a decree he issued last year that allows him to deport foreigners in prison or on trial.
Australian Greste, along with two other Al Jazeera journalists, was granted a retrial on the grounds of flaws in their trial but denied bail.
Al Jazeera journalist Mohamed Fadel Fahmy has welcomed a decision by an Egyptian court to hold a retrial for him and two other journalists as a 'milestone'.
Canadian-Egyptian Fahmy also said that the three journalists are in high spirits.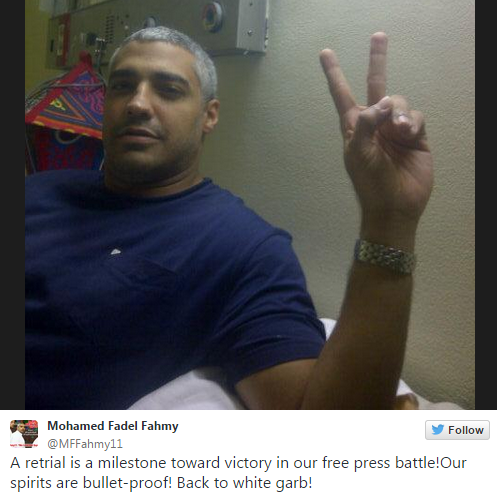 Fahmy, former BBC correspondent Peter Greste and Egyptian Baher Mohamed, were sentenced in June for charges of abetting terrorists, spreading false news and endangering national security.
Al Jazeera has demanded that the journalists are released immediately because the original trial was flawed.
Al Jazeera has reiterated that the trial of its journalists was flawed and has demanded their release.
"The Egyptian authorities have a simple choice - free these men quickly or continue to string this out, all the while continuing this injustice and harming the image of their own country in the eyes of the world," Al Jazeera said in a statement.
"They should choose the former," the TV channel added.
Three journalists working for Al Jazeera are expected to remain in jail until they appear before a new court for a retrial, a defence lawyer said.
"They will not be released until they appear before the new chamber, which will decide whether to release them or not," said defence attorney Mostafa Nagy.
Advertisement
Three Al Jazeera journalists jailed in Egypt have been granted a retrial.
Former BBC correspondent Peter Greste, along with Canadian-Egyptian Mohamed Fahmy and Egyptian Baher Mohamed, have been held since their arrest in December 2013.
They were jailed in June after the state found them guilty of charges of abetting terrorists, spreading false news and endangering national security.
Al Jazeera have always insisted that the men were just doing their job.
The British Embassy in Cairo has suspended its public services for security reasons today.
The office of the British Consulate-General in Alexandria will continue operating as normal.
Public services at the British Embassy in Cairo are suspended on Sunday 7th Dec. More information: https://t.co/AxASL5HjiZ
An Egyptian court has issued preliminary death sentences for 185 people over an attack on a police station last year.
Former Egyptian president Hosni Mubarak was today cleared of ordering the killing of protesters during the uprising that ended with his removal from power.
Having served two years of a life sentence, Mr Mubarak was given a retrial where he was today acquitted.
His supporters were delighted but the verdict provoked fury in some quarters.
ITV News Correspondent Gareth Owen reports.
Load more updates