A minute's silence was held in London today in protest at the sentence of three Al-Jazeera journalists who were each jailed for seven years in Cairo on Monday.
Hundreds of journalists and supporters gathered at BBC's New Broadcasting House this morning.
Katie Prescott, a producer for BBC Radio 4's Today programme tweeted this picture.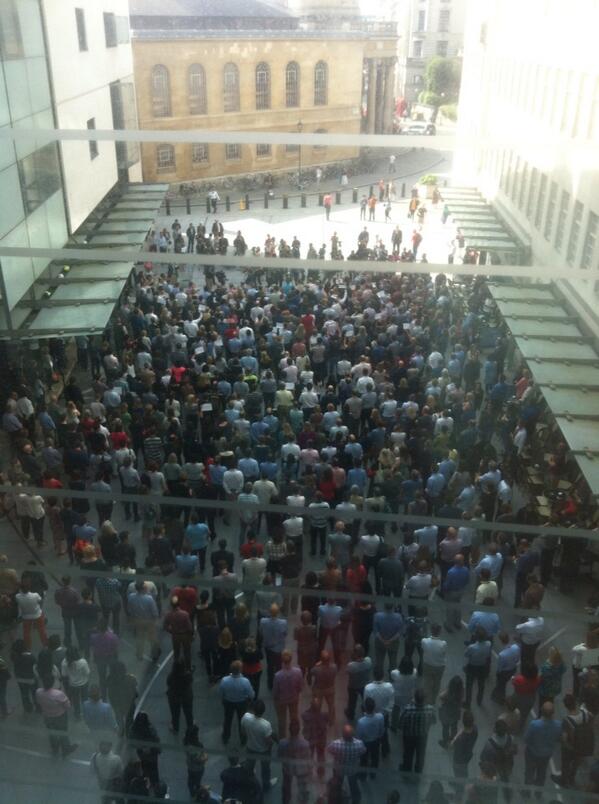 While Sima Kotecha, a BBC reporter on the Today programme, tweeted this.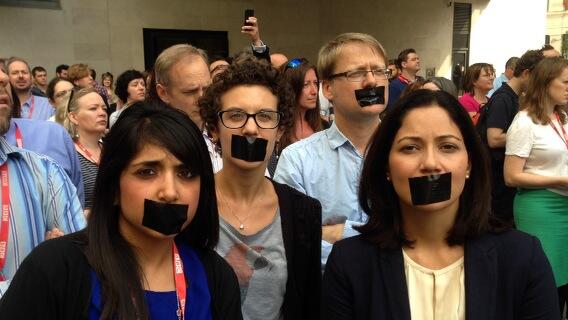 The minutes silence was also observed worldwide. Abdullahi Sheikh, a BBC journalist based in Nairobi, tweeted this calling for the men's release.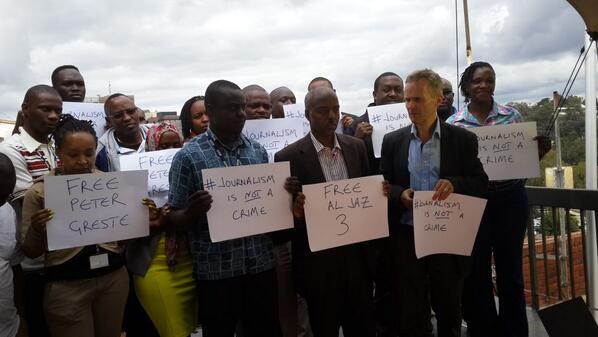 Australian Prime Minister Tony Abbott says he hopes to ensure Peter Greste's return from Egypt "as soon as possible" after the journalist and two colleagues were jailed in a widely-criticised court ruling on Monday.
"We're obviously shocked, dismayed, really bewildered by the decision of the court in Egypt," he told the Associated Press.
Mr Abbott added that while his country respects the legitimacy of the Egyptian government "it is important that there be due process" and that "decisions be made on a fair and just basis".
He said he had a "very constructive discussion" with Egypt's president Abdel-Fattah el-Sissi on the issue this weekend.
Advertisement
The jailing of three Al-Jazeera journalists in Egypt has prompted an international outcry - with Britain and the US among those calling for a pardon.
The parents of Australian journalist Peter Greste have said they are determined to continue their battle until he and his colleagues are released from an Egyptian jail.
Speaking at a press conference in Brisbane after his son and two others were sentenced to several years in prison, Juris Greste said: "This is a very dark time, not only for our family but for journalism generally."
Repeating "our son is not a criminal", Mr Greste said the court's verdict was a "slap in the face and a kick in the groin to Australia as well as all fair-minded people around the world".
Mr Greste's mother Lois said they had not spoken to their son following the verdict,
Egypt has strongly rejected foreign criticism of its judicial system and interference in its affairs after a court decision to sentence three al Jazeera journalists to seven years or more in jail raised an international outcry.
"The Egyptian foreign ministry strongly rejects any comment from a foreign party that casts doubt on the independence of the Egyptian judiciary and the justice of its verdicts," the foreign ministry said in a statement.
Leader of the Opposition Ed Miliband has called the jailing of three al-Jazeera journalists in Egypt over allegations of terrorism "unacceptable" and has urged Cairo to address concerns over press freedom in the country.
The Labour leader tweeted:
After the totally unacceptable jailing of journalists in Cairo, Egyptian govt must urgently address growing concerns about press freedom.
Advertisement
The United Nations High Commissioner for Human Rights has joined voices condemning Egypt for imprisoning three journalists under terrorism laws.
In a statement, Pillay said that Egypt should release three al-Jazeera reporters jailed for seven years earlier in the day after being convicted of helping a "terrorist organisation", and she accused Egypt of "crushing" the media.
US Secretary of State John Kerry has phoned Egypt's foreign minister to register his country's "serious displeasure" with the court's "chilling and draconian" verdict against three Al Jazeera journalists, Reuters have reported.
The jailing of three journalists in Egypt on terror charges has provoked Foreign Secretary William Hague to summon the Egyptian ambassador for an urgent meeting.
"I am appalled by the guilty verdicts handed down today against Egyptian and international journalists in Egypt. Amongst those found guilty were two British journalists, Sue Turton and Dominic Kane, who were being tried in absentia," Mr Hague said.
"British ministers and diplomats will continue to urge the Egyptian government to demonstrate its commitment to freedom of expression by reviewing this case as a matter of urgency and I have instructed officials to summon the Egyptian ambassador to the Foreign and Commonwealth Office today."
The Deputy Prime Minister has expressed his deep concern over the sentencing of seven Al Jazeera journalists in Egypt, saying that the British government will continue to press for an urgent review of their cases.
"The guilty verdicts handed down against Egyptian and international journalists in Egypt are deeply concerning," Nick Clegg said in a statement.
"They are illustrative of a regime in Egypt that is unfairly treating journalists, students and political activists on a very wide scale.
"The British Government will continue to press our Egyptian counterparts to both urgently review this case and to demonstrate a much clearer and more consistent commitment to freedom of the press and freedom of expression."
Load more updates