Wayne Rooney is set to remain as England captain under interim manager Gareth Southgate
Read the full story ›
City of London Police confirmed that discussions have already taken place with the FA and the broadsheet newspaper
Read the full story ›
Advertisement
Manchester United striker Marcus Rashford has been left out of Aidy Boothroyd's England U-21 squad, suggesting that Gareth Southgate will include him in the senior team.
Southgate is taking charge of England for the next four games after Sam Allardyce was dismissed earlier this week.
Allardyce omitted Rashford in his one and only game in charge.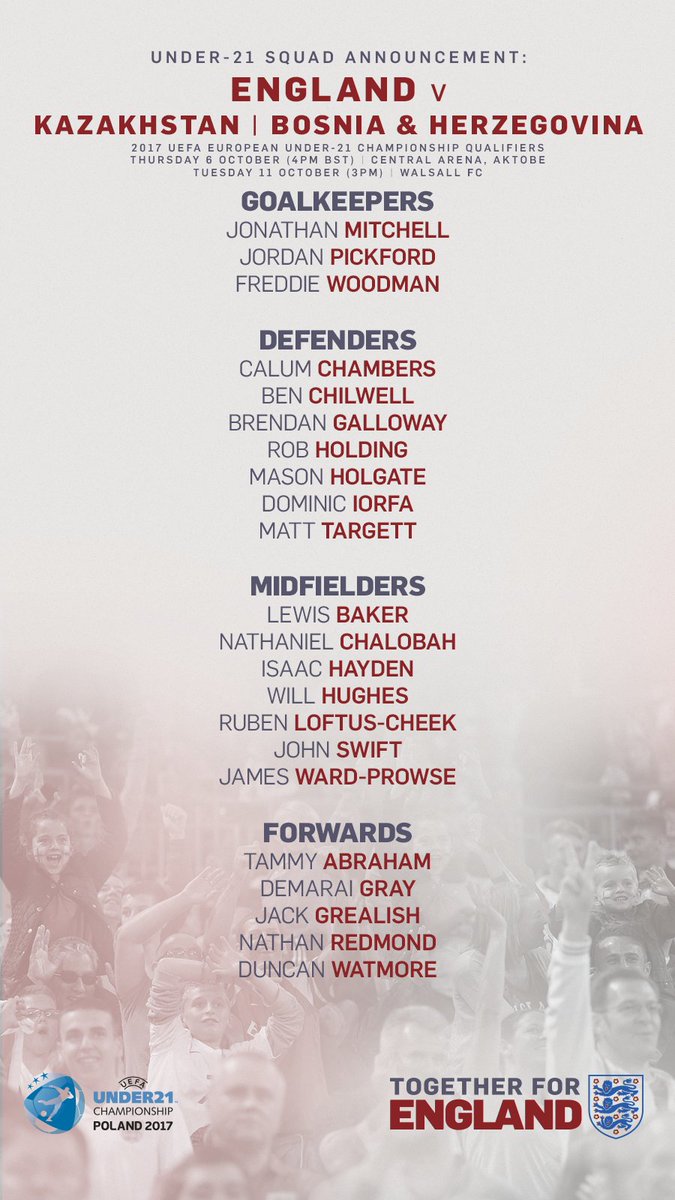 Sam Allardyce's financial adviser refused to comment on the scandal that caused the former England manager's sacking today when confronted by ITV News.
Shane Maloney was with Big Sam and the manager's agent at two controversial meetings where Allardyce agreed to strike a £400,000 deal with undercover newspaper reporters posing as businessmen from the Far East.
Maloney - who is fellow director of a string of businesses linked to Allardyce - has not been seen since the scandal was broken on Monday by the Daily Telegraph.
But today Maloney refused to answer questions about the affair after being confronted by ITV News during a chance encounter on the Tube.
Sports Minister Tracey Crouch has called for the claims against Sam Allardyce to be "investigated fully" in the wake of his sacking as England manager.
Ms Crouch, along with Culture Secretary Karen Bradley, have already been in touch with the football authorities and officials are set to hold further talks with The FA, Premier League and Football League.
An investigation by The Daily Telegraph alleged Allardyce used his role to negotiate a deal worth £400,000 and offered advice about how to "get around" player transfers rules.
Ms Crouch said: "The integrity of sport is absolutely paramount and we have been clear that we expect the highest standards of governance and transparency from sports governing bodies, here in the UK and on the international stage.
"In this context, the recent allegations concerning English football are very concerning and we will be discussing the matter with the football authorities. All the evidence presented to them must be investigated fully and we stand ready to assist in any way we can."
Former England manager Steve McClaren has said The FA must "cut out" any wrongdoing from football and investigate the claims against Sam Allardyce.
McClaren's comments were made in the wake of an investigation by The Daily Telegraph which alleged ex-England manager Allardyce used his role to negotiate a deal worth £400,000 and offered advice about how to "get around" player transfers rules.
Advertisement
Sam Allardyce's former assistant Phil Brown says the end of his brief reign as England boss is like a bereavement.
Read the full story ›
Former England boss Steve McClaren says anyone could have been caught out like Sam Allardyce.
The ex-Bolton manager lost the England job on Tuesday following comments he made to undercover reporters.
McClaren, who was speaking at the SoccerEx conference in Manchester, expressed his disappointment for Allardyce on a personal level, after he only lasted 67 days as England manager.
It could have happened to any of us in a high-profile position and Sam has innocently paid the price and it just shows where sport is, at the elite level, that privacy can only be found in the four walls of your home.

And I think a lot of managers, who have been targeted, have unfortunately found that out, too.

We need closure on this so the newspapers and reporters should give their information to the FA so they can step in - if there is anything there, it's got to be cut out of the game.

Personally, I'm very sad and disappointed. Professionally, I think if there is information about anything bad the FA should deal with it because nobody wants to see a corrupt game.
– Steve McClaren
In an interview with ITV News, Antonio became the first England player to speak out about the allegations against Sam Allardyce.
Read the full story ›
Premier League executive chairman Richard Scudamore says there is no place for malpractice in football.
His comments come in the wake of Sam Allardyce's exit from the England job. Scudamore told ITV News that the correct protocols need to be in place in order to ensure football is corruption free.
There's very there is no room for any malpractice.

The money doesn't concern me but when there is money around you have to make sure the governing procedures are in place.
– Richard Scudamore
Load more updates