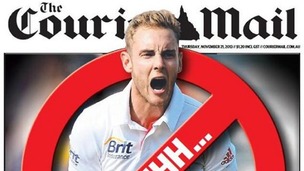 An Australian newspaper has banned the name 'Stuart Broad' replacing it with 'Stuart Fraud' after the Ashes controversy last summer.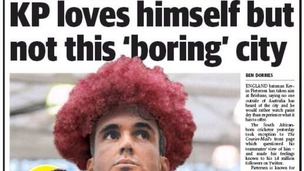 Kevin Pietersen insists he is revelling in the exchange of insults between himself and the Australian press.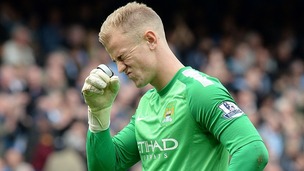 It might be eight months away, the draw won't even be made until next month but already Roy Hodgson has a sizeable World Cup headache.
Live updates
Roy Hodgson said he may use a psychologist to prevent England experiencing more penalty heartache at this summer's World Cup in Brazil.
England have lost six out of their seven shoot-outs at major tournaments, with Hodgson's side losing on penalties against Italy at Euro 2012.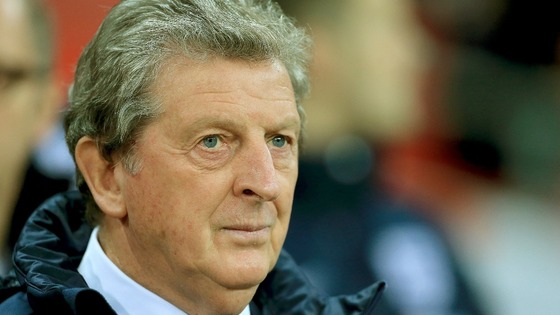 "I'm not averse to using a psychologist," Hodgson told Sky Sports.
"We are considering, with Adrian's [Bevington] help, the possibility of inviting someone with us but I think it's very important they're someone who is part of the group. I'm not sure just suddenly shipping someone in to give the players a lecture would work.
"We have some confident penalty-takers, but others less confident and it's how we get to them," the England manager added.
For all the build up to the tournament visit ITV Sport's World Cup site
Injured Walcott set to miss World Cup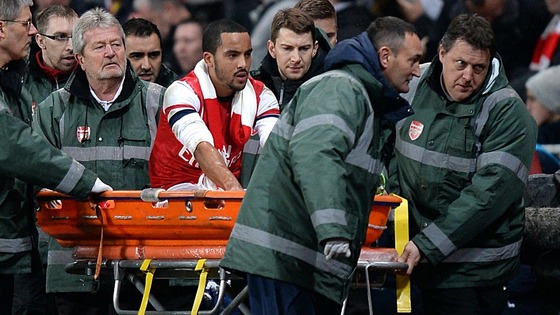 Arsenal forward Theo Walcott has been ruled out of football for at least six months with a knee injury, his club has announced.
His ruptured anterior cruciate ligament (ACL) means that an appearance at the World Cup in Brazil in June is unlikely.
The injury requires reconstructive surgery and a long period of physiotherapy to rehabilitate the knee.
Former England Michael Owen striker ruptured his ACL while playing for his country at the 2006 World Cup against Sweden.
Advertisement
Australia look set to win the Ashes tomorrow despite some last-ditch defiance from England that will take the third Test into the final day.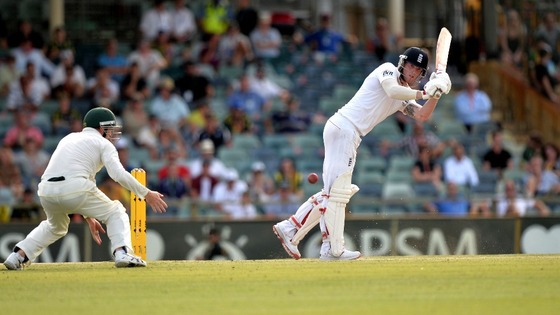 England are chasing a world-record 504 to win and their chances of even taking the Test into a final day looked slim after captain Alastair Cook was out for a golden duck and Kevin Pietersen lost his wicket in a reckless manner.
However, a 99 stand between Ben Stokes (72 not out) and Ian Bell (60) left the tourists on 251 for five at the end of the day, giving England a small chance of keeping the series alive.
Australia are currently 2-0 up in the series and look certain to win the Ashes back from England.
Schools urged to crack down on classroom misbehaviour
Schools in England are suffering from a culture of "casual acceptance" of classroom misbehaviour, the Ofsted chief inspector has warned.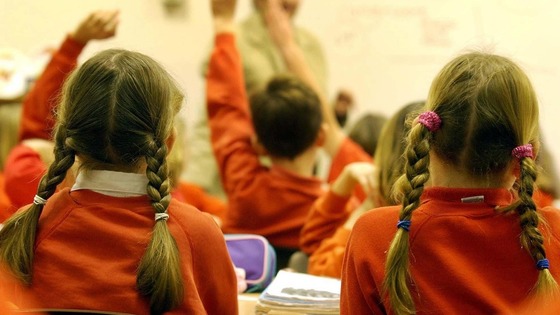 Read: Numbers to replace grades in GCSE exams overhaul
Poor attitudes to education and low-level disruption in lessons are stopping pupils from learning and preventing the nation from moving up international league tables, according to Sir Michael Wilshaw.
In a speech today, Sir Michael is due to say that disruption and inattention has been tolerated for too long and that Ofsted will be cracking down on misbehaviour in schools.
Around 700,000 children are currently being taught in schools where behaviour is not at an acceptable level, figures suggest.
Sir Michael will say there is a "poverty expectation" in many schools that needs to be dealt with and the "poor attitudes to learning" in England are "a million miles away from the sort of cultures we see in some of the high-performing Asian countries".
England given tough World Cup group in Brazil draw
England are to discover this afternoon who they are to face in the group stage of the World Cup in Brazil.
There are four pots:
Pot 1: Argentina, Brazil, Belgium, Colombia, Germany, Spain, Switzerland, Uruguay
Pot 2: Algeria, Cameroon, Chile, Côte d'Ivoire, Ecuador, Ghana, Nigeria

Pot 3: Australia, Costa Rica, Honduras, Iran, Japan, Korea Republic, Mexico, USA
Pot 4: Bosnia-Herzegovina, Croatia, England, France, Greece, Italy, Netherlands, Portugal, Russia

One side from Pot 4 will be drawn as a Pot 2 side.
Roy Hodgson looks ahead to World Cup draw
Roy Hodgson has dismissed safety fears surrounding next year's World Cup in Brazil.
Hodgson shrugged off concerns over the proximity of England's training camp to a favela saying: "Where in Rio is there not a favela up the road?".
The England manager said he had every "faith" that Fifa and the Brazilian government would ensure the safety of players and fans.
Read: Hodgson wants to keep players in 'family environment'
For the latest World Cup news, visit ITV Sport
Advertisement
Roy Hodgson looks ahead to World Cup draw
Roy Hodgson has said he plans to keep England's players in a normal family environment until the pressures of the World Cup begin.
England players' partners became a controversial feature of the 2006 World Cup, with critics arguing their presence became a distraction, but Hodgson said he intends to allow the players to see their families.
Hodgson admitted the training pitch needed to be improved "enormously", but insisted he was generally very happy with the state of the training facilities and the surrounding area.
Read: Roy Hodgson 'excited' ahead of World Cup draw
For the latest World Cup news visit ITV Sport
Roy Hodgson looks ahead to World Cup draw
Roy Hodgson has said he is excited and full of anticipation to see who England will face in next year's World Cup with the draw due to take place tomorrow.
Due to Fifa's seeding system England could be handed a difficult draw, but Mr Hodgson insisted he was "excited" and not worried about finding out his side's opponents.
England loses first Ashes Test
England cricketer Kevin Pietersen has described his team's defeat in the first Ashes Test as "horrible" on Twitter:
Hey - if we all accept the good days in life, we all have to accept the bad ones! Horrible Test for us that.. 4 to play! ?
Watch: Alastair Cook says England must now prepare for 'battle'
England loses first Ashes Test
England's cricket captain Alastair Cook has said his team-mates will now "harden ourselves for the battle" after a big defeat in the first Test.
Load more updates
Back to top