Players trying to avoid England duty is "nothing particularly new", according to the former manager of the national team, Graham Taylor.
The issue has come under the spotlight after Harry Redknapp claimed "two or three" of his former players at Tottenham had asked him to help them get out of playing international games.
But Taylor, who also managed club sides Watford and Aston Villa, said players were sometimes pressurised by their managers to avoid playing in international fixtures.
He told BBC Radio 5 Live: "There are certain games and certain players who don't want to be involved in games like that. As much as we blame the players, they are put under pressure, sometimes by their club managers."
England midfielder Frank Lampard has said he is undecided on whether he will continue playing international football after the World Cup.
He will be playing for a new team next season after his contract at Chelsea expired in June, but he has yet to decide on a move.
"I don't know whether I will (retire) or not. I am going to get home and make a decision at that point because I have my own (club) future to sort out as well," Lampard told BBC Radio 5 Live.
"This is not the time and place to make the decision. Sometimes when you are away for a month you don't always come up with the right judgement."
Advertisement
QPR manager Harry Redknapp has refused to name the players he said wanted to avoid playing for England when he was manager of Tottenham.
He had said that when he was at the north London club "two or three players" had asked him to get them out of playing for the national side.
Redknapp was challenged by current England captain Steven Gerrard and manager Roy Hodgson to back up his comments by naming the individuals involved.
But he has refused to give more detail, telling the Daily Mail: "I understand Steven's concern but I don't want to get into naming names because it wouldn't be fair to the players."
However he insisted the problem of players not wanting to represent England was widespread, adding: "Every Premier League manager past and present knows what I'm talking about. Probably even Roy Hodgson. But sadly this attitude is not unusual these days."
"You've only got to look at how many players pull out of an international game on Tuesday and Wednesday then are running about for their clubs the next Saturday to see that this is a very real issue."
Are we sub-standard at grassroots? Or is it simply a lack of passion for the shirt? As ever, the answer seems a little more nuanced.
Read the full story ›
Roy Hodgson and Steven Gerrard have urged Harry Redknapp to "name and shame" players he claims sought help to avoid England duty when he was manager of Tottenham.
The England captain and manager responded, insisting no players in the current set-up held such feelings.
"Who?" Gerrard asked, "Name them. We need names. I don't know who he means. Five years ago? 10 years ago?
"If it's the case, it's disgusting."
Hodgson added: "In the two years I've been here, I've seen a greater interest in playing for England, so Harry's comments come as a bit of a surprise."
England's manager and captain faced the press today for the first time since their early exit from the World Cup was confirmed.
Roy Hodgson and Steven Gerrard admitted emotions are still raw. Gerrard is yet to decide whether he will retire from international football.
Advertisement
Steven Gerrard said he "needs a holiday" to clear his head before he makes any big decisions about retiring from international football.
He told a news conference he had asked for some time over the summer to consider the decision:
England Captain Steven Gerrard has addressed rumours of his retirement from international football following England's defeats in Brazil, telling a press conference "I won't be making any announcements in the next week".
ITV News Sports Producer Will Mott reports from the Brazil: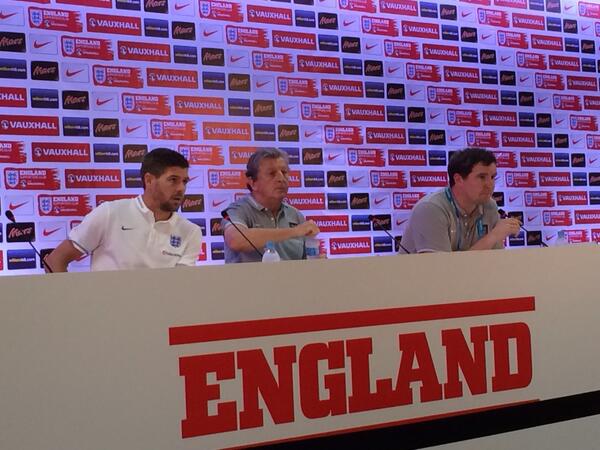 British police working at the World Cup in Brazil say they do not anticipate any trouble from "dejected" England fans despite their exit from the tournament.
England crashed out of the tournament after losing their first two group games against Italy and Uruguay, and are due to play their last match against surprise leaders Costa Rica on Tuesday.
"We are aware fans are feeling a bit low and dejected, but we have had no trouble from them so far. We are not anticipating any trouble from them at all. There have been no arrests so far," Paddy Cooper, a spokesman for the Association of Chief Police Officers, said.
England's "embarrassing" early exit from the World Cup must be a wake-up call that there is something "fundamentally wrong" with the national game, Rio Ferdinand has warned.
Costa Rica's 1-0 victory over Italy condemned England to their earliest elimination from the tournament since 1958, after defeats by Italy and Uruguay.
Ferdinand blamed England's "puddle deep" pool of talented players on a lack of facilities, quality coaches and playing opportunities for young players.
Writing in the Mail on Sunday, the former Manchester United defender said: "Enough is enough. England's embarrassing early exit from the World Cup needs to be a wake-up call that something is fundamentally wrong in our national game and it needs fixing or we'll be also-rans for ever."
Load more updates