Higher numbers of complaints about breathing difficulties are thought to have been brought on by record pollution levels in recent days.
Read the full story ›
Pollution levels remain 'high' across England and south Wales and 'very high' in London, the Department for Environment, Food and Rural Affairs (Defra) has said.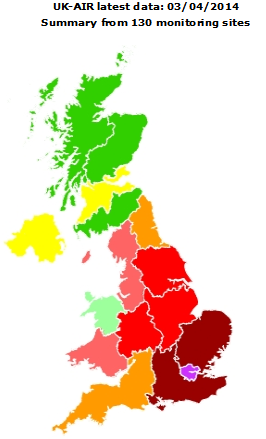 Advertisement
Showery outbreaks of rain will persist overnight across northern England and much of Scotland.
Misty and murky conditions will be forming out toward the North Sea coast, and we are still pulling up that polluted air from the south-east.
Things will be changing overnight, however - a south-westerly air flow will feed in much cleaner, fresher air.
The number of 999 calls from north-west patients struggling with breathing problems has soared by 15% this week, the region's ambulance has said.
A spokeswoman for the service told the newspaper that while the increase appeared to be linked to an increase in pollution levels, the cause was not completely certain.
West Midlands Ambulance Service has experienced a noticeable spike in call-outs linked to breathing problems and chest pains.
Daily figures for calls reporting breathing or chest problems were largely level at around 460 on Friday, Saturday and Sunday last week.
But the corresponding figures for the first three days of this week were 547, 510 and 501.
The service covers Shropshire, Staffordshire, Warwickshire, Herefordshire and Worcestershire.
Pollution levels have eased slightly in the south-east but have now increased in the West Midlands, north-west and Merseyside, according to the Department for Environment, Food and Rural Affairs (Defra).
High pollution now in the West Midlands, North West & Merseyside. Improvement from V High to High in the South East. http://t.co/BA1M8OK7C9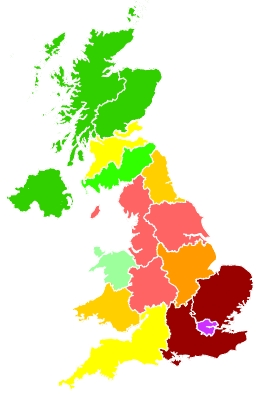 Advertisement
Defra have issued health advice for at-risk individuals as 'very high' pollution levels hit London.
London Ambulance Service revealed earlier that there had been a 14 per cent rise in the number of people calling 999 for help with breathing difficulties.
Masks were seen on the streets of London as air pollution reached "very high" levels in the capital this morning
The Department for Food, Agriculture and Rural Affairs has warned there are high levels of pollution in the south east, London, Yorkshire and Humberside, and East Anglia: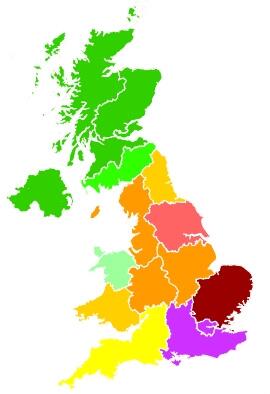 Defra ranks air pollution from one (the green areas) to 10 (marked in purple), with one being the lowest and 10 the highest.
Load more updates