The prime minister told ITV News he has no regrets about holding the referendum, and insisted he was "absolutely convinced" on the issues.
Read the full story ›
The EU referendum vote is a choice between fear and hope, Michael Gove has said.
The former education secretary and Leave campaigner told Good Morning Britain: "I believe people will vote for hope on Thursday. They will vote for democracy and have confidence in Britain."
Advertisement
European Council President Donald Tusk told British voters "stay with us" days before the UK goes to the polls over its EU membership.
He warned that a Brexit would weaken not just Europe but the Western world.
"I would like to appeal to the British citizens, on behalf, I know that for a fact, of almost all Europeans and European leaders: Stay with us," he said.
But he said despite the risks, they would keep up the determination to spend on the Eurozone in the future.
We are aware of the risks... that could come with a possible Brexit. In no way are we downplaying the economic cost that would accompany a potential Brexit. I have no doubt however that we are already prepared for the day after referendum.
– European Council President Donald Tusk
Every Premier League club supports Great Britain remaining in the European Union, according to executive chairman Richard Scudamore.
Read the full story ›
Leading Conservative Baroness Warsi has switched from supporting Leave to Remain, accusing some Brexit campaigners of spreading "hate and xenophobia".
The former Foreign Office minister said the final straw was a Ukip poster showing migrants queuing up to get into Europe under the slogan "Breaking Point".
Lady Warsi told The Times: "That 'breaking point' poster really was - for me - the breaking point to say, 'I can't go on supporting this'.
"Are we prepared to tell lies, to spread hate and xenophobia just to win a campaign? For me that's a step too far."
The newspaper originally had "defects" in its headline but later changed it to "walks out".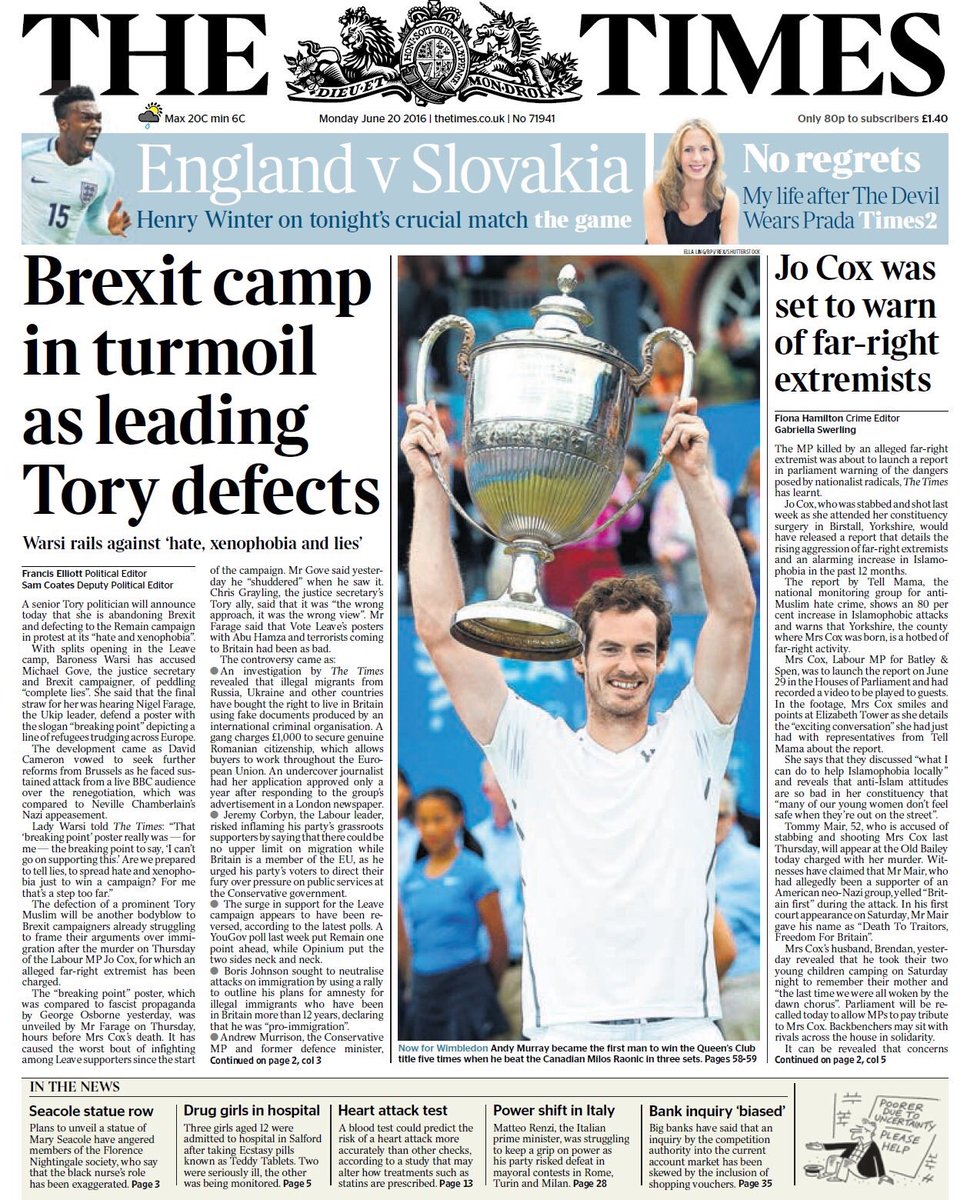 ITV News Deputy Political Editor Chris Ship tweeted:
Vote Leave source: was news to is that @sayeedawarsi was part of our campaign in the first place.
Lady Warsi was the first female Muslim to ever attend Cabinet, and was previously chair of the Conservative Party.
She resigned from the Government in 2014, saying she could not support its position on the conflict in Gaza.
The letter follows President Obama's comments that Britain would be 'at the back of the queue' if it left the EU.
Read the full story ›
Advertisement
David Cameron has criticised Vote Leave leaflets on BBC's Question Time EU Referendum special, saying that the public should not vote to leave based on "three things that are completely untrue".
David Cameron explained to applause that he believes the question of Turkey joining the EU is "the biggest red herring in this whole referendum debate".
"I can't find a single expert anywhere in the country or in Europe that thinks Turkey is going to join the EU in the next few decades."
"To join, you've got to negotiate 35 chapters. They've done one."
He went on to explain that leaflets from Leave have claimed several things that he says are not true.
"Look, if we want to vote to leave this organisation, let's vote to leave it," he said. "But let's not do it on the basis of three things that are completely untrue."
"If we leave this organisation forever, we don't take back control," David Cameron told a studio audience at BBC's special Question Time programme about the EU referendum.
Britain will be "outside the room" while French, Germans and Italians are working to figure out how to fight terrorism and how to make things better for Europeans, he argued.
"They'll be deciding the rules and regulations for our continent," he said, "and we should be there fighting.
"Britain doesn't quit, we fight, and that's how we win."
The Prime Minister was directly challenged about his position after the referendum, with one audience member on BBC's Question Time asking how he could possibly remain as Prime Minister if Vote Leave win.
"I promised this renegotiation, I carried it out," he said. "I promised a referendum, we're having it.
"I will take and obey the instructions of the British people, and on that basis I think it's right to stay."
Load more updates