Poland's prime minister Donald Tusk has been chosen by European Union leaders to become the new president of the European Council.
The top official will chair EU summits and mediate between the 28 governments for the next two-and-a-half years.
Federica Mogherini, the Italian foreign minister, has also replaced Catherine Ashton as the EU's foreign policy chief.
Ukraine's President Petro Poroshenko has said that he believes the crisis in the east of the country is very close to the point of "full-scale war".
He said that EU leaders agreed to prepare new sanctions against Russia, which could be implemented depending on the progress of his peace plan.
He added that he hopes a meeting with Russian amd EU representatives on Monday can bring about a ceasefire.
Advertisement
A draft statement from EU leaders meeting in Brussels calls for officials to urgently prepare possible new sanctions against Russia over the crisis in eastern Ukraine.
They will ask the EU's executive Commission and the EU's diplomatic service to work together "to urgently undertake preparatory work" on further sanctions.
Russia is at war with Ukraine and so effectively at war with Europe, Lithuanian President Dalia Grybauskaite has said, calling on Europe to supply Kiev with military equipment.
It is the fact that Russia is in a war state against Ukraine. That means it is in a state of war against a country which would like to be closely integrated with the EU. Practically Russia is in a state of war against Europe. That means we need to help Ukraine to ... defend its territory and its people and to help militarily, especially with the military materials to help Ukraine to defend itself because today Ukraine is fighting a war on behalf of all Europe.
– President Dalia Grybauskaite
The European Union has warned Russia against any "unilateral military actions in Ukraine." The bloc's foreign ministers said they would consider it a "blatant violation of international law."
EU foreign ministers said in a statement after talks in Brussels that the 28-nation EU was "increasingly concerned at the worsening crisis in eastern Ukraine and its humanitarian impact on the civilian population."
European Union energy rules are "destroying" British jobs, according to an independent business campaign group.
A report by Business for Britain entitled 'Energy policy and the EU - How a better deal could bring down the cost of energy and save jobs' claims rising energy costs threaten 1.5 million jobs in Britain's energy intensive sector, with 363,000 at high risk.
It states that while the EU is not the only reason energy prices have risen, it has played a "significant and growing role in driving up the cost of energy" and consequently in "reducing Britain's industrial output and in destroying jobs."
EU energy policies account for up to 9% of the cost of energy for the Energy Intensive Industries, according to the paper, and this could rise to just under 16% by 2030.
The study concludes that member states need the power to amend or block EU laws to address these problems.
Advertisement
London mayor Boris Johnson will say that life outside the "sclerotic" European Union is an "attractive" option for Britain.
Mr Johnson will stress that remaining in a streamlined EU remains the best option however he will also say the UK should not fear leaving the group if it cannot secure necessary reforms.
A looser association with the EU could boost trade with the rest of the world and add 1.1% to GDP, he will say.
Mr Johnson will also endorse an eight-point plan for reforming the group, going beyond the goals set out by David Cameron ahead of a possible in-out referendum in 2017.
The move has reignited speculation the London mayor is wooing Eurosceptics with a view to a future Tory leadership bid.
David Cameron and EU Commission President-elect Jean-Claude Juncker high-fived as they met to discuss the Prime Minister's EU reform agenda in Brussels.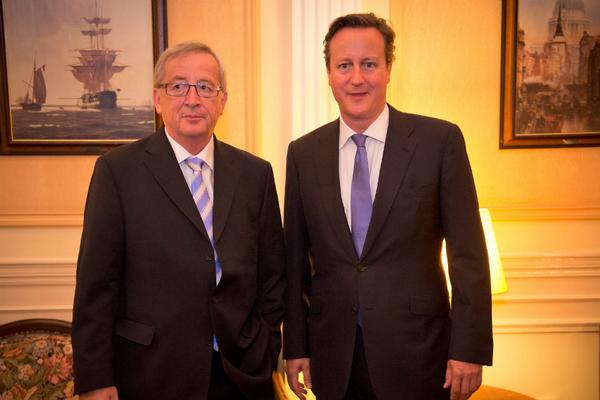 Prime Minister David Cameron is meeting with the incoming President of the EU Commission, Jean-Claude Juncker, to discuss his reform agenda.
European Union leaders would work to block loans for new projects in Russia as well as a range of other sanctions in response to Moscow's actions in Ukraine, according to a draft statement.
The statement said that EU countries would also work together to suspend funding for new projects in Russia through the European Bank for Reconstruction and Development.
Sanctions would also target companies that helped to undermine Ukrainian sovereignty and a first list of companies and people to be targeted with asset freezes would be drawn up by the end of July.
This comes as the US announced its widest-ranging sanctions against Russia yet.
Load more updates