The European Union has warned Russia against any "unilateral military actions in Ukraine." The bloc's foreign ministers said they would consider it a "blatant violation of international law."
EU foreign ministers said in a statement after talks in Brussels that the 28-nation EU was "increasingly concerned at the worsening crisis in eastern Ukraine and its humanitarian impact on the civilian population."
European Union energy rules are "destroying" British jobs, according to an independent business campaign group.
A report by Business for Britain entitled 'Energy policy and the EU - How a better deal could bring down the cost of energy and save jobs' claims rising energy costs threaten 1.5 million jobs in Britain's energy intensive sector, with 363,000 at high risk.
It states that while the EU is not the only reason energy prices have risen, it has played a "significant and growing role in driving up the cost of energy" and consequently in "reducing Britain's industrial output and in destroying jobs."
EU energy policies account for up to 9% of the cost of energy for the Energy Intensive Industries, according to the paper, and this could rise to just under 16% by 2030.
The study concludes that member states need the power to amend or block EU laws to address these problems.
Advertisement
London mayor Boris Johnson will say that life outside the "sclerotic" European Union is an "attractive" option for Britain.
Mr Johnson will stress that remaining in a streamlined EU remains the best option however he will also say the UK should not fear leaving the group if it cannot secure necessary reforms.
A looser association with the EU could boost trade with the rest of the world and add 1.1% to GDP, he will say.
Mr Johnson will also endorse an eight-point plan for reforming the group, going beyond the goals set out by David Cameron ahead of a possible in-out referendum in 2017.
The move has reignited speculation the London mayor is wooing Eurosceptics with a view to a future Tory leadership bid.
David Cameron and EU Commission President-elect Jean-Claude Juncker high-fived as they met to discuss the Prime Minister's EU reform agenda in Brussels.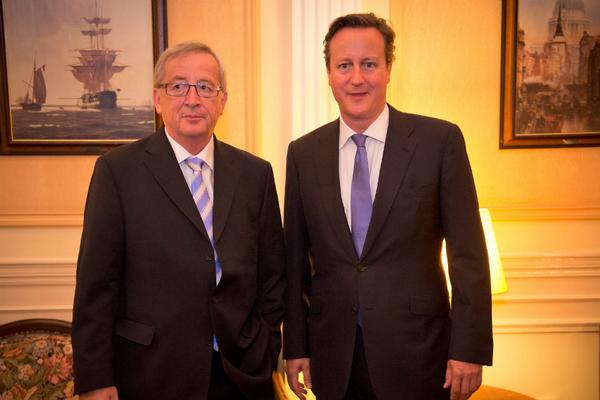 Prime Minister David Cameron is meeting with the incoming President of the EU Commission, Jean-Claude Juncker, to discuss his reform agenda.
European Union leaders would work to block loans for new projects in Russia as well as a range of other sanctions in response to Moscow's actions in Ukraine, according to a draft statement.
The statement said that EU countries would also work together to suspend funding for new projects in Russia through the European Bank for Reconstruction and Development.
Sanctions would also target companies that helped to undermine Ukrainian sovereignty and a first list of companies and people to be targeted with asset freezes would be drawn up by the end of July.
This comes as the US announced its widest-ranging sanctions against Russia yet.
Advertisement
The President of the European Parliament has distanced himself from remarks in which he claimed the UK's nominee to the EU Commission was supposed to have "radical anti-European views".
German politician Martin Schulz had suggested Lord Hill would find it difficult to be approved for a Commission post because of his apparently eurosceptic views.
The remark prompted Ukip leader Nigel Farage to claim Mr Schulz had made a "declaration of war" on the British government's nominee.
But he said he was "glad to hear" from friends that Lord Hill was in fact "more pro-European than anything else in the UK context".
Labour have called the nomination of Lord Hill as the UK's next European Commissioner "a shambles".
David Cameron's choice has come under further scrutiny after it was announced Lord Hill would be selling his shares in a lobbying firm to avoid accusations of a conflict of interest.
Shadow Europe Minister Gareth Thomas said: "David Cameron's approach to Europe goes from bad to worse."
"After his complete failure to stop Jean-Claude Juncker becoming Commission president this shambles will not help in rebuilding our influence to secure crucial reforms."
Britain's nominee for the European Commission is to sell his shares in a public relations and lobbying firm to avoid any suggestion of a conflict of interest.
Lord Hill holds shares in Huntsworth plc, which bought the company he founded, Quiller Consulting, in 2006.
Downing Street does not seem to believe the shareholding does create a conflict of interest, pointing out that Lord Hill has been a minister for four years and sits in the Cabinet.
That raises the question: 'Why are shares in a lobbying firm OK for a British Cabinet Minister, but don't look good for a potential EU Commissioner?"
Lord Hill, David Cameron's nominee as Britain's new European Commissioner, said he would have been "mad" not to accept the Prime Minister's offer.
Asked whether he was a eurosceptic, the former lobbyist said he was "not one for names or badges or boxes" but that he wanted to reform Europe to make it stronger and serve citizens better.
Mr Cameron is in Brussels tonight in a bid to secure one of the key economic portfolios in the European Commission for Britain.
Load more updates