A German government spokesperson has said that Britain will remain "an important partner in NATO and as a European partner" after Brexit.
As the Prime Minister triggers Article 50 taking Britain out of the EU Germany added that both the UK and the EU have an interest in "keeping good relations".
The Germany Foreign Ministry spokesperson however criticised the two-year timetable as "damn narrow".
Issues that need clarification include the right of EU citizens in Britain, said the spokesperson adding that "uncertainties are bad for Britain and the EU".
"We are watching carefully constitutional developments in Britain, including possible Scottish Independence Referendum", they added.
Theresa May told MPs she believes Britain's "best days lie ahead".
The prime minister said she would work for the "best possible deal" for Britain after Article 50 was formally triggered.
She added: "Now is the time for us to come together to be united across this House and across this country."
Advertisement
Theresa May told the Commons: "This is an historic moment from which there can be no turning back".
She made the announcement as Article 50 was formally invoked when the letter Mrs May had signed was received by EU Council President Donald Tusk.
Donald Tusk, President of the European Council, has tweeted a photo of the Article 50 letter being given to him by UK envoy Sir Tim Barrow.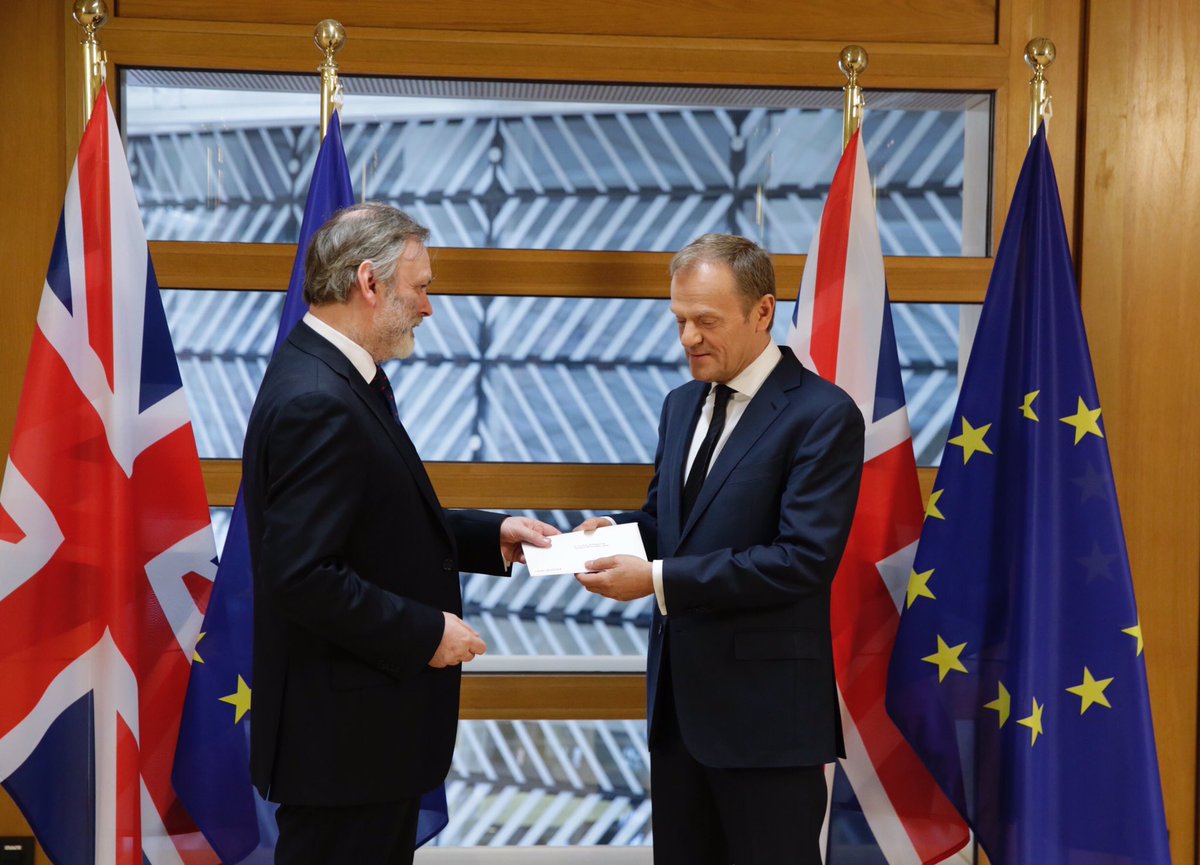 As the Brexit negotiations loom, who will be leading the talks for Britain and the EU over the next two years?
Read the full story ›
Britain has formally given the EU notification that it intends to leave the bloc.
Sir Tim Barrow, British ambassador to the EU, handed the written letter to European Council president Donald Tusk on Wednesday.
The minute the letter was accepted, the notification to leave was triggered.
Britain now has two years to negotiate an agreement with the 27 remaining EU countries over its future relationship with the bloc.
After nine months the UK has delivered. #Brexit
Advertisement
It's been a long 44 years of relative harmony, but what are the milestones in our relationship with the EU?
Read the full story ›
Theresa May takes Prime Minister's Questions in the Commons after which she will give a statement on Article 50.
The formal Brexit process may have begun today - but experts say it may take up to six years to strike a new trade deal with the EU.
Read the full story ›
International trade lawyer Miriam Gonzalez Durantez says Brexit negotiators need a "360 degree view" to secure a "constructive" deal.
Read the full story ›
Load more updates