The level of public "despair" about MPs' expenses means political leaders "have to try and see" if they can bring in further reforms to the system, Nick Clegg has told ITV News.
The Liberal Democrat leader said he was "always prepared" for cross-party discussions on the issue.
However, he also stressed "the important thing" is that new rules brought in under this government mean MPs' claims are now assessed by an independent body, rather than a committee of fellow MPs.
Conservative MP Nadine Dorries has told Deputy Political Editor Chris Ship that MPs' expenses should be abolished, as they have become "toxic" to most voters.
Advertisement
Home Secretary Theresa May has been speaking of her disappointment at Maria Miller's resignation.
She told ITV News:
"I was very sorry to hear that Maria Miller had resigned. She has been an excellent colleague. I had worked with her on a number of issues and, as I say, I was sorry to see her leaving the cabinet."
The Department for Culture, Media and Sport has tweeted a picture of the new secretary of state, Sajid Javid, along with the department's Permanent Secretary, Sue Owen.
Mr Javid, who was previously Financial Secretary to the Treasury, will also become Equalities minister.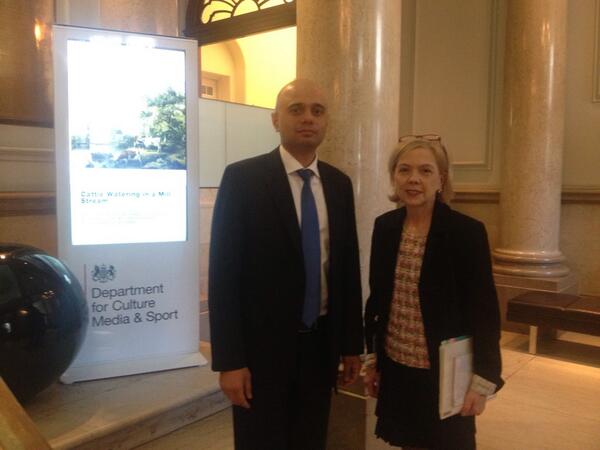 Maria Miller is being urged to reject a £17,000 payoff she can claim after quitting as Culture Secretary over her expenses.
Mrs Miller is eligible three months of her £67,000 ministerial salary, which comes on top of her parliamentary pay, by law but can decide not to take it.
Labour MP John Mann, who made the formal complaint over Mrs Miller's expenses, said accepting the cash would be a "further insult" to taxpayers.
"In light of Maria Miller's conduct, it would now be inappropriate for her to claim severance pay following her resignation. For her to accept a payoff would be a further insult to the taxpayer," Mr Mann said.
Andrea Leadsom is the new Economic Secretary to the Treasury, David Cameron has announced.
The South Northamptonshire MP came into parliament in May 2010 after a 25-year career in banking and finance. She takes the role of Nicky Morgan, who has been promoted to Financial Secretary to the Treasury.
Ms Leadsom is said to have once sworn at new boss Mr Osborne when he tried to persuade her not to vote against the Government over Europe in the early days of the Coalition - a claim that she denied at the time.
Advertisement
David Cameron and Ed Miliband traded blows today over the Prime Minister's handling of the controversy over Maria Miller's expenses claims.
During Prime Minister's Questions, the Labour leader accused Mr Cameron of being an "apologist for unacceptable behaviour" and of failing to understand the public outcry over the affair.
While the Prime Minister suggested there was a lesson to be learned about loyalty and not rushing to judgement, Mr Miliband claimed his answer showed Mr Cameron thought the former Culture Secretary "did nothing wrong".
Mr Cameron hit back, accusing Mr Miliband of being opportunistic and claiming he was jumping on a "political bandwagon" after "the whole circus has left town".
Nicky Morgan ministerial responsibility for women has been criticised in light of her opposition last year to the legalisation of gay marriage.
Ms Morgan voted against the measure last year, and Benjamin Cohen, publisher of gay current affairs site PinkNews, said of her appointment: "It is unfortunate that the new Minister for Women opposes the rights of some women, lesbians, to have the right to marry.
"I hope that in her new role, Nicky Morgan will represent all women regardless of the gender of the person they love."
The newly-appointed Culture Secretary Sajid Javid was seen sat on the front bench during today's Prime Minister's Questions.
Nicky Morgan - who has taken on Javid's role at the Treasury - was sat next to him.
The Prime Minister has told MPs he thought it was right to allow Maria Miller "the chance to get on with her job" following the controversy over her expenses claims.
Speaking during Prime Minister's Questions, David Cameron acknowledged that Ms Miller "did do something wrong" but stressed that she had apologised.
Load more updates