Argentina's FA has been fined 30,000 Swiss francs (£19,444) by Fifa after members of the national team stood with a banner claiming the Falklands as Argentine before a World Cup warm-up match.
Several players from the team that went on to lose the tournament's final to Germany stood behind the banner reading "Las Malvinas Son Argentinas" ("The Falklands are Argentine") before a friendly win against Slovenia in Buenos Aires on June 7.
Russian president Vladimir Putin has urged Britain to "negotiate" the sovereignty of the Falklands Islands with Argentina, accusing the UK of a "double standard in foreign relations."
Speaking at an official dinner during a visit to Buenos Aires, Putin said: "Russia supports the need to find a solution in the dispute for the [Falkland] Islands at the negotiation table directly between Great Britain and Argentina.
"I wanted to bring attention to the words of Mrs President [Fernandez] regarding the double standard in foreign relations."
Argentina president Cristina Fernandez de Kirchner has previously accused Britain of hypocrisy in criticising Crimea's pro-Russian referendum vote yet supporting a pro-British vote in the Falklands.
She said: "I appreciate, of course, the support for our national cause [sovereignty of the Falkland Islands] which is not a uniquely Argentine cause."
Advertisement
Falklands veterans have protested outside TalkSport calling for pundit Stan Collymore to resign over his Twitter comments about the war.
Read the full story ›
Argentina's football team posed behind a banner declaring "Las Malvinas Son Argentinas (The Malvinas are Argentine)" to the 52,000 crowd before their kick off with Slovenia last night.
Fifa take a hard-line approach when dealing with players political views during its large competitions, issuing a fine and a two game ban for South Korea player Jongwoo Park in 2012, after he displayed a political banner during the Olympics.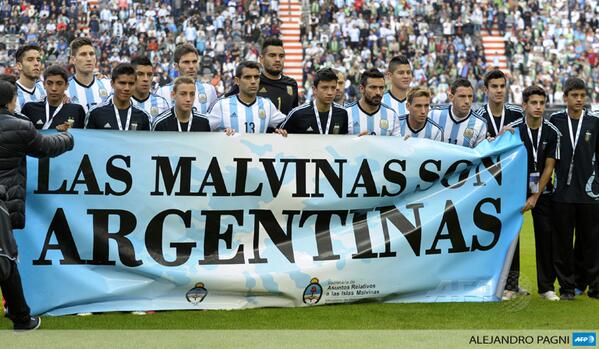 The Falklands banner is apparently put on show before many Argentina games, but the proximity to the World Cup has brought new attention.
Argentina's football team stood behind a banner claiming the Falkland Islands belonged to the South American country ahead of a friendly match in Buenos Aires.
The team displayed the message apparently in support of the country's claims over the sovereignty of the islands which are a British Overseas Territory.
Despite diplomatic clashes over the territory since President Cristina Fernandez de Kirchner took power in Argentina in 2007, islanders voted by 1,513 to three in favour of remaining British in a referendum last year.
Prime Minister David Cameron said the result of the ballot "could not have sent a clearer message".
Argentina beat Slovenia 2-0, with goals from Lionel Messi and Ricardo Alvarez.
Former England striker Stan Collymore faces calls to resign from his radio job after tweeting that Britain had "thieved" the Falklands.
Read the full story ›
Advertisement
Deputy foreign minister Eduardo Zuain has summoned the British Ambassador in Buenos Aires in a protest over a planned military exercise on the Falkland Islands next week.
A spokesman for the Embassy of Argentina in London said: "The Government of the United Kingdom will conduct military exercises on occupied Argentine territory between 14 and 27 April, including missile launchings from the Malvinas Islands.
"This action falls within a pattern already denounced by President Cristina Fernandez de Kirchner on 2 April, consisting of provocations and hostile acts towards Argentina from an extra-continental nuclear power."
Argentina has accused the UK of provocative behaviour by planning military exercises in the Falkland Islands next week.
Deputy foreign minister Eduardo Zuain summoned the British ambassador in Buenos Aires to protest over the "new show of military force".
It is the latest diplomatic clash following heightened tensions over the territory since Cristina Fernandez de Kirchner took power in Argentina.
Russian Foreign Secretary Sergei Lavrov has said the Ukrainian region of Crimea means more to Russians than the Falklands mean to British people.
He said the planned referendum in Crimea is in line with international law - a claim which US and EU leaders dispute - and argued that the region should be treated similarly to Kosovo, which was unilaterally declared independent from Serbia in 2008.
Mr Lavrov also flatly rejected reports which emerged today claiming that the Kremlin is planning to invade eastern Ukraine. He said Moscow has "no plans" to undertake such an operation.
The son of former footballer Ossie Ardiles says he feared the worst for his father after they were both involved in a car accident in the Falklands.
"I thought he was in big trouble to be honest with you," Federico Ardiles said, after seeing the large gash on his father's head.
The former Tottenham star has had some stitches and is likely to be airlifted to a hospital in Buenos Aires for a precautionary scan, Federico added.
Load more updates