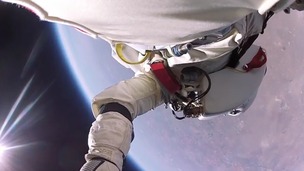 New skydiver's-eye footage has been published of Austrian daredevil Felix Baumgartner's record-breaking jump to Earth.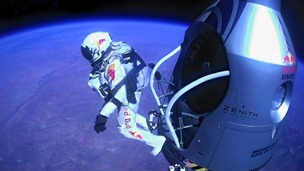 Felix Baumgartner, who rocketed to fame after leaping from the edge of space, fell faster than first thought during his jump.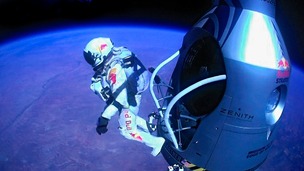 Daredevil Felix Baumgartner has hit out at Sir Richard Branson after he hinted that Virgin could attempt to break the Austrian's record.
Live updates
Skydiver survives 24 mile jump
Felix Baumgartner said he "really thought [he] was in trouble" whilst he was tumbling during freefall:
"There was a time I really thought I was in trouble. I had to decide to fight all the way down and I finally got stable." Felix Baumgartner
Watch his live press conference here.
Watch the dive here.
Skydiver survives 24 mile jump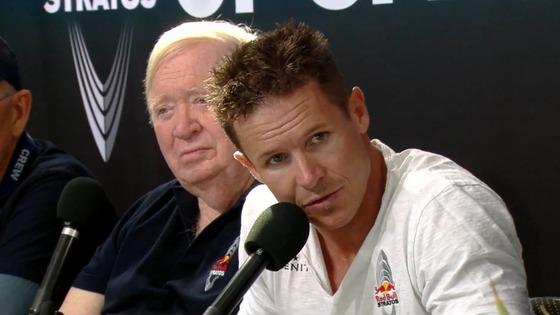 Felix Baumgartner said that standing on the step, waiting to jump, he thought: "Please God, don't let me down."
Advertisement
Skydiver survives 24 mile jump
Speaking to press, project officials revealed preliminary data which they believe broke the following records:
An exit altitude of 128,100 feet breaks the record for the highest jump by a human.
373 meters per second, 1342.8 kmph or 833.9 mph (mach 1.24) is the highest vertical velocity achieved by a freefalling human.
The speed of sound is about 768 mph.
Skydiver survives 24 mile jump
Click 'play' to watch skydiver Felix Baumgartner speak to media for the first time since his record-breaking jump.
Skydiver survives 24 mile jump
As Felix Baumgartner rose in his balloon, so did the number of viewers watching on YouTube. Nearly 7.3 million watched as he sat on the edge of the capsule moments before jumping.
The figure is a record for live video on the site.
After he landed, Red Bull posted a picture of the skydiver on his knees on the ground to Facebook, generating nearly 216,000 likes, 10,000 comments and more than 29,000 shares in less than 40 minutes.
And as Baumgartner reached his target height, the project's official Twitter account tweeted a message that has been retweeted over 5,000 times:
Skydiver survives 24 mile jump
Felix Baumgartner's body pierced the atmosphere at speeds topping 700 miles per hour, appearing to achieve another of his goals: to become the first skydiver to break the speed of sound, according to the project website.
Baumgartner also broke records for the highest altitude manned balloon flight and the highest altitude skydive before landing safely on the ground and raising his arms in a victory salute about 10 minutes after he stepped into the air.
Advertisement
Skydiver survives 24 mile jump
Congratulations to Felix Baumgartner for an outstanding, inspiring display of courage. It was a joy to watch. #spaceballs
Skydiver survives 24 mile jump
Felix Baumgartner at 24.2 miles high: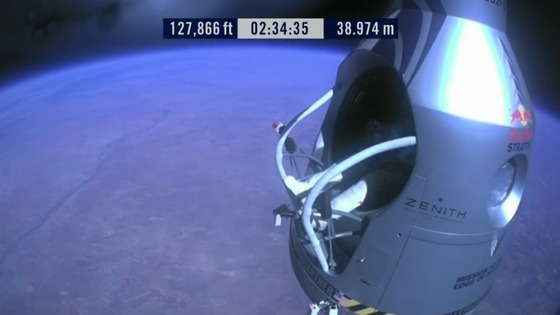 Felix Baumgartner one second after jumping from a platform slightly smaller than a skateboard: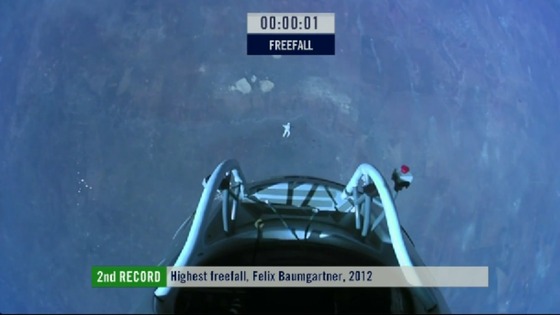 Four minutes and 22 seconds later, world record-breaking Felix Baumgartner back on Earth: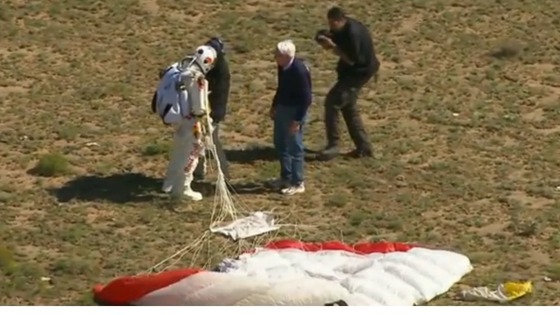 Skydiver survives 24 mile jump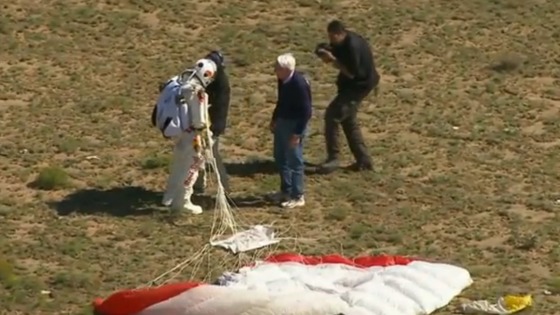 Skydiver survives 24 mile jump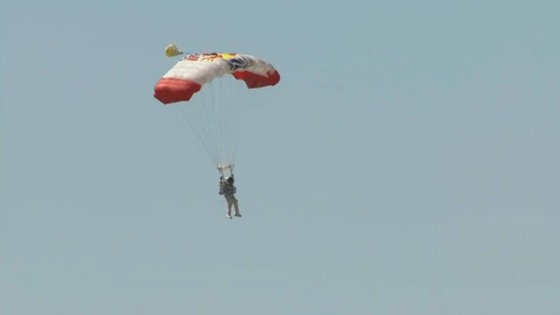 Load more updates
Back to top