Ferrari have named Daniil Kvyat as the team's development driver for the 2018 season.
The announcement comes three months after the Russian was dropped by Toro Rosso following the 2017 United States Grand Prix.
Kvyat, who has two podium finishes in his 72 career starts, had been linked with a move to Williams this year.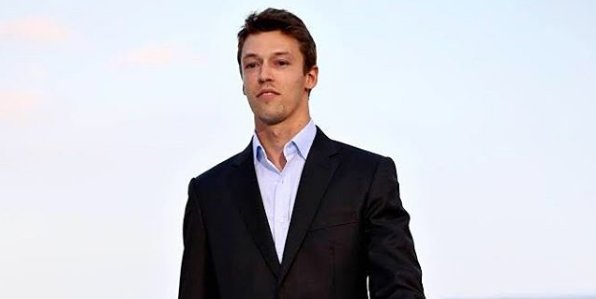 The 23-year-old joined the Red Bull junior programme in 2010 and made his F1 debut with Toro Rosso four years later.
Kvyat finished second at the 2015 Hungarian Grand Prix before claiming another podium with a third-placed finish in China the following year.
Sebastian Vettel will remain at Ferrari after it was announced he has agreed a new three-year contract.
Championship leader Vettel, who heads Lewis Hamilton by 14 points in the title race ahead of tomorrow's Belgian Grand Prix, will now be committed to the Italian team until the end of the 2020 season.
The length of Vettel's contract ends speculation he could join forces with Mercedes, and the likelihood of Hamilton moving in the opposite direction when his deal expires next year.
Advertisement
Lewis Hamilton starts a lowly 13th for the Monaco Grand Prix following a disastrous qualifying as Kimi Raikkonen claimed pole position.
Read the full story ›
Sebastian Vettel had to contend with a crazed track invader and two safety cars before claiming his third victory of the season at an incident-packed Singapore Grand Prix.
The Ferrari driver slashed the gap to Lewis Hamilton in the championship after the Briton suffered his first retirement of the year.
Red Bull's Daniel Ricciardo finished second with Ferrari's Kimi Raikkonen completing the podium places. Nico Rosberg, Hamilton's closest rival in his quest for back-to-back titles, crossed the line in fourth.
Professional wakeboarder Jorge Gill has released a video of him being towed by a Ferrari F50 along a river in Lincolnshire.
Read the full story ›
Radio star Chris Evans has sold his classic 1959 Ferrari for £3.8 million- breaking the world record auction price for the model.
The sports car was also the second most valuable car to be sold at the RM Auctions sale in Monaco over the weekend.
The rare Ferrari 250 GT Cabriolet Series I is considered to be one of the "most beautiful" convertibles ever built.
Advertisement
A former Ferrari engineer who was sacked by the Formula One team after being accused of sabotage and leaking confidential data has been killed in a road accident, his family said tonight.
Ex-Ferrari technician Nigel Stepney was killed on the M20 near Ashford in Kent when he was struck by a lorry this morning. He was praised tonight by his family as "a wonderful partner and a hands-on dad".
The 56-year-old father found himself at the centre of a Formula One "spygate" scandal after being accused of sabotage and leaking confidential data to McLaren in 2007, and was sacked by the F1 team.
Relatives of passengers on the missing flight MH370 were told they had to leave a hotel because it was booked by the Ferrari Formula One racing team competing in the Malaysian Grand Prix.
F1 boss Bernie Ecclestone told NBC News the booking at the Cyberview Hotel in Kuala Lumpur would have been made long before the Malaysia Airlines jet disappeared two weeks ago.
He said: "I feel terribly, terribly sorry for these people. But it is up to the hotel. What would happen if you told somebody that they no longer had a booking? You would get sued, I'd imagine."
In an email to the Daily News Autos a Ferrari representative also showed sympathy:
"We are deeply saddened by the unfolding of the events for the families of those missing on Malaysia Airlines flight
"We did not receive any request to change hotel from Cyberview nor were we made aware that some families were staying at this hotel. The reservation was made in May last year following the '13 Grand Prix."
A black Ferrari 430 racing car has been stolen from the car park of a hotel in Hethersett near Norwich.
The £170,000 vehicle, which is not a road car, was towed away by thieves in a Mercedes Sprinter van on Thursday evening.
For more on this story, visit ITV Anglia.
Ferrari has apologised after they filmed a stunt on top of an ancient Chinese wall, causing damage to 600-year-old stone slabs.
Read the full story ›