Firefighters have brought the blaze at an industrial bakery in Tottenham under control.
The fire was brought under control early on Sunday morning.
London Fire Brigade said that there continued to be some smoke as they damped down the remains of the fire, and advised residents in the area to keep doors and windows shut.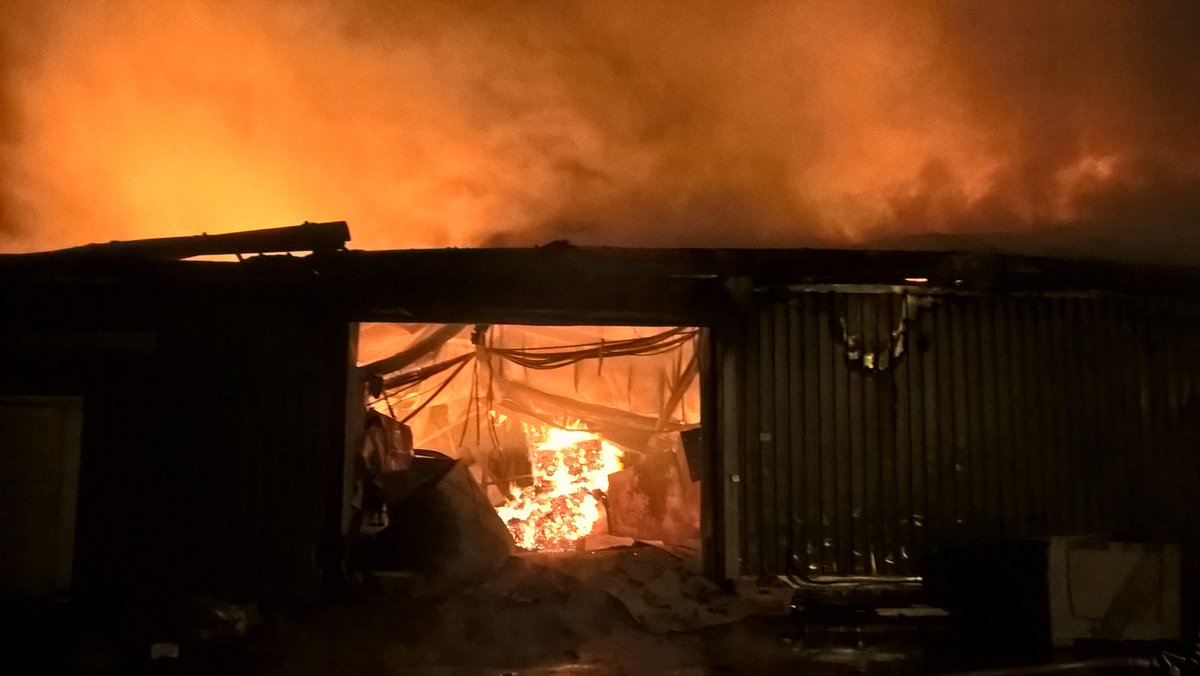 Firefighters are expected to battle a blaze engulfing an industrial bakery throughout the night to prevent it spreading to neighbouring factory units.
Fuel sources, including a 2,000-litre diesel tank, have been isolated, the London Fire Brigade said, and firefighters are using jets to prevent the blaze spreading.
Images released on social media show smoke billowing out from the blaze in West Mews. Nobody has been injured.
Crews were confronted with a large fire when they arrived and are now working hard to confine it to the bakery and stop it from spreading to any neighbouring factory units.

There is some fuel stored on site but crews have isolated the supply and it is not involved in the fire.
– Station Manager Charles Hanks
Advertisement
More than 70 firefighters are battling a blaze at an industrial bakery in London which is still "100% alight", according to a spokeswoman for London Fire Brigade.
The front of the single-storey industrial unit in Tottenham has partially collapsed, but no-one is believed to be injured, she added.
Firefighters tackling the blaze are using jets to protect a 2,000-litre diesel tank and prevent the fire from spreading to neighbouring factory units.
People living near the bakery are being advised to keep windows closed "as a precaution" due to the smoke.
Firefighters in Victoria State in Australia battled hundreds of wildfires, some spanning thousands of hectares, amid record-breaking heat.
Read the full story ›
A Lamborghini and a Rolls-Royce have been wrecked in a suspected arson attack on a workshop.
Read the full story ›
Advertisement
Fire crews called to the scene in County Tyrone where a fire in two sheds killed 420 piglets and 33 sows.
Read the full story ›
Hundreds of people have been forced to evacuate their homes in northern California as firefighters continue to battle a wind whipped wildfire.
At least 10 homes have been destroyed by the blaze known as "Sand Fire" near the Yosemite National Park, which fire officials said had grown significantly overnight. Authorities have evacuated nearly 500 more properties as a precaution.
Lynne Tolmachoff, a spokeswoman the California Department of Forestry said the fire which has scorched about 3,800 acres since Friday, could grow again on Sunday as firefighters brace for high winds and triple-digit heat.
Rats were named as the most likely cause for a fire that engulfed a family home in Hampshire on Sunday.
Four adults and four children managed to escape from the historic property in Cheriton, after rodents chewed through electrical cables and set the house on fire.
A fire spokesman said: "They found the origin of the fire was most likely to have been electrical cabling in the roof, which had seen its PVC insulation chewed off by rodents."
Nobody was hurt in the incident.
The Boston Fire Department has been tweeting updates as they respond to a four-story fire in Back Bay, downtown Boston.
A Boston Emergency Medical Services spokesman told the Boston Globe that eight people had been taken to hospital.
The fire department later confirmed that the fire started in the basement and went upwards through the building.
Load more updates