The Cranston family have gathered in Scotland from around the world to remember seven brothers who fought together in the First World War.
Read the full story ›
Thousands of pupils and military personnel have set a Guinness World Record for the largest human flower by creating a giant poppy to commemorate the centenary of the start of the First World War.
Advertisement
The Duke of Cambridge has climbed aboard a World War One aircraft at a museum in New Zealand on the second day of the royals tour Down Under.
Prince George was left behind with his nanny as Prince William and Kate braved a rainy day to visit a war memorial and aircraft museum.
ITV News Royal Editor Tim Ewart has tweeted:
William and Kate in the rain at NZ aircraft museum. He didn't climb aboard this German WW1 plane http://t.co/tHP1U6118L
A rainy day in NZ. William and Kate under the brolly. George is left behind with the nanny http://t.co/F3LZ6nreDJ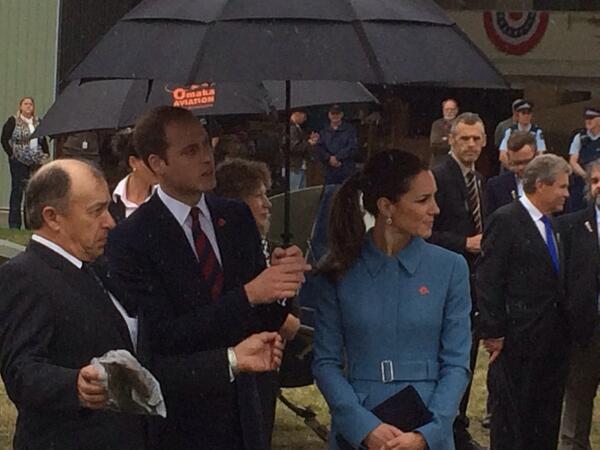 David Cameron could make his chart debut after recording a track for a new album, which also features actor Danny Dyer and Stephen Fry.
Read the full story ›
It is as "important as ever" young people learn about WW1, which killed over 16 million and lead to the banning of chemical weapons on an international scale, a history expert has said.
Richard Overy, an editorial consultant on the book World War I: The Definitive Visual Guide, explained:
It is as important as ever that today's generation remembers the sacrifices made 100 years ago and these results show that there is still much to learn about World War I.

It would be interesting to see how different these responses are by the end of the anniversary year.
– Richard Overy
Around one fifth of people do not know why the First World War started, according to a poll by publishers DK.
Some 22% of the 2,314 people quizzed admitted they did not know the 1914 assassination of Austro-Hungarian Archduke Franz Ferdinand was the catalyst for the four year long war.
Less than two in five (39%) knew that Britain entered the conflict due to a promise to defend Belgium, while just three in 10 (29%) knew that Lord Kitchener, Britain's Secretary of Sate for War died by drowning.
Asked which country did not take part in the war, out of a list of Japan, Portugal, Spain, the United States or none of these four, just under a fifth (19%) knew that it was Spain that remained neutral.
The poll was conducted by publishers DK to mark the launch of their new book World War I: The Definitive Visual Guide.
Advertisement
The family of a World War One soldier, whose body has been found in France, say he can finally rest in peace, 100 years after his death.
Private John Brameld was one of ten men, serving with the York and Lancaster Regiment whose remains have been found close to a battlefield. Rachel Townsend reports.
Experts are working to identify the remaining five sets of remains after ten First World War soldiers were named, the Ministry of Defence said.
Defence Minister Lord Astor of Hever said:
Our thoughts remain with all those who have made the ultimate sacrifice in the service of our country.

Although these soldiers fell almost a century ago, the Ministry of Defence still takes its responsibility extremely seriously to identify any remains found, trace and inform surviving relatives and to provide a fitting and dignified funeral so they rest in peace.
The granddaughter of a First World War soldier has expressed her joy that he could finally be laid to rest.
Read the full story ›
Ten soldiers who were killed during the First World War are to be reburied with full military honours at a Commonwealth War Graves Commission cemetery in October in an event to be organised by the 4th Battalion The Yorkshire Regiment, which traces its history back to the earlier regiment.
The soldiers have been identified as:
Private Herbert Ernest Allcock, 32, born in Leeds, and family now living in Lancashire
Private John Brameld, 30, born in Sheffield and family now living in Yorkshire
Corporal Francis Carr Dyson, 26, born in Wakefield and family now living in Derbyshire
Private Walter Ellis, 31, born in Doncaster and family now living in Yorkshire
Private John Willie Jarvis, 34, born in Rotherham and family now living in Yorkshire
Private Leonard Arthur Morley, 22, born in Boxhill, Surrey and family now living in Canada
Private Ernest Oxer, 28, born in Rotherham and family now living in Yorkshire
Private John Richmond, 28, born in Nottingham and family now living in Nottinghamshire
Private William Alfred Singyard, 30, born in Newcastle upon Tyne and family now living in Lincolnshire
Lance Corporal William Henry Warr, 27, born in Dorset and family now living in Somerset
Load more updates