Part of a hotel roof has collapsed after a blocked drain caused water to pool, the Essex County Fire and Rescue Service said.
Crews were called in after the roof of the hotel partly collapsed causing problems with the electrics.

On arrival the incident commander reported that a blocked drain in the roof had caused water to pool and part if the roof had collapsed.

Firefighters isolated the electrics and pumped water from the drain.
– Essex County Fire and Rescue Service
An Environment Agency has posted a satellite image showing "big storms" North of London.
1st visible satellite pic of day shows cooler drier weather over Scotland heading SE. Big storms N of London. http://t.co/Y2rk3Ka90P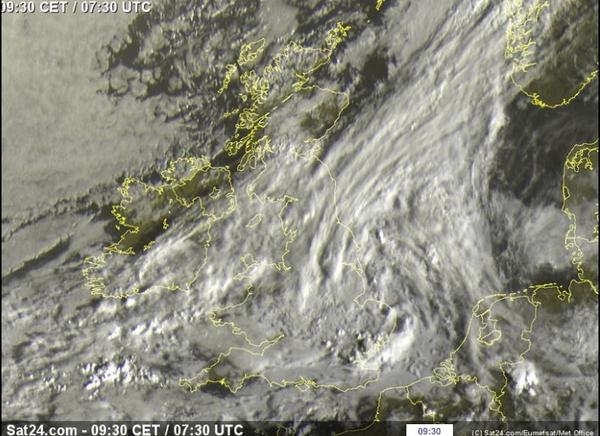 Advertisement
The Met Office has warned of further heavy showers and thunderstorms through to Saturday evening, with the main risk becoming confined to southern parts from late afternoon.
It also warned of potential for isolated disruption due to surface water flooding and lightning strikes.
Images of flooding on roads through Essex have begun to emerge on Twitter with one driver posting a photograpg of water covering the A12.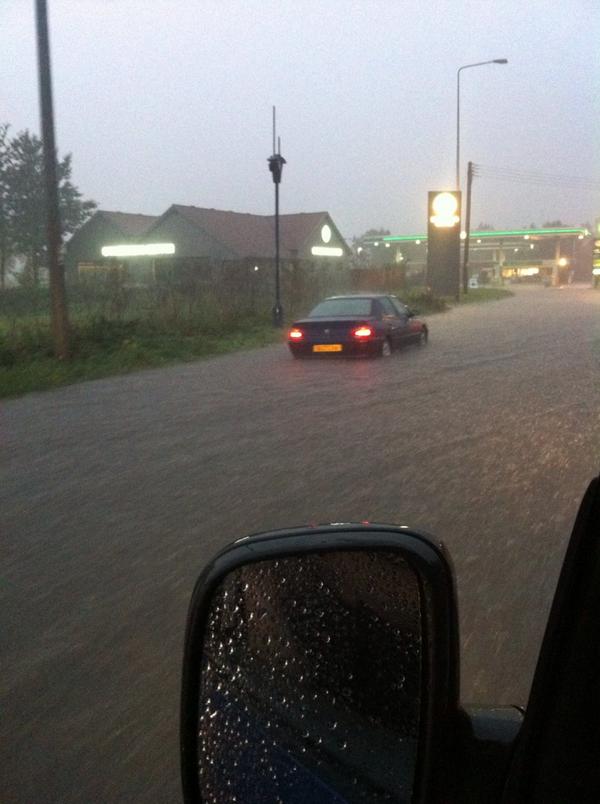 Environment Agency officials warn of the dangers of flooding as storms emerge in London and Essex.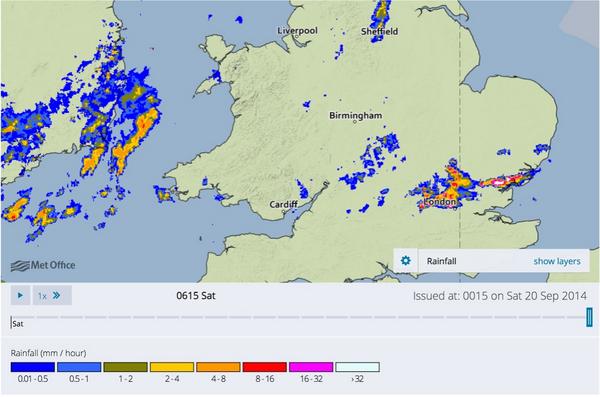 Roads, supermarkets and car parks were flooded and train stations were cancelled after torrential downpours.
Read the full story ›
Advertisement
Last night's storms have been followed by torrential downpours and flash flooding today. Here are some more of your photos.
Read the full story ›
Prince Charles is set to return to the flood-hit village of Muchelney in Somerset.
The visit comes five months after the Prince of Wales saw the impact of flooding on agriculture and the livelihoods of people on the Somerset Levels.
The Prince used the emergency boat service - the only means of travelling in and out of Muchelney at the time - and a tractor to meet people in their own homes.
He also criticised efforts to help those affected by the floods, saying: "The tragedy is that nothing happened for so long."
Almost 1,000 businesses have received payouts from their local councils as part of the Government's package to help them recover from the winter flooding.
In a written parliamentary answer, local government minister Brandon Lewis confirmed 979 companies benefited from the Business Rates Relief Fund as of the beginning of June.
There are no set or advance allocations to councils, which instead have to retrospectively claim back the cost of the relief.
Mr Lewis said 66 local authorities had submitted claims for reimbursement ahead of the deadline last month and added the Government expected to pay back £4 million shortly.
The environment minister Dan Rogerson said Government spending on flood defences has protected "1.4 million properties" from flooding.
Speaking on Good Morning Britain, Mr Rogerson justified the spending levels after an extra £270m was used in Somerset due to the "wettest winter on record."
Load more updates