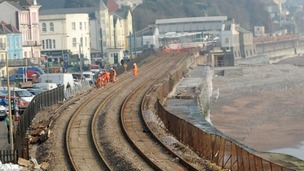 Rail users hailed the reopening of the track at Dawlish in Devon as "absolutely fantastic" ahead of the Easter holidays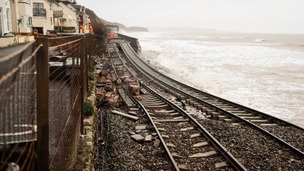 Businesses say that when news broke nationally of the rail line collapse at Dawlish it was as if a light switch went off on bookings.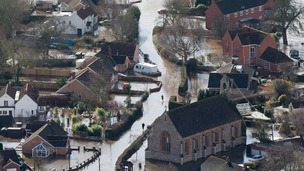 Dredging has begun in Somerset, around the River Parrett, which has sparked celebrations among some residents.
Live updates
Wettest winter in 250 years
A spokesman for the Met Office says it has been the wettest winter on record across England and Wales - where the precipitation records date back to 1766.
Some 435mm (17.1 inches) of rain fell from December 1 to February 24, beating the previous highest total of 423mm (16.6 inches) set in 1915.
Provisional rainfall figures show that the UK as a whole has had its wettest winter since records began in 1910.
Some 517.6mm (20.3 inches) of rain fell this winter, the previous highest total was 485.1mm (19.1 inches), set in 1995.
Wettest winter in 250 years
England and Wales endured the wettest winter in almost 250 years, according to new analysis from the Met Office.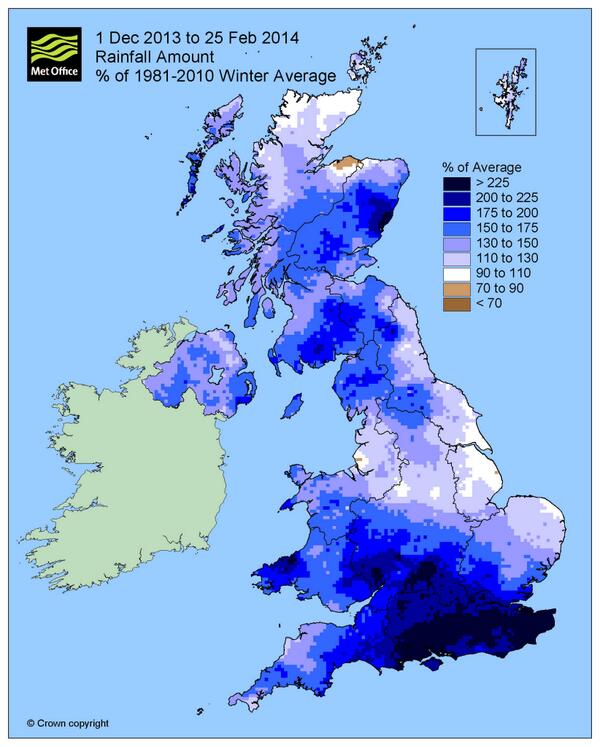 Figures released last week showed the greatest overall rainfall across the UK since 1910, with 468.8mm of rain recorded.
Advertisement
Statistics watchdog: 'Flood defence spending cut by £247m'
Prime Minister David Cameron insisted that investment in flood defences has increased during his parliament.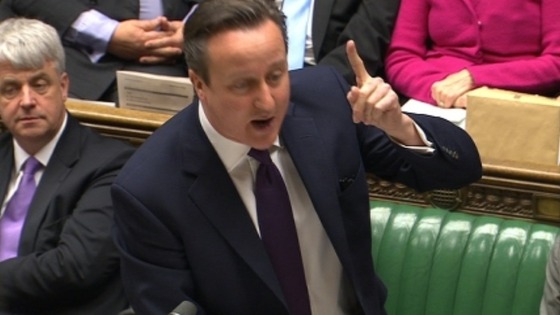 In a heated exchange during which the Prime Minister was accused by Labour leader Ed Miliband of using "phony" figures, he said:
"We have set out spending figures, all the way to 2020, not all of which are fully committed, which are major investments in flood defences. As I said two weeks ago, as the waters reside, and as we review what happened, we can review and see what new measures we can take.
"Let me repeat, that in this four year period, and indeed in this parliament, overall spending on flood defences has went up."
Read: UK Statistics Authority: Flood spending cut by £247 million
Statistics watchdog: 'Flood defence spending cut by £247m'
The UK Statistics Authority said it looked into the figures on the amount of public cash spent on flood defences and agreed with the analysis by the House of Commons Library, which found funding had been cut by £247 million in real terms, the Guardian reports.
It has called for the government to publish the official figures.
Read: Statistics watchdog 'calls for flood spending figures'
Following a complaint by Labour MP Hugh Bayley, Sir Andrew Dilnot said they looked into the matter, and found:
Public cash spent from 2007 to 2011 was £2.37billion
Public cash spent from 2011 to 2015 will be £2.34
In real terms this amounts to a £247 million funding cut between the two periods
More: Institute of Civil Engineers calls for increase in flood defence budget
Statistics watchdog: 'Flood defence spending cut by £247m'
The head of the UK Statistics Authority has contradicted the government's claim on record spending for flood defences, and called for official figures to be published "in the public interest" the Guardian reports.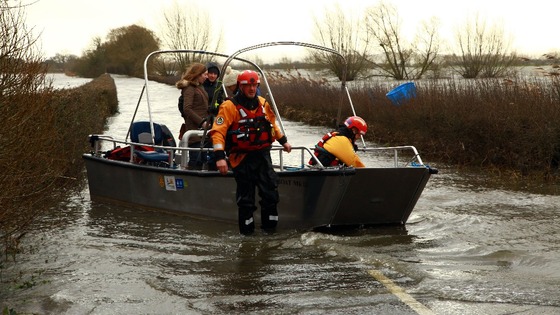 Sir Andrew Dilnot made the call following a bitter row between Labour and Environment Secretary Owen Paterson on flood defence funding. The issue is due to be debated in the House of Commons today.
Meanwhile, the Institute of Civil Engineers called for flooding defence budgets to return to pre-2010 levels, and said the government needs to commit to a longer-term investment beyond the current five-year programme.
Read: Institute of Civil Engineers calls for increase in flooding budget
Statistics watchdog: 'Flood defence spending cut by £247m'
Government spending on flood risk management should increase in next month's budget, a leading engineering organisation has said.
The Institution of Civil Engineers said the Environment Agency's annual maintenance budget for flood defences had fallen by 39.2 per cent from more than £100 million in 2010/11 to just £60.7 million in 2014/15.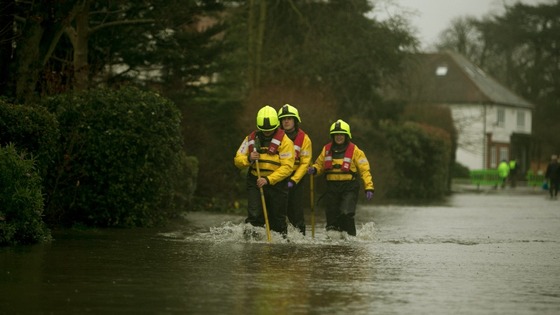 The ICE called on the Chancellor George Osborne to return capital and maintenance investment in flood risk management to pre-2010 levels in real terms, after claiming the Prime Minister's recent announcement of £130 million for emergency repairs and maintenance was not enough.
David Cameron has previously said "money is no object" to help those affected by the recent floods.
Ministers should commit to a longer-term investment programme for flood defences beyond the current five-year programme, to provide the certainty needed to improve flood resilience, the organisation added.
Watch: Aerial images show UK's altered landscape after floods
Advertisement
Flood-hit farms given £5,000 government grant
The head of National Farmers' Union said a "major rethink" was needed in how flood defence spending was allocated.
"We must stop sacrificing our productive farmland to crazy, rampant and thoughtless urbanisation," Peter Kendall said at a conference.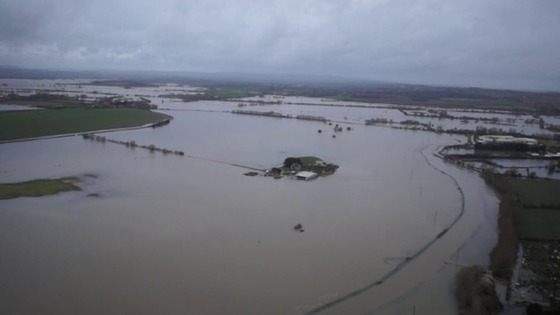 Mr Kendall said: "58% of our most productive land sits below the 5m contour line and it is at risk from flooding. Policy makers simply have to put higher value on it."
He said that while farmland can and should in extreme circumstances act as a temporary buffer for water to protect people's lives and homes, it shouldn't be viewed as a long-term storage facility. "It's primary job is to feed this country," he added.
Flood-hit farms given £5,000 government grant
James Hall, a farmer from Somerset who was affected by flooding, told ITV News the government's offer of a £5,000 grant is "a drop in the ocean."
He said the cost won't cover the loses at his farm, or the work that still needs to be done.
Flood-hit farms given £5,000 government grant
James Hall, a farmer previously featured on ITV News, says the water levels at his farm are improving but the extent of the damage is becoming more apparent.
The levels are continuing to drop at a steady pace, the damage in my parents house is not looking good, large cracks are now showing.
@angebg thank you, this water has caused so much damage, the clean up is going to be dreadful and upsetting..
Read: Government announces £5,000 grant for each flood-hit farm
Watch: Floods caused '£20,000 in damages' says Somerset farmer
Flood-hit farms given £5,000 government grant
The Government has announced rural homes and businesses impacted by floods will have access to one-off grants up to £5,000 to make them more resilient.
Farming minister George Eustice said businesses which have been directly affected by flooding will be able access £10 million of government support from Friday.
Load more updates
Back to top