Figures received by ITV News suggest any failure to invest money in flood defences and dredging could have been a false economy.
Read the full story ›
Train companies should lower fares to help people affected by the floods, Transport Secretary Patrick McLoughlin has said.
"People's rail travel is getting affected. I want train companies to help them by reducing their fares," he said, Inspecting the devastating damage to rail tracks at Dawlish in Devon.
McLoughlin denied the Government had been slow to respond to the flooding but recognised that people "were angry", adding he was hopeful Network Rail would keep their promise of repairing the destruction at Dawlish, that has severely disrupted south-west England train services, in around six weeks.
Advertisement
In an emergency statement to the Commons, Communities Secretary Eric Pickles said new government provisions will help protect more than 42,000 households in 2014/2015.
"We've already put in place investment plans to improve the protection of at least 465,000 houses by the end of the decade. Together with other projects under construction in 2014/15, we will protect more than 42,00 households," said Pickles.
"The measures the coalition has announced today provide a clear commitment to reduce the risk of flooding and coastal erosion. The additional funding means this government will be investing more than £3.1 billion compared to £2.7bn in the previous 5 years under the last Labour government," he added.
This photo purports to show a bank customer in Cork last night, where people have been using canoes to get around the city centre.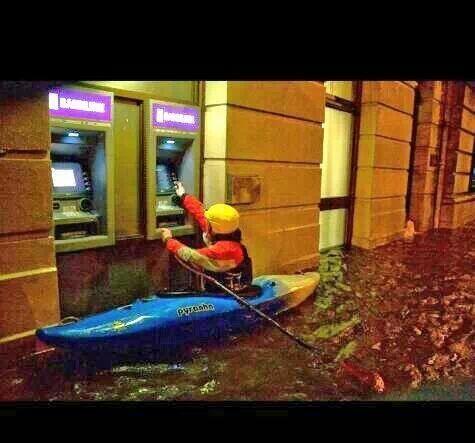 Prince Charles appeared to criticise efforts to help flood victims in today saying: The tragedy is that nothing happened for so long."
Read the full story ›
Ministers have been steering clear of flooded Somerset - but for how long? But after Prince Charles' visit, don't expect it to last.
Read the full story ›
Advertisement
After travelling by boat to Muchelney in Somerset to assess the flooding, Prince Charles was asked by a young family if he would indulge in a high-five.
After a brief pause, the Prince of Wales obliged, much to the delight of the young girl's parents.
Downing Street have tiptoed around the comments from Prince Charles about how long residents in Somerset have had to wait to get a response to the flooding.
A spokesman said the Prime Minister "has repeatedly said that the situation is unacceptable" and "desperate."
He said the government is "working as hard as possible" to resolve the problem and added: "The local communities will have welcomed the Prince of Wales' visit."
High sea levels combined with strong winds and large waves will increase the risk of coastal flooding along the south west and southern coasts of England tonight, the Environment Agency has warned.
Further rain could also cause river and surface flooding in the south and west of England as well as parts of the Midlands.
There are currently 44 flood warnings and 157 flood alerts in place across England and Wales, with more expected to be issued along the Dorset coastline in time for the Wednesday morning high tide.
"With further river and coastal flooding expected this week we have teams working around the clock to protect homes and communities, and over 117,000 homes have been protected over the past three days," John Curtin, head of Incident Management at the Environment Agency, said.
"Strong winds and waves could be dangerous, and we would urge people to take care near coastal paths and promenades for fear of being swept away, and not to drive through flood water. We have particular concern for West Bay, Weymouth, Preston Beach and Chiswell in Dorset."
Load more updates