Three people died and eight were injured after a motorist hit a near on a road in the Florida Everglades.
Read the full story ›
Florida State University has confirmed that three students were injured today when a gunman opened fire in a library on campus.
University President John Thrasher said they were trying to "make sense of a senseless incident".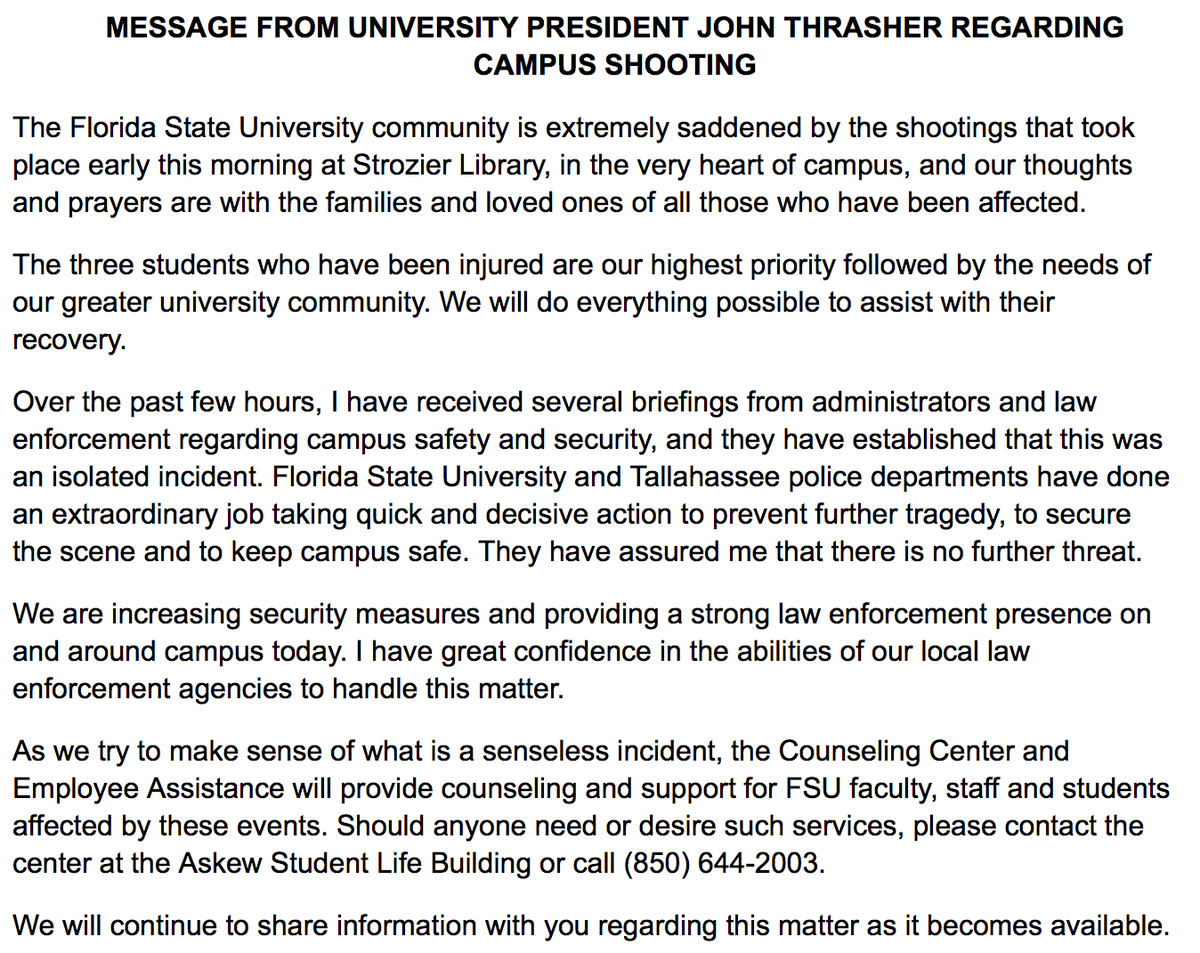 Advertisement
A man was shot dead by police after he wounded three people and then opened fire on officers at a US university.
Officers confronted the attacker outside Florida State University's Strozier Library, ordered him to drop his weapon, then shot him dead when he opened fire on them, Tallahassee police said.
One of three people shot by a gunman at Florida State University is in a critical condition, police said.
The gunman was shot dead by police.
Florida State University tweeted that the area where a reported shooting incident took place earlier has been "secured".
Working with officials to confirm details. AREA HAS BEEN SECURED. Please continue to stay safe and heed Law Enforcement instructions.
Two people have been shot at the Florida State University campus in Tallahassee, a local hospital official said.
Campus police said the incident was ongoing but declined to provide more information, while the university urged people to seek shelter and remain indoors.
The Tallahassee Democrat newspaper reported that students said the shooting occurred at a library on campus.
"We have two victims from a shooting that happened on the Florida State University campus," said a nursing supervisor at the Tallahassee Memorial HealthCare hospital.
The supervisor declined to provide additional detail on the condition of the victims. It was not immediately if they were students.
Advertisement
A 'dangerous situation' has been reported on Florida State University's Campus with students told to take shelter.
An emergency alert has been posted on the university's website, telling students to "take shelter immediately", and also to stay "away from doors and windows".
Reporters from a number of media outlets have said there has been a shooting on the campus.
A vet in the US thought someone was playing a trick on him when x-rays revealed a turtle-shaped pendant in the stomach of a tortoise.
Read the full story ›
Dion Davies was caught sleeping on the job after he broke into a property in Florida and snoozed next to a bag of stolen goods, police said.
Read the full story ›
A couple who were forced to tread water for 14 hours after falling off their boat have been rescued.
Sean McGovern, 50, and Melissa Morris, 52, were spotted by two off-duty police detectives and a firefighter who were enjoying a fishing trip off the coast of Florida.
The group originally thought they had seen fish or birds on the surface of the water, but soon identified the exhausted pair and quickly pulled them to safety.
The couple told their rescuers that they had fallen off their boat - which subsequently pulled away from them - in Key Largo 14 hours earlier and had since drifted 10 nautical miles.
Both were suffering from mild hypothermia and jellyfish sings at the time of their rescue, officials said.
Load more updates