Recently released bodycam footage shows two Florida policemen pull a man from a burning car on Christmas Day.
Read the full story ›
An Irish tourist has been killed in a hit-and-run car accident in south Florida.
Broward Sheriff's officials said the victim was crossing the street before dawn yesterday after leaving a bar with friends and was hit by a BMW that did not stop.
A friend of driver Richard Jennings saw the damaged BMW and called authorities. Jennings was later found and police charged him with leaving the scene of an accident causing death.
Authorities have not identified the victim and are still notifying next of kin.
Advertisement
A toddler has died after finding his father's handgun in the family's car and shooting himself, officials in the US state of Florida confirmed.
The boy opened the glove compartment, where his father kept the gun, before turning it to face his chest and squeezing the trigger, the Tampa Bay Times reported. He was taken to a hospital, but was pronounced dead.
"He probably barely got the trigger pulled," said Sheriff Bob Gualtieri. He described the gun as a lightweight weapon usually carried in a pocket or on a hip.
Mr Gualtieri called the incident a "tragic situation".
The sheriff said the parents will not face criminal charges - no-one could punish them more than they will punish themselves, he said.
"A great little kid was killed today," the child's grandfather a retired police detective also called Kevin Ahles said.
Three people died and eight were injured after a motorist hit a near on a road in the Florida Everglades.
Read the full story ›
Florida State University has confirmed that three students were injured today when a gunman opened fire in a library on campus.
University President John Thrasher said they were trying to "make sense of a senseless incident".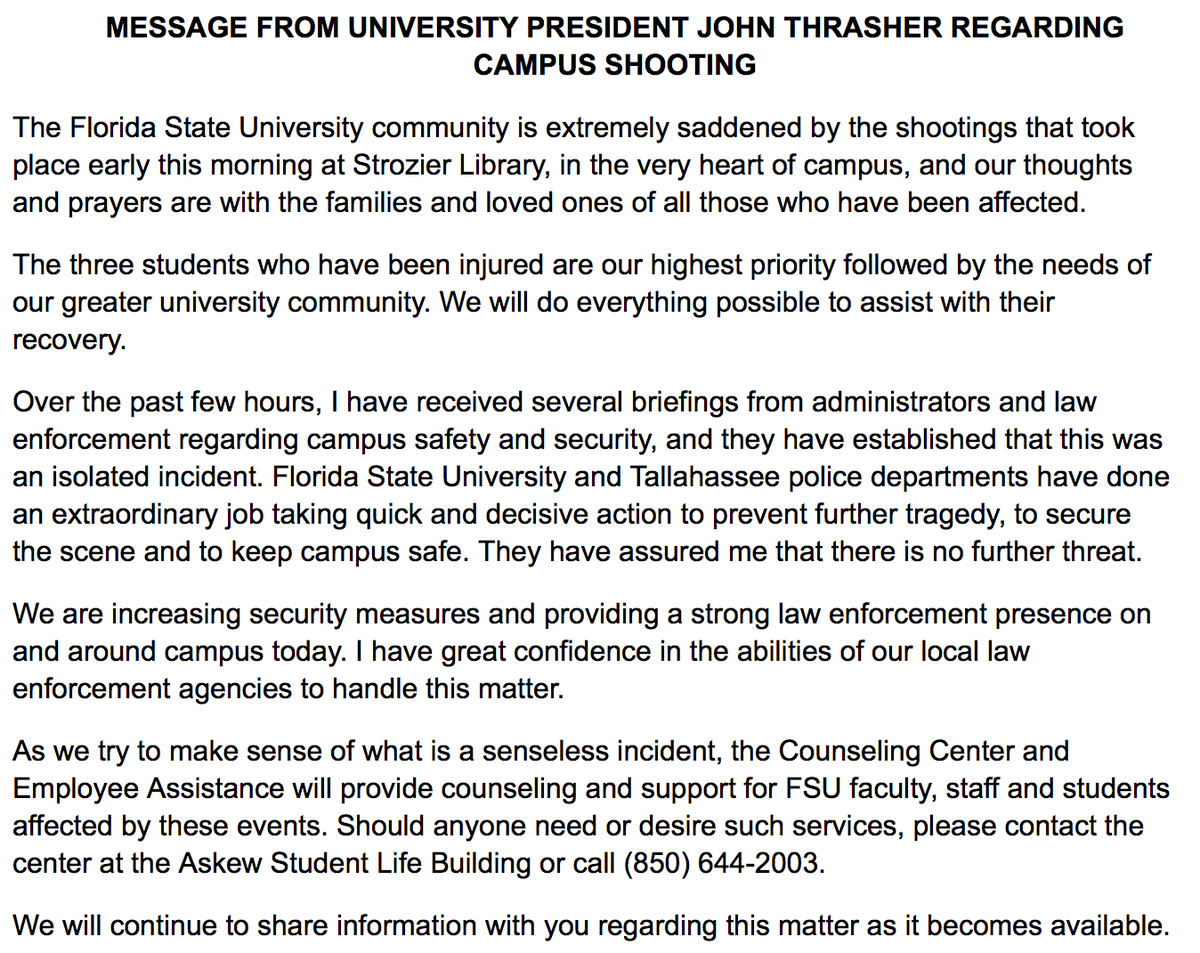 A man was shot dead by police after he wounded three people and then opened fire on officers at a US university.
Officers confronted the attacker outside Florida State University's Strozier Library, ordered him to drop his weapon, then shot him dead when he opened fire on them, Tallahassee police said.
Advertisement
One of three people shot by a gunman at Florida State University is in a critical condition, police said.
The gunman was shot dead by police.
Florida State University tweeted that the area where a reported shooting incident took place earlier has been "secured".
Working with officials to confirm details. AREA HAS BEEN SECURED. Please continue to stay safe and heed Law Enforcement instructions.
Two people have been shot at the Florida State University campus in Tallahassee, a local hospital official said.
Campus police said the incident was ongoing but declined to provide more information, while the university urged people to seek shelter and remain indoors.
The Tallahassee Democrat newspaper reported that students said the shooting occurred at a library on campus.
"We have two victims from a shooting that happened on the Florida State University campus," said a nursing supervisor at the Tallahassee Memorial HealthCare hospital.
The supervisor declined to provide additional detail on the condition of the victims. It was not immediately if they were students.
A 'dangerous situation' has been reported on Florida State University's Campus with students told to take shelter.
An emergency alert has been posted on the university's website, telling students to "take shelter immediately", and also to stay "away from doors and windows".
Reporters from a number of media outlets have said there has been a shooting on the campus.
Load more updates