Two people have been shot at the Florida State University campus in Tallahassee, a local hospital official said.
Campus police said the incident was ongoing but declined to provide more information, while the university urged people to seek shelter and remain indoors.
The Tallahassee Democrat newspaper reported that students said the shooting occurred at a library on campus.
"We have two victims from a shooting that happened on the Florida State University campus," said a nursing supervisor at the Tallahassee Memorial HealthCare hospital.
The supervisor declined to provide additional detail on the condition of the victims. It was not immediately if they were students.
A 'dangerous situation' has been reported on Florida State University's Campus with students told to take shelter.
An emergency alert has been posted on the university's website, telling students to "take shelter immediately", and also to stay "away from doors and windows".
Reporters from a number of media outlets have said there has been a shooting on the campus.
Advertisement
A vet in the US thought someone was playing a trick on him when x-rays revealed a turtle-shaped pendant in the stomach of a tortoise.
Read the full story ›
Dion Davies was caught sleeping on the job after he broke into a property in Florida and snoozed next to a bag of stolen goods, police said.
Read the full story ›
A couple who were forced to tread water for 14 hours after falling off their boat have been rescued.
Sean McGovern, 50, and Melissa Morris, 52, were spotted by two off-duty police detectives and a firefighter who were enjoying a fishing trip off the coast of Florida.
The group originally thought they had seen fish or birds on the surface of the water, but soon identified the exhausted pair and quickly pulled them to safety.
The couple told their rescuers that they had fallen off their boat - which subsequently pulled away from them - in Key Largo 14 hours earlier and had since drifted 10 nautical miles.
Both were suffering from mild hypothermia and jellyfish sings at the time of their rescue, officials said.
The explosion at a Florida jail may have been caused by the recent extreme weather in the region, a spokesperson has said.
"We have reports people heard an explosion and smelled gas. There was no fire," County spokeswoman Kathleen Castro said, adding that the blast may have been related to severe storms that have hit the southern United States.
"The facility did receive extensive flooding as a result of the rains yesterday," she said.
Advertisement
At least two inmates have died and more than 100 other people injured in an apparent gas explosion at a county jail in Florida, according to NBC News.
Kathleen Castro, the county's public information officer, confirmed the deaths to NBC News and said the both prisoners and corrections officials were among the wounded.
About 600 prisoners were in the building at the time. Uninjured inmates were being moved to other detention facilities and no escapees have yet been reported.
A reported gas explosion at Escambia County Jail in Florida has injured at least 100 people, US media has reported.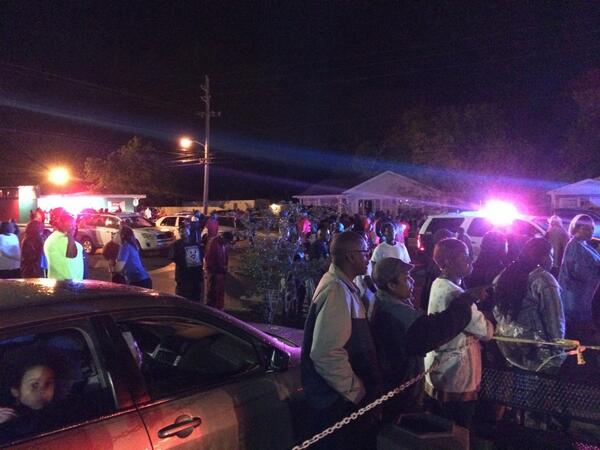 A car crashed into a day care centre in Orlando, Florida, leaving 11 children and one adult injured, according to NBC News.
Police said a Dodge Durango smashed into another car which then hit the KinderCare building.
The Dodge fled the scene and police are now looking for the driver of that silver vehicle which has front-end damage.
A widow whose husband was shot dead in a Florida cinema following a row over texting has told reporters "in a blink of an eye my life was shattered into a million pieces".
Nicole Oulson, who was also injured in the incident, says her priority is her young daughter Alexis following the death of her 43-year-old husband Chad.
71-year-old Curtis Reeves - a retired sheriff - is charged with second-degree murder.
Load more updates