Floyd Mayweather has declared his bout with Manny Pacquiao on May 2 as "the biggest fight in boxing history".
Mayweather and Pacquiao went head to head for the first and only time prior to their mouthwatering Las Vegas super-fight at a press conference in Los Angeles on Wednesday.
The pair made brief, business-like statements at a glitzy ceremony which made official a bout which is set to be the richest in boxing history, with an estimated shared purse of USD250,000,000 (£167.4million).
"May 2 is when the world stops - it's Mayweather Pacquiao, it's the biggest fight in boxing history," Mayweather explained.
''This is a fight that the world can't miss. I'm in the gym working and dedicating myself to the sport because I have never wanted to win a fight so bad in my life.
''May 2 is the fight of the century. It's all about the best fighting the best and Pacquiao is one of the best fighters of this era.
"Everything is about timing and we couldn't have chosen a better time.''
Floyd Mayweather has predicted that his much-anticipated fight with Manny Pacquiao on May 2 will be the "fight of the century".
Read the full story ›
Advertisement
English boxing legend Ricky Hatton is backing Floyd Mayweather to have a slight edge over Manny Pacquiao in their upcoming bout
Read the full story ›
The most eagerly anticipated fight in boxing history has finally been scheduled for May 2nd following years of speculation and failed negotiations.
In an interview alongside G Unit members Tony Yayo and Lloyd Banks, the rapper - who used to form part of Mayweather's 'Money Team' - told Power 105.1's 'The Breakfast Club' about the extraordinary seven figure wager, which could return a tidy profit of £500,000.
"I got champ [Mayweather]. Champ gonna smoke him. It's gonna look like look like [the fight] was pumped up for no reason," he said.
When asked whether he would bet on the fight, 50 Cent replied: "Probably like $1.6m [just over £1m]."
Floyd Mayweather is relishing the chance to finally go toe-to-toe with Manny Pacquiao after announcing the long-awaited fight will take place in May.
The undefeated 11-times world champion announced the bout by posting a picture of the signed contract on social media platform Shots on Friday night, adding: "I promised the fans we would get this done and we did."
Mayweather, unbeaten after 47 professional fights, and Pacquiao, an eight-division world champion, will now go head-to-head in a welterweight world championship unification bout at the MGM Grand Garden Arena in Las Vegas on May 2.
I am glad my decision to meet with Manny and discuss making this fight happen helped get the deal done.

Giving the fans what they want to see is always my main focus. This will be the biggest event in the history of the sport. Boxing fans and sports fans around the world will witness greatness on May 2.
– Floyd Mayweather statement
The long-awaited welterweight showdown, which has been more than five years in the making, will take place on 2nd May it has been announced.
Read the full story ›
Advertisement
Floyd Mayweather has denied claims a mega showdown with Manny Pacquiao has been finalised but hopes the fight can come to fruition
Read the full story ›
Floyd Mayweather and Manny Pacquiao came face-to-face on Tuesday night as speculation continues to mount that a bout between the pair will finally materialise.
Looks like Mayweather vs Pacquiao could really happen. They exchanged numbers at a Bucks-Heat NBA game last night http://t.co/b5XU7NDbtj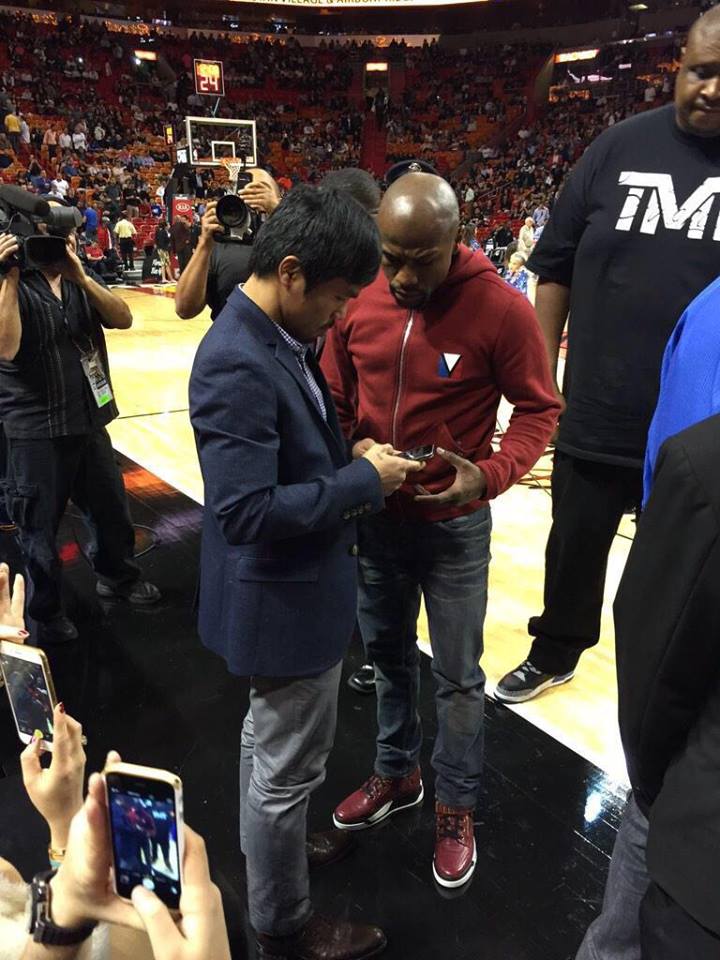 The welterweights are considered to be the two greatest fighters of their generation, but despite competing around the same division for a number of years they have never faced off in the ring.
They met in person in Miami, where both watched the Heat's NBA game against the Milwaukee Bucks, and a widely-circulated video shows the pair exchanging a brief conversation before shaking hands and walking away.
It is unclear whether the incident was staged or purely a coincidence.
Floyd Mayweather and Manny Pacquiao may be moving closer to agreeing terms for a long-awaited bout.
The pair, who both beat Ricky Hatton before the Mancunian retired, have long been considered two of the best fighters of their generation but have never met in the ring.
However, that may be about to change after Pacquiao's agent Fred Sternburg hinted to BBC Sport that talks between them were progressing.
Sternburg denied that terms had already been agreed for a May showdown in Las Vegas, but added: "There is still a long way to go. At least the movement has been in a positive direction."
Mayweather, unbeaten after 47 professional fights, and Pacquiao, an eight-division world champion, have tried and failed in the past to reach an agreement, but with them now 37 and 36-years-old respectively there may not be too many chances left.
British boxer Amir Khan beat his American opponent Luis Collazo on points in Las Vegas and has now set his sights on a future bout with the unbeaten Floyd Mayweather.
The judges scored the fight 117-106, 119-104 and 119-104 in the Bolton boxer's favour leaving open the possibility of a future fight with Mayweather - who also won last night at the MGM Grand.
Khan, who is unlikely to fight the unbeaten boxer in September because it is close to the Muslim fasting period of Ramadan, said after his fight: "I really believe I have the style to trouble Floyd Mayweather."
Load more updates