The long-awaited welterweight showdown, which has been more than five years in the making, will take place on 2nd May it has been announced.
Read the full story ›
Floyd Mayweather has denied claims a mega showdown with Manny Pacquiao has been finalised but hopes the fight can come to fruition
Read the full story ›
Advertisement
Floyd Mayweather and Manny Pacquiao came face-to-face on Tuesday night as speculation continues to mount that a bout between the pair will finally materialise.
Looks like Mayweather vs Pacquiao could really happen. They exchanged numbers at a Bucks-Heat NBA game last night http://t.co/b5XU7NDbtj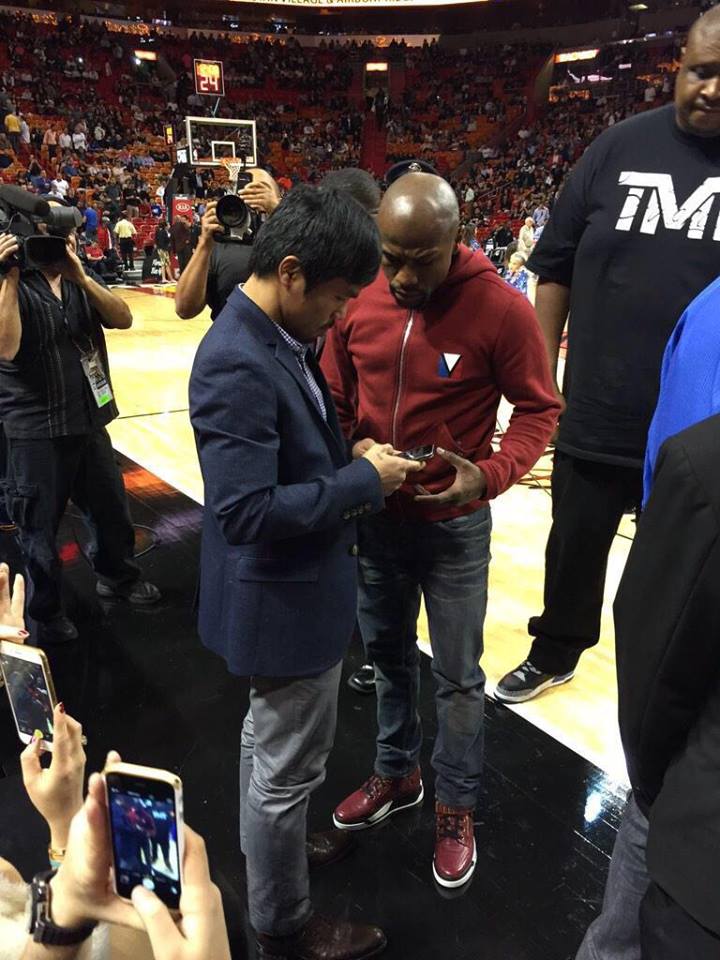 The welterweights are considered to be the two greatest fighters of their generation, but despite competing around the same division for a number of years they have never faced off in the ring.
They met in person in Miami, where both watched the Heat's NBA game against the Milwaukee Bucks, and a widely-circulated video shows the pair exchanging a brief conversation before shaking hands and walking away.
It is unclear whether the incident was staged or purely a coincidence.
Floyd Mayweather and Manny Pacquiao may be moving closer to agreeing terms for a long-awaited bout.
The pair, who both beat Ricky Hatton before the Mancunian retired, have long been considered two of the best fighters of their generation but have never met in the ring.
However, that may be about to change after Pacquiao's agent Fred Sternburg hinted to BBC Sport that talks between them were progressing.
Sternburg denied that terms had already been agreed for a May showdown in Las Vegas, but added: "There is still a long way to go. At least the movement has been in a positive direction."
Mayweather, unbeaten after 47 professional fights, and Pacquiao, an eight-division world champion, have tried and failed in the past to reach an agreement, but with them now 37 and 36-years-old respectively there may not be too many chances left.
British boxer Amir Khan beat his American opponent Luis Collazo on points in Las Vegas and has now set his sights on a future bout with the unbeaten Floyd Mayweather.
The judges scored the fight 117-106, 119-104 and 119-104 in the Bolton boxer's favour leaving open the possibility of a future fight with Mayweather - who also won last night at the MGM Grand.
Khan, who is unlikely to fight the unbeaten boxer in September because it is close to the Muslim fasting period of Ramadan, said after his fight: "I really believe I have the style to trouble Floyd Mayweather."
Justin Bieber was among a cast of A-list celebrities attending Floyd Mayweather's world title fight against Saul Alvarez in Las Vegas, and the pop star joined the American boxing champion after his win.
Advertisement
Former undisputed heavyweight world champion Lennox Lewis and one-time WBA welterweight champion Ricky Hatton have slammed a judge's decision in the Floyd Mayweather fight against Saul Alvarez, after he called the bout as a draw.
OMG. That judge should never judge again.
Even 116-112 was an insult
The two other judges had Mayweather winning the fight.
American Floyd Mayweather has won on points against Mexico's Saul Alvarez, in what could be the highest grossing fight of all time. Mayweather won by 114-114, 116-112, 117-111.
Manchester United's Rio Ferdinand has called the Floyd Mayweather fight against Saul Alvarez a "whitewash", as he wins by a landslide.
The kid went to school today....a whitewash....every round won. @floydmayweather
Alvarez took that defeat well, very composed in the aftermath. Defeat is not an easy thing to deal with. Emotional roller coaster
Justin Bieber is among a host of celebrities including Hollywood A-lister Jack Nicholson attending the Floyd Mayweather fight against Mexico's Saul Alvarez, which could be the biggest grossing bout yet.
Load more updates