Parts of the country have been enveloped in fog, as the Met Office and road safety groups urge motorists to take care on the roads.
Read the full story ›
The Met Office has issued yellow warning for fog for Thursday evening and Friday morning.
More than 40 flights were cancelled across the UK this morning as thick fog covered England and parts of Scotland.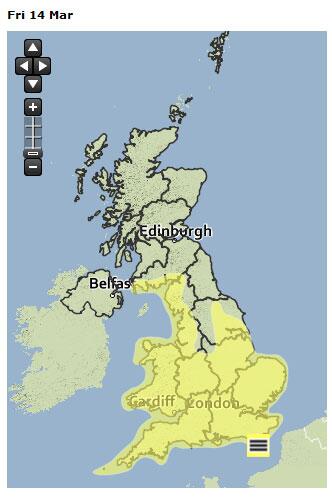 Advertisement
Thick fog across England and parts of Scotland is causing travel disruptions as the Met office extended the yellow warning for fog until 11 am.
Flights have been cancelled or delayed at a number of airports.
Daybreak weather presenter Laura Tobin has said the dense fog will clear away before lunchtime:
Fog is causing delays at lots of airports & on the roads. It'll clear around 10-11am but will longer all day in the midlands. @daybreak
Flights across the UK were cancelled due to low visibility as the Met office issued yellow warning for fog.
Following airports are affected:
The Met office said the fog will be slow to clear, with visibility below 100 meters in many places across England and south west Scotland.
The skies should be clearer by midday.
There is disruption to flights to/from Land's End Airport due to fog. Passengers are advised to contact Skybus for the latest information. Flights may be delayed or cancelled
Advertisement
A number of domestic flights from London have been cancelled because of early-morning fog.
Arrivals and departures were cancelled at London City Airport where forecasters said visibility was down to below 100 metres.
"The fog is quite extensive across much of England and Wales this morning, and quite a few places will be waking up to quite foggy conditions," said Chris Burton, from forecasters MeteoGroup.
Several flights at London City Airport were cancelled this morning due to thick fog and low visibility across England and south west Scotland.
Due to low visibility flights to/from LCY are experiencing disruptions. Passengers should contact their airlines http://t.co/nyCF2X05a6
Yellow Warning of Fog for North East England: Yellow Warning of Fog for North East England : Middlesbrough, Re... http://t.co/Zc9grkY7Mx
The Met office issued yellow warning for fog in England and parts of Scotland. Travel disruptions are expected elsewhere.
Train travel difficulties are continuing this morning.
Overhead wire problems between Northampton and Rugby meant buses replaced trains between Northampton and Coventry, while an hourly train shuttle was running between Coventry and Birmingham New Street, with journey times in the area extended by up to an hour.
There were also overhead wire problems affecting services in and out of London's King's Cross station.
The bad weather disrupted services at Christ's Hospital in Sussex, with trains between Barnham and Horsham delayed.
A broken-down train at Melton Mowbray in Leicestershire led to delays of up to 45 minutes between Leicester and Peterborough.
Load more updates