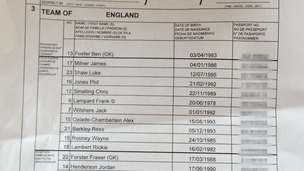 The passport numbers of England's entire World Cup squad were published on the teamsheet for their warm-up game with Ecuador.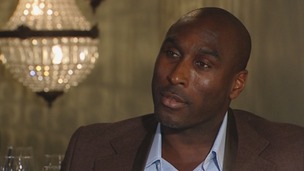 Former Tottenham and Arsenal defender says the FA could and should do more to foster diversity as new boardroom initiative launches.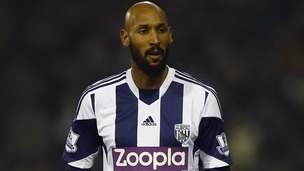 West Bromwich's Nicolas Anelka has shown a damaging lack of judgement by using the "quenelle" gesture and could face an eight-match ban.
Live updates
Sport England cuts funding to the FA by £1.6m
The head of Sport England has told ITV News organisations like the Football Association need to deliver better results or they will continue to lose funding.
Jennie Price said the FA had to work harder to encourage participation in informal football, rather than putting all its efforts into the 11-a-side game.
Sport England cuts funding to the FA by £1.6m
The Football Association says it is "disappointing" that Sport England has decided to reduce its funding by £1.6m.
FA general secretary Alex Horne said the move was particularly unwelcome as problems in grassroots football are now "acute".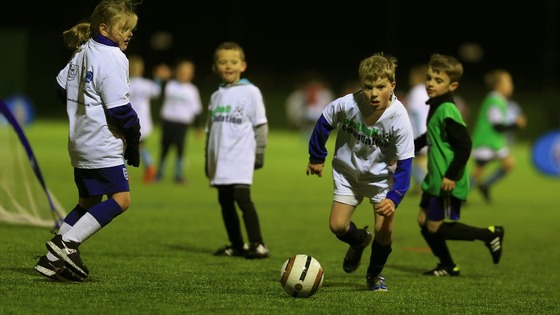 He also criticised the timing of the decision, saying:
"It is especially disappointing as Sport England agreed and began funding our joint plan only in August last year, and today's decision is based on measurement undertaken just two months later in October."
However, the FA vowed to continue to invest in grassroots football, on which it spends around £1m a week.
Advertisement
Sport England cuts funding to the FA by £1.6m
The governing bodies of football, golf and rowing have seen their funding cut after an announcement from Sport England.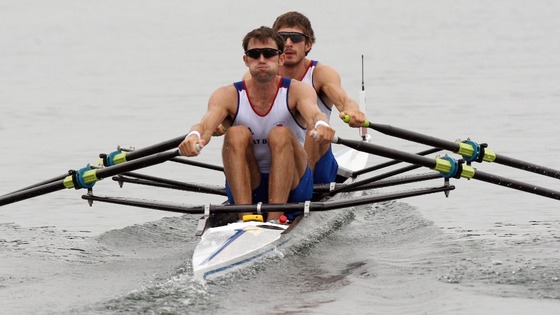 The Football Association was the biggest loser, with its fund reduced by £1.6m.
Sport England said the move was because each sport had 'seen the number of people who play their sport regularly fall'.
They added that the sports' authorities needed to make 'significant' changes to attract more participants.
The money taken away from the governing bodies will still be invested in the same sports through bodies like local authorities and charities.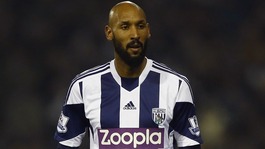 West Bromwich's Nicolas Anelka has shown a damaging lack of judgement by using the "quenelle" gesture and could face an eight-match ban.
Read the full story
The League Managers' Association has launched a scathing attack on former Football Association chairman David Bernstein after he claimed club bosses were setting a "terrible example" by their behaviour.
Bernstein's comments were "misguided, unhelpful and inflammatory" and he failed to engage with the organisation during his time at the FA, the LMA said.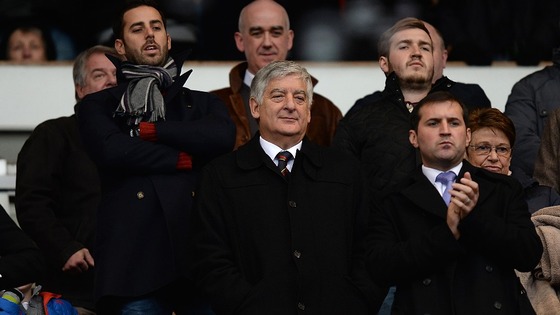 Watch: Greg Dyke 'cuts throat' at England's 'group of death' draw
Bernstein, who had spoken out after being awarded the CBE in the New Year Honours, said managers were harassing officials and were being too critical of referees after matches.
The LMA said in a statement: "We believe the comments are misguided, and unhelpful. It is important to recognise that managers in professional football contribute significantly to the success of the game both on and off the field.
"Having spent their lives dedicated to the game, they value it, are committed to seeing it continue to grow and to contribute to its future direction.
"It is particularly sad therefore, to find David Bernstein celebrating his CBE by engaging in a megaphone commentary from the sidelines, taking a unilateral swipe at managers, having wholly failed to engage, in any meaningful way, with the LMA and its members during his tenure as FA chairman."
Former footballer Michael Johnson, who was recently appointed to the FA's Inclusion Advisory Board (IAB), has expressed "deep regret" over a TV appearance in which he said homosexuality was "detestable".
"Because of my beliefs, because of the Bible that I read, in the Bible it does state that homosexuality is detestable unto the Lord," he told the BBC's Nicky Campbell in 2012 while refusing to back an anti-homophobia campaign.
In a statement to the Guardian newspaper tonight, Johnson, now 40, said: "I was invited on to the programme in March 2012 to talk about my faith.
"I was not prepared for the question and it is with deep regret that I answered it in the way I did back then. It was wrong and relates to a view I no longer hold."
IAB chair Heather Rabbatts said she accepted Johnson's regret over the comments and acknowledged that "through his own personal journey he has a huge amount to offer to the Inclusion Advisory Board."
Advertisement
Anelka agrees not to repeat 'anti-semitic' gesture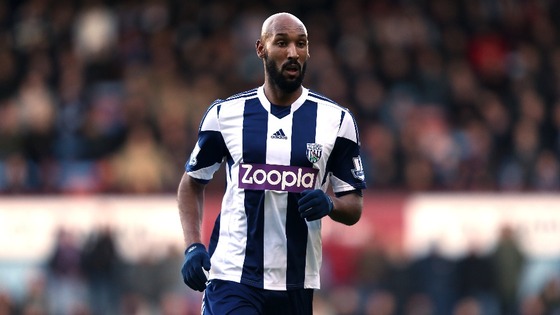 Nicolas Anelka has agreed not to perform a controversial goal celebration again which was widely considered as anti-semitic in France, a statement released by his club West Bromwich Albion said.
It said: "The club fully acknowledges that Nicolas' goal celebration has caused offence in some quarters and has asked Nicolas not to perform the gesture again. Nicolas immediately agreed to adhere to this request."
Manchester City midfielder Samir Nasri has also apologised "for causing any hurt to anyone" after a picture emerged of him appearing to make the quenelle gesture.
He said it had "absolutely nothing to do with being anti-semitic".
Anelka agrees not to repeat 'anti-semitic' gesture
Nicolas Anelka has taken to Twitter to defend his controversial goal celebration in a Premier League match yesterday, saying it had nothing to do with religion and was not racist.
West Brom striker Anelka, who made the "quenelle" gesture after scoring against West Ham, tweeted: "I am neither racist nor anti-Semitic."
Signification de quenelle: anti-système. Je ne sais pas ce que le mot religion vient faire dans cette histoire !
He added: "The meaning of quenelle is anti-system. I do not know what religion has to do with this story.
"With regard to the ministers who give their own interpretations of my quenelle, they are the ones that create confusion and controversy without knowing what it really means. I ask people not to be duped by the media."
The Football Association are investigating the gesture, which is considered by some in France as being anti-Semitic.
Anelka agrees not to repeat 'anti-semitic' gesture
West Bromwich player Nicolas Anelka has posted a picture of President Obama, rapper Jay Z, his singer wife Beyonce and an unidentified man making a gesture, only hours after he did a controversial goal celebration known in France as 'la quenelle'.
Anelka agrees not to repeat 'anti-semitic' gesture
France's Minister for Sport Valerie Fourneyron hit out at West Bromwich player Nicolas Anelka for making a gesture that has associations with anti-semitism in France. Writing on Twitter, she said:
"Anelka's gesture is a shocking and disgusting provocation. Anti-semitism or incitement to hatred has no place on the football field."
Le geste d'Anelka est une provocation choquante, écoeurante. Pas de place pour antisémitisme et incitation à la haine sur terrain de foot
Load more updates
Back to top