The 2014 Homeless World Cup has kicked off, where spectators packed into Plaza de la Ciudadanía, Chile, for the opening ceremony
Read the full story ›
Fans of Newcastle United have been prevented from entering St James' Park after a new electronic scoreboard became loose.
Supporters tweeted pictures of thousands of people gathered outside the stadium waiting for information.
Unbelievable. First #nufc game in years and there's safety concerns. Not even in the ground yet. If we get in at all http://t.co/pIT8baSL0f
Made the long trip up to #nufc today, my gut feeling is game will be off. Thousands of restless people locked outside http://t.co/K3zHR204dD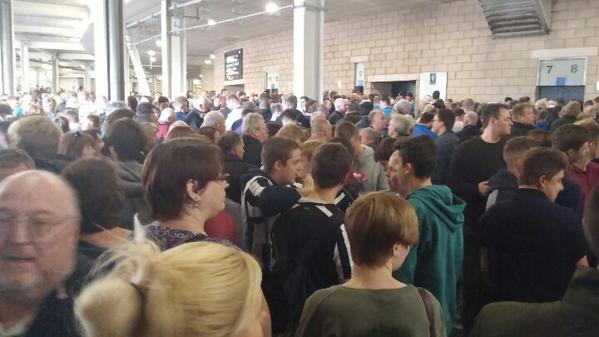 Advertisement
Newcastle United's match against Leicester City is facing delays amid reports the electronic scoreboard at the stadium is moving in the wind.
Witnesses reported seeing the scoreboard "flapping in the wind" at St James' Park.
The club tweeted that fans should expect a delay getting through turnstiles while an "issue with the new LED screen is addressed".
David Moyes says he is ready to return to management following his disastrous spell in charge of Manchester United.
Moyes, who was sacked less than 10 months after succeeding Sir Alex Ferguson, said he was waiting for the right opportunity to repair his reputation.
"I am ready to return," he told the BBC.
"I have enjoyed the time off but I have got to wait on the right job and make sure it's one that I want.
"....I am hoping that the next club I join gives me the chance to build a team, because I think that is what I am good at," the former Everton boss added.
Arsenal boss Arsene Wenger admits that letting Ashley Cole leave the club is one of the biggest regrets of his career.
In a new book based on Arsenal's unbeatable Premier League season in 2003-4, 'Invincible' by Observer journalist Amy Lawrence, Wenger says that Cole left the club on a 'misunderstanding'.
Commenting on Cole's subsequent departure to Chelsea, Wenger says: "[Cole leaving was] A regret of my career. He left on a misunderstanding between his agent and the club.
"A fantastic fighter as well. The rest of his career has shown how big a player he is. It should have been here."
Wenger also said star striker Thierry Henry was "Usain Bolt with a top football talent".
Albanian footballers Lorik Cana, Thomas Strakosha and Etrit Berisha are pictured with fellow Lazio team-mates Filip Djordjevic and Dusan Basta from Serbia to show a united front following the violence that erupted in the match between the players' countries earlier this week.
Advertisement
Liverpool manager Brendan Rodgers has leapt to the defence of Raheem Sterling, but insists there is no club versus country row between him and England manager Roy Hodgson.
The Liverpool and England winger has been embroiled in the middle of a club v country row after it was reported that he told Hodgson he was 'tired' before the game against Estonia last week - leading to the England boss dropping him for the match.
Rodgers has now denied that Sterling ever said that: "What has been disappointing in the whole affair is it has been grossly unfair how the kid has been put on the back pages for something he clearly did not say."
The Liverpool boss also insists that the club is always happy to work with England and there is no 'barrier' between the two.
"We are club and country here, not club v country. Liverpool are no barrier to England."
Rodgers also said messages have been exchanged between himself and Hodgson after the incident but the two have yet to meet.
Rodgers: "It's been grossly unfair how Raheem has been criticised for something he did not say. He's back here in a secure environment."
Rodgers on Hodgson: "We've exchanged messages and from today on we want to move on and put this to bed."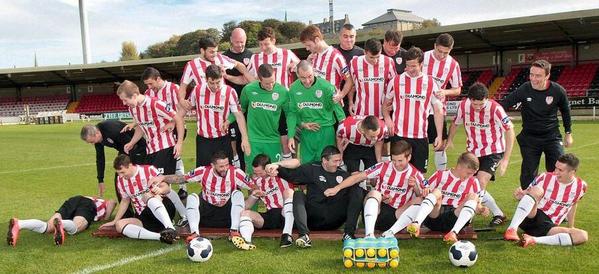 Derry City players got a fright when lining up for their cup final photoshoot - the bench collapsed just as the snapper took the photo, leading to perhaps one of the greatest team photos ever.
Jose Mourinho has sarcastically accepted the criticism from Aston Villa boss Paul Lambert and assistant Roy Keane
Read the full story ›
Poland beat Germany 2-0 in a recent Euro 2016 qualifier and have no intention of letting them forget. This traffic sign labelled with the result sits at a border crossing in Slubice, Poland.
Load more updates