Everton manager Roberto Martinez would rather hold back Steven Pienaar for pre-season than risk him in their remaining three matches.
The South African has made just one appearance - as a 28th-minute substitute against Swansea on April 11 - since mid-December because of injury.
With Everton having little to play for in their final three games, Martinez would rather the 33-year-old concentrated on getting himself ready for next season.
Stevie is working really hard now to be involved before the season ends but it will be difficult to find out one way or the other. We'll monitor his situation and if he's 100 per cent over the next three weeks it will be great to see him on a football pitch.

If not, we'll make sure he has a good fresh start in pre-season and make sure he's in the best possible shape to have a good campaign. It's a period now where we want Stevie to be fit before the end of the season but, in one way or another, he has to be starting pre-season 100 per cent.
– Everton manager Roberto Martinez
Burnley have appealed against the red card shown to defender Michael Duff in Saturday's defeat to West Ham.
The 37-year-old centre-back was sent off by referee Jon Moss for bringing down Cheikhou Kouyate midway through the first half.
Duff was deemed to have denied the West Ham player a goalscoring opportunity inside the penalty area, with Mark Noble scoring the only goal of the game from the spot as a result of the foul.
Burnley had until 1pm on Tuesday to submit their appeal to the Football Association and, in a statement on burnleyfootballclub.com, they confirmed they had now done so.
Advertisement
Former Tottenham and England striker Jimmy Greaves faces a "long, slow road to recovery" after suffering a severe stroke, his wife has said.
Greaves, 75, was rushed to hospital on Sunday and remains in intensive care.
In a statement, his wife Irene said he was aware of the seriousness of the stroke he suffered.
She said: "Jimmy is having to do what he is told, and understands the seriousness of what has happened to him. It is going to be a long, slow road to recovery and he is in the best possible hands.
"On behalf of Jimmy and our family, We would like to thank the many thousands of you who have voiced your support and concern. We would greatly appreciate it if the media would allow us privacy for what is going to be a long period of rehabilitation."
A Saturday evening highlights show of all Championship, League One and League Two games will be show on Channel 5 from next season - before BBC's Match of the Day.
The highlights show will be screened from 9pm to 10.30pm on Saturdays - a big change from the graveyard slot the Football League Show currently has on the BBC - and will feature every single goal.
Football League chief executive Shaun Harvey said: "This is an exceptional opportunity for the Football League to work with a broadcaster that will schedule our matches in a prime-time slot.
"It will take our games to a wider, younger audience by giving us the chance to be first in front of fans on a Saturday night."
These song sheets are given out at New York City FC matches, making them pretty much the worst club in the world http://t.co/uh7HiV7XT8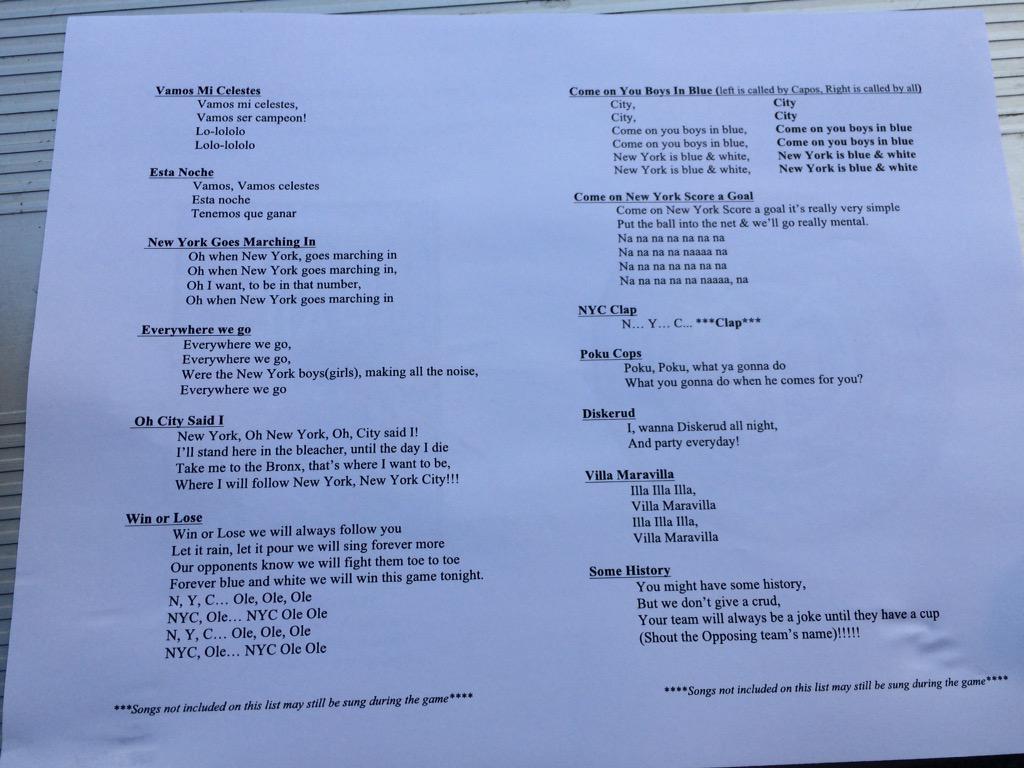 Newly formed New York City FC are pulling out all the stops as they strive to become the most ridiculed club in world football.
They will soon welcome Frank Lampard to their ranks and appear keen on taking lessons from the England international's former club Chelsea when it comes to atmosphere.
The club have started handing out song sheets for supporters at their Yankee Stadium with inventive lyrics such as "na na na na na na na" and "N... Y... C."
John Carver neither offered nor was asked to step down as Newcastle's head coach as a developing crisis on Tyneside came to a head
Read the full story ›
Advertisement
QPR have submitted a revised planning application to build a new training ground at Warren Farm in Ealing, the club have announced.
Rangers hope to get the green light for the fresh design after encountering problems since the scheme received approval in December 2013.
A decision regarding planning consent is expected in the summer.
QPR director of football Les Ferdinand said:
This is a vitally important project for the club and one in which I will have a hands on role.

We are working closely with Populous and Ealing Council to ensure QPR has a state-of-the-art facility that brings the First Team, Academy and Community together in a unique hub.

QPR has always been a club that takes pride in its local community and we will ensure that bond is strengthened with this exciting move to Warren Farm.
– Director of football Les Ferdinand
Some of the most memorable moments in a sporting weekend packed full of football celebrations, protest and world sporting achievements
Read the full story ›
Chelsea want to make next season's Premier League title race more of a challenge by adding Rickie Lambert to their first team squad
Read the full story ›
Cesc Fabregas believes Jose Mourinho has an "edge" that goes above any other manager he has worked with in football, including Arsene Wenger.
The Chelsea midfielder woke up on Monday morning celebrating his 28th birthday and a Premier League title victory three games before his debut campaign at Stamford Bridge comes to an end.
It's a dream that Fabregas failed to fulfill during seven seasons under Wenger at Arsenal, and he has singled out Mourinho's winning mentality as a decisive factor in Chelsea's triumphant season.
Speaking to the Daily Mail, the Spanish international said:
He knows how to manage a team and how to get the best from you. That's what you want from a manager, 100 per cent. He can motivate a player every three days. Not easy when you play 60 games a season, trust me.

Everyone thinks that we have a big squad, but we don't. We've used 22 players, some of them from the under-21s, so it's not easy and he actually is doing a fantastic job.

He just loves winning. I'm not saying other managers I've played under don't, but he has some edge that goes above anyone else I have ever been with. The mentality shows in every single training session or game. I now understand why he has won what he has won in his career.
– Chelsea midfielder Cesc Fabregas
Load more updates