The BBC's director of sport, Barbara Slater, says the decision to end their live Formula 1 contract prematurely was "tough" and "unwanted".
Channel 4 will take over the terrestrial rights from the BBC after it revealed it had signed a three-year deal.
The move comes as a result of a £35m cut to the BBC's sports rights budget, and Slater explained:
The current financial position of the BBC means some tough and unwanted choices have to be made. A significant chunk of BBC Sport's savings target will be delivered through the immediate termination of our TV rights agreement for Formula One.

Any decision to have to stop broadcasting a particular sport or sporting event is hugely disappointing and taken reluctantly. There are no easy solutions; all of the options available would be unpopular with audiences.
– BBC Director of Sport Barbara Slater,
The BBC has announced that it has "reluctantly" ended its Formula One contract three years early.
The corporation regained the exclusive broadcasting rights to grand prix racing in 2009 before agreeing a seven-year deal to share the rights with Sky Sports in 2012.
But the BBC, which has announced a £35million cut in its sports rights budget, said on Monday it has withdrawn from its deal prematurely.
Channel Four will take over the terrestrial rights from the BBC after it revealed it had signed a three-year deal.
Advertisement
The reigning world champion conjured a crushing victory around Melbourne's Albert Park, spearheading a Mercedes one-two
Read the full story ›
Caterham's immediate future in Formula One appears to be safe despite an associated company being placed in administration
Read the full story ›
The 17-year-old revealed how video games helped him prepare for his first taste of F1 in Japan this weekend
Read the full story ›
Ferrari chairman Luca Cordero di Montezemolo will receive a staggering payoff of nearly £27 million euros (£21.5 million) after he leaves the sports car manufacturer.
Montezemolo will be replaced by Fiat boss Sergio Marchionne after the pair clashed over strategy and the Ferrari F1 team's poor results.
Advertisement
Lewis Hamilton said he was "OK" following a heavy crash in qualifying ahead of the German Grand Prix in Hockenheim.
The driver could be heard on his car's radio saying: ""Yeah, I'm OK. I hit the brakes and something ... the brakes failed."
His team Mercedes also tweeted that he was "OK but sore" after the accident.
UPDATE: @lewishamilton is back from the medical centre. He's ok but sore from the crash. We are working to diagnose the cause #GermanGP #F1
Formula 1 driver Lewis Hamilton has been involved in a 155mph crash during qualifying at the German Grand Prix, the AFP agency reports.
#BREAKING: Lewis Hamilton in 250kph crash at German Grand Prix practice
Red Bull's Daniel Ricciardo has been disqualified from his home Grand Prix following a second-place finish in Melbourne.
The FIA said the decision was taken because the Australian's car "exceeded the required fuel mass flow of 100kg/h" - a parameter outside his control.
The decision means debutant Kevin Magnussen moves into second, with Britain's Jenson Button now placing third.
Nico Rosberg has celebrated finishing top of the podium in the first Grand Prix of the season.
The German took the chequered flag with 24.5 secs on second place, Red Bull's Daniel Ricciardo. McLaren's Kevin Magnussen finished third in his first-ever Formula One race.
Reigning champion Sebastian Vettel and British hope Lewis Hamilton - who held pole position - were forced into early exits.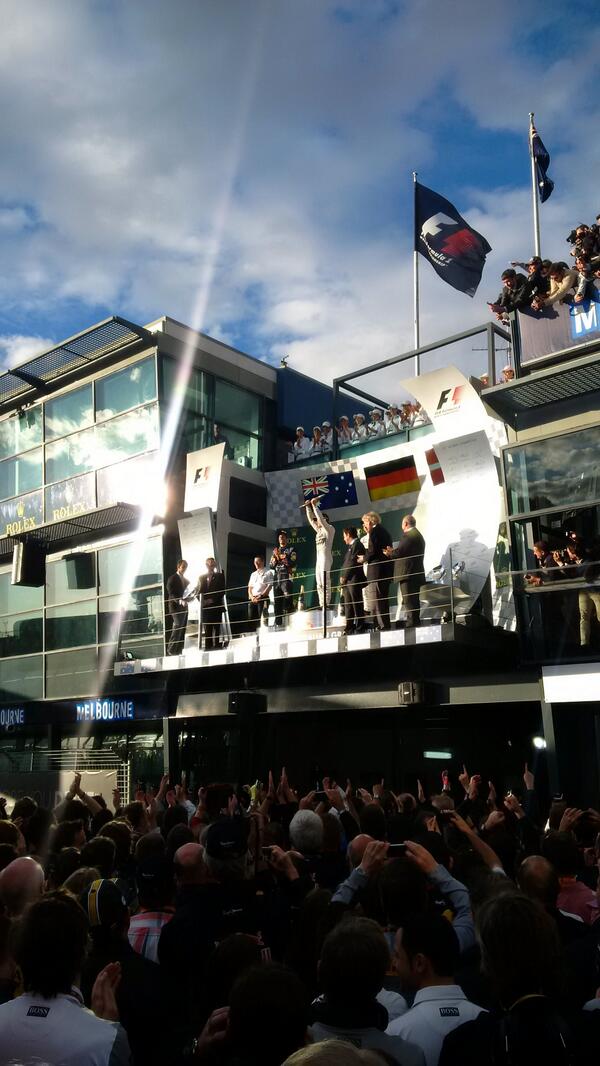 Load more updates