Nico Rosberg has offered Sebastian Vettel an invite to the Mercedes garage at the next race in Malaysia
Read the full story ›
Horner was left to reflect on 'a s****y Sunday' in Melbourne as Lewis Hamilton and his Mercedes team dominated
Read the full story ›
Advertisement
Mercedes driver Lewis Hamilton won the season-opening Australian Grand Prix in a perfect start for his Formula One world championship defence.
Starting from pole position at Albert Park, the British driver led a Mercedes one-two for the top two podium spots and crossed the line 1.3 seconds ahead of German team mate Nico Rosberg.
Ferrari's Sebastian Vettel was third.
Manor have been summoned to the stewards to explain why they missed qualifying for the season-opening Australian Grand Prix.
Despite strenuous efforts this week, Manor failed to make it out on track at Melbourne's Albert Park at any stage over the course of the past two days.
It resulted in drivers Will Stevens and Roberto Merhi, along with the team's mechanics, looking on from the garage as qualifying unfolded.
Sporting director Graeme Lowdon confirmed the team had made enormous strides since encountering numerous issues on Friday, but ultimately had to concede defeat in their bid to take part.
The South Yorkshire-based marque only emerged from administration three weeks ago after being saved by energy entrepreneur Stephen Fitzpatrick.
Sauber will have to wait until Thursday morning to find out who will be driving for them in this F1 season due to latest ruling
Read the full story ›
Roberto Merhi will be Manor Marussia's second driver for the 2015 Formula One campaign, the team have announced.
The 23-year-old Spaniard will line up alongside England's Will Stevens on the grid for this weekend's season-opening Australian Grand Prix in Melbourne.
We're delighted to announce that @robertomerhi will be racing alongside Will Stevens.
Advertisement
McLaren confirm that Fernando Alonso will not compete in the Australian GP on advice from doctors due to his recent crash
Read the full story ›
McLaren's Fernando Alonso has released a YouTube video reassuring fans that he is well after crashing heavily in testing last weekend
Read the full story ›
McLaren expect Fernando Alonso to recover from Sunday's crash in time to race in the season-opening F1 Australian Grand Prix on March 15.
The Spanish driver was released on Wednesday from a hospital in Barcelona having spent three days under observation after crashing his McLaren in pre-season testing in the Circuit de Catalunya.
"I can categorically confirm that he has no lesion and that he wasn't electrocuted," McLaren chairman Ron Dennis said on Thursday, as reported in Spanish newspaper El Mundo.
"There's no sign that Alonso's brain is damaged.
"Alonso is physically well and I see no reason why Fernando can't be in Melbourne, but I'm not a doctor.
"Fernando wanted to return to testing but the doctors have told him that if he wanted to be certain, he needed to rest and have medical follow-ups."
Hora de comer! Muchas gracias por vuestro apoyo! Lunch time! Thank you for your support! http://t.co/v6cUCfKXNL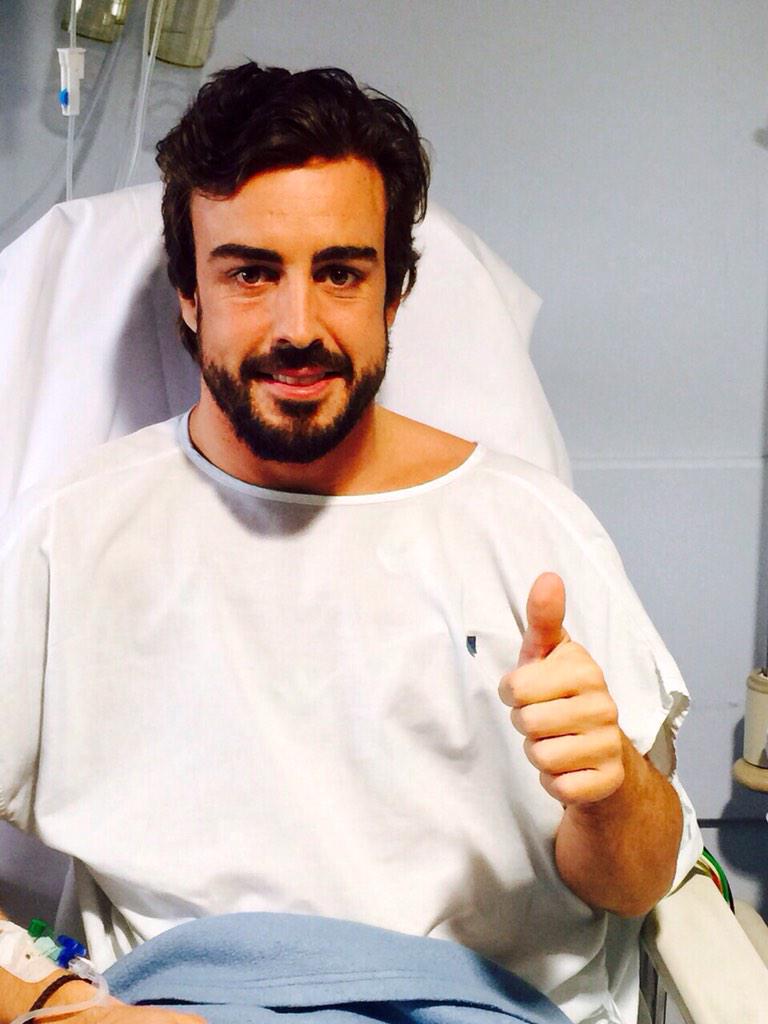 Fernando Alonso has thanked the general public for their support after he was involved in a crash during testing on Sunday.
Alonso's McLaren-Honda car hit a wall at a track in Catalonia. The Spaniard was airlifted to hospital, but his injuries seem relatively minor.
Load more updates