The body of Formula One great Juan Manuel Fangio has been exhumed try to resolve paternity cases.
Read the full story ›
Formula One star Jenson Button and his wife Jessica were reportedly gassed as they slept during a burglary.
Read the full story ›
Advertisement
Lewis Hamilton was lost for words after his error-strewn performance in Sunday's dramatic Hungarian Grand Prix.
Hamilton, who had topped every practice and qualifying session heading into the race, was expected to seal a record fifth victory here in Budapest.
But in the wake of yet another sluggish start he was fourth by turn one, and in a bid to re-pass Nico Rosberg at the chicane he fell off the track.
While he fought back from 10th to fourth, Hamilton then damaged his front wing after a sloppy collision with Daniel Ricciardo
He was hit with a drive-through penalty, and left the pit lane in 13th, but in this most spectacular and chaotic of races he somehow crossed the line in sixth.
He said:
I was all over the place. I really don't have any words to describe what happened.

It was a really bad performance from me and I don't know if it was a lack of concentration or what.

I pushed right to the end but there were so many obstacles. It's like there were two different directions and each time I chose the wrong one.
– Drivers' Championship leader Lewis Hamilton
Sebastian Vettel dedicated his victory to Jules Bianchi after winning a thrilling Hungarian Grand Prix.
In a race which had it all, the Ferrari driver finished ahead of Daniil Kvyat with the Russian's Red Bull team-mate Daniel Ricciardo completing the podium. Pole-sitter Lewis Hamilton endured an error-prone race as he crossed the line in sixth.
But there was some joy for the Briton after his Mercedes team-mate and rival for this year's championship Nico Rosberg could manage only eighth following a collision with Ricciardo in the closing stages.
Ferrari's Sebastian Vettel has won the Hungarian Grand Prix ahead of Red Bull drivers Daniil Kvyat and Daniel Ricciardo.
Lewis Hamilton, who started the day in pole position, crossed the line 6th fastest in what proved a day of damage limitation for the reigning champion.
Jules Bianchi's family have arrived for the Hungarian Grand Prix as the sport of Formula One unites in tribute to the Frenchman.
The family of Jules Bianchi have just arrived here in Hungaroring. Very moving that they wanted to come this weekend #F1 #JB17Forever
Bianchi became the first F1 driver in a generation to die as a result of the brain injuries he sustained at the Japanese Grand Prix on October 5.
His death was announced last Friday after he failed to regain conciousness from his devastating collision with a recovery vehicle at the rain-lashed race at Suzuka.
Bianchi was laid to rest in his home city of Nice in France earlier this week, and a one-minute silence will be observed in tribute to the former Marussia driver before Sunday's Hungarian Grand Prix.
Bianchi's parents, Philippe and Christine, and his brother Tom arrived in the paddock shortly before midday. Philippe and Tom were both wearing specially designed white polo shirts with "JB#17" woven in red on the front and back.
The FIA announced on Monday that 17, Bianchi's race number, will be retired from the sport in his memory.
Bianchi's death, the first in the sport since Ayrton Senna was killed at the 1994 San Marino Grand Prix, has cast a long shadow.
Advertisement
Lewis Hamilton will start from pole position for the Hungarian Grand Prix after his sizzling form showed no sign of relenting in the searing Budapest heat.
The world champion, fastest in every practice session so far this weekend, posted a best lap of one minute 22.020 seconds to qualify ahead of his Mercedes team-mate Nico Rosberg.
Ferrari's Sebastian Vettel will start from third with Red Bull's Daniel Ricciardo joining the four-time world champion on the second row.
Lewis Hamilton dealt another psychological blow to Nico Rosberg ahead of qualifying for the Hungarian Grand Prix by topping the timesheets in final practice.
Hamilton, who was fastest in both session on Friday, maintained his sizzling form in the soaring Budapest heat to post a best lap of one minute 22.997 seconds.
Rosberg may have been encouraged by the margin to his team-mate - just 0.098secs - as he bids to prevent Hamilton from winning a record fifth time here in Hungary.
But his session ended in a chaotic fashion as he was left stranded at the end of the pit-lane. He abandoned his faulty car and headed to the back of the Mercedes garage.
In terms of pace, unsurprisingly, the Mercedes pair were the class of the field, with Ferrari's Sebastian Vettel their closest challenger, albeit the best part of nine tenths adrift. Daniil Kvyat was next up in his Red Bull, with Toro Rosso driver Carlos Sainz in fifth.
Lewis Hamilton will pay tribute to Jules Bianchi was the addition of #FlyHighJules on his helmet for this weekend's Hungarian Grand Prix.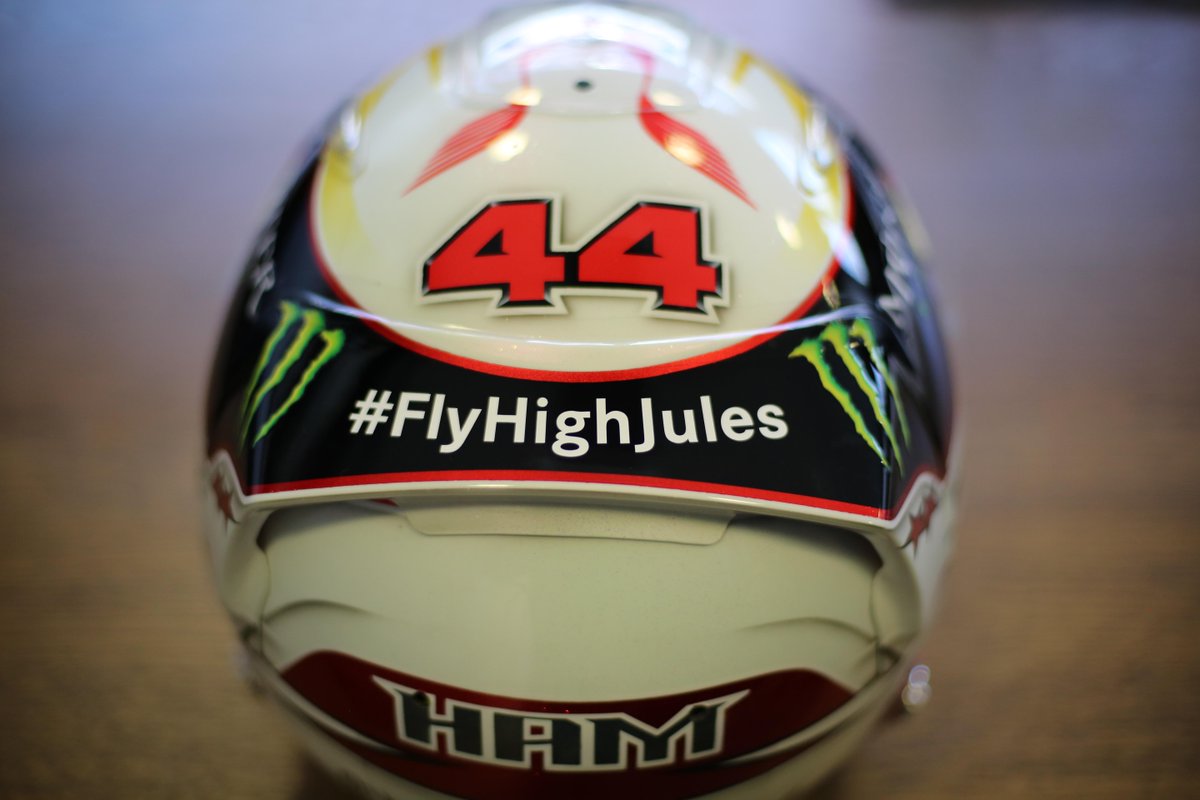 Bianchi was laid to rest on Tuesday after he succumbed to the brain injuries he sustained at last year's rain-lashed Japanese Grand Prix.
His death was the first in a Formula One generation. Indeed the sport has not mourned the passing of another driver since Ayrton Senna was killed at the San Marino Grand Prix more than two decades ago.
Hamilton, who is bidding for a record fifth victory at the Hungarian GP, said:
People watching generally underestimate the danger of our sport.They are like, 'Oh, there hasn't been anything dangerous for 20 years, so it is not really dangerous - all you guys do is sit there'.

But actually when we are out there we are driving this thing and it is bloody fast - one slip up and we are in the wall and it hurts.
– Lewis Hamilton
Sergio Perez walked away unscathed from a high-speed crash in Friday's opening practice session for the Hungarian Grand Prix.
The Mexican driver suffered a rear suspension failure and lost control of his Force India on the exit of turn 11 before hitting the barriers on the opposite side of the track.
Perez's right-front wheel then appeared to get caught underneath his Force India which flipped his car. The former McLaren driver was prompt to inform his team he was "okay" before clambering out of his car.
The harrowing incident, which happened one hour into the 90-minute session, comes with the Formula One community mourning the loss of Jules Bianchi who died last Friday.
Friday's session, the first on-track action since Bianchi succumbed to the devastating injuries he sustained at last year's Japanese Grand Prix, was immediately red flagged and a medical car was sent to the scene.
Perez was swiftly taken to the medical centre as a precaution but emerged waving to the grandstands.
Load more updates