Hora de comer! Muchas gracias por vuestro apoyo! Lunch time! Thank you for your support! http://t.co/v6cUCfKXNL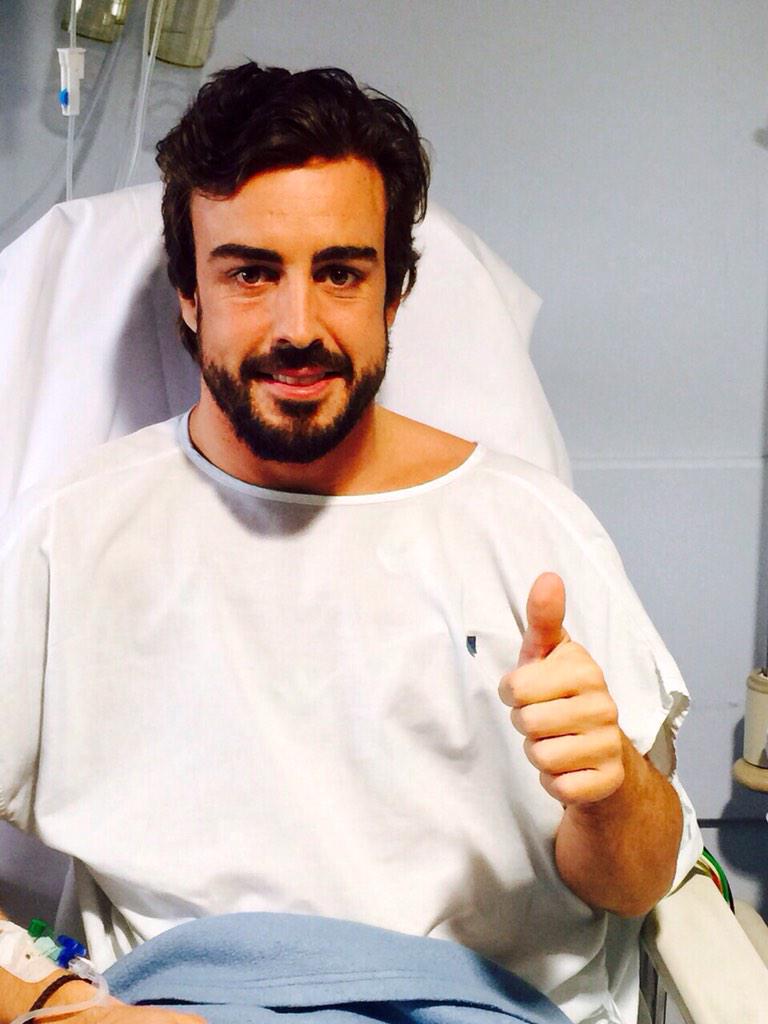 Fernando Alonso has thanked the general public for their support after he was involved in a crash during testing on Sunday.
Alonso's McLaren-Honda car hit a wall at a track in Catalonia. The Spaniard was airlifted to hospital, but his injuries seem relatively minor.
Fernando Alonso is currently recovering from his weekend's crash in hospital and is 'doing well' according to his manager.
The Spanish driver hit a wall during testing of his McLaren-Honda at the Circuit de Catalunya on Sunday, but has avoided serious injury.
"He is well and I don't think there will any problems," Luis Garcia Abad said.
"The impact was quite strong but fortunately, it was nothing. He was conscious and able to speak.
"He was taken to hospital as a precaution and they have done all the necessary tests, which have all come out well.
"But he will need to spend another 24 hours under observation. The tests will be repeated on Monday."
Advertisement
Formula One driver Fernando Alonso has been airlifted to hospital after crashing his McClaren during testing in Barcelona.
Read the full story ›
Mercedes motorsport boss Toto Wolf is confident of tying Lewis Hamilton down to a new deal before the start of the new season.
Despite Wolf's hopeful nature, he isn't set to give the Formula One champion an deadline for him to sign.
It is always beneficial you have a clear situation, for the driver and ourselves.

That is the best case, but you want to get it right as well, so it needs time.

There is no reason for us to believe it is not going to go in the way we think is right, and Lewis thinks is right.

Therefore we should aim to finish the discussions before the start of the season.

But this is not a deadline we have set ourselves because the moment you set deadlines you put yourself under pressure, and we don't want to put him or us under pressure.
– Tino Wolf speaking to Press Association Sport.
The new Martini Williams FW37 has been shown off for the first time, before it is used in the 2015 Formula One season.
An auction into Marussia's remaining assets has been cancelled with the team understood to be involved in advanced talks with a potential buyer.
Birmingham-based GA European Valuations (GAEV) conducted one auction in mid-December when minor items such as steering wheels, manufacturing and office equipment and drivers' race suits were sold.
That followed the team falling into administration in October with debts of around £60million, resulting in them missing the final three grands prix of last season.
However, work has been ongoing behind the scenes in a bid to get the team on the grid for this season, albeit with a deadline of Wednesday fast approaching.
Advertisement
Hockenheim will host this year's German Grand Prix instead of alternating with the Nurburgring, Formula One's commercial supremo Bernie Ecclestone told Reuters on Thursday.
"It's going to be at Hockenheim, we're in the middle of doing something with them. It can't be Nurburgring because there's nobody there," said the 84-year-old Briton.
Hockenheim hosted last year's German race under an agreement to alternate with the Nurburgring, which is under new ownership.
The 2015 calendar does not currently specify a venue for the July 29 race, however.
"We've got a contract in place (with Hockenheim), we just have to amend the years of the contract. It was alternating with Nurburgring so we'll just take that out," said Ecclestone. (Reporting by Alan Baldwin, editing by Justin Palmer)
Jenson Button's McLaren future will be decided on Thursday, the Formula One team have announced.
The English driver is being considered alongside Kevin Magnussen for will partner Spaniard Fernando Alonso next season.
Jenson Button and Kevin Magnussen will have to wait a few more days yet before discovering their fate with McLaren.
A McLaren spokesperson has confirmed the team will not be making any driver selection announcements until next week at the earliest.
Button expressed his frustration on Thursday when he told Press Association Sport: "I just want to get it done.
"I want to hear the decision - as we all do - so we can all move on in whatever direction."
The 34-year-old made clear, however, that although his preference is to remain in F1, he has other irons in the fire which he is more than happy with.
McLaren are expected to announce whether Jenson Button will be racing for them next year
Read the full story ›
Load more updates