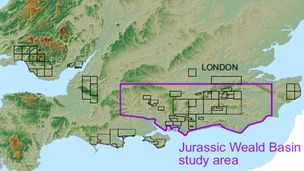 The British Geological Survey has identified the main areas that could be affected by shale oil drilling across southern England.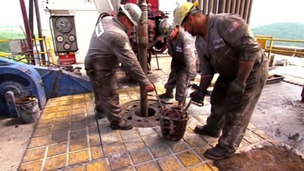 Supporters of the controversial fracking industry believe shale gas could be America's most potent weapon in the stand-off with Russia.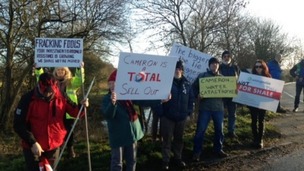 The potential for fracking shale gas in the UK is huge but so too is the opposition to the process.
Live updates
Fracking heartlands 'to get £800K' to stave off criticism
Fracking will not bring down energy bills as the gas or oil exploited would be sold on European markets and not used in the UK, Green Party MP Caroline Lucas said, after reports suggested that communities affected by drilling will be offered an average of £800,000 in additional compensation.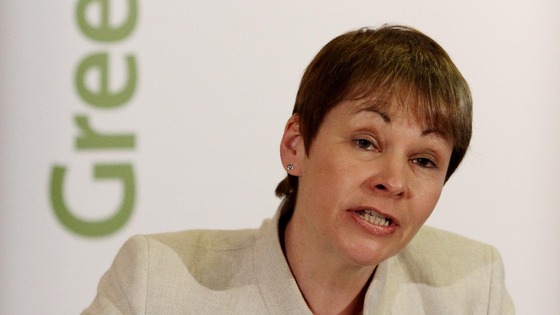 She told BBC Two's Newsnight: "Even the boss of (fracking firm) Cuadrilla has said fracking in Britain wouldn't reduce energy prices.
"Even the experts, even the people who are in the forefront of the fracking ideology are saying actually that it's not going to lead to lower prices so if you want lower prices you need to go down the renewable route."
Read: Fracking regions 'to receive £800K to stave off critics'
Fracking heartlands 'to get £800K' to stave off criticism
A report published later today from the British Geological Survey is expected to reveal huge reserves oil reserves across Southern England, the BBC reports.
The study covers areas across Sussex, Surrey and Kent, is said to say there are several billion barrels of oil in shale rocks, that could be drilled through the controversial fracking process.
The Times is reporting that the government will offer money to areas outlined in a bid to stave off criticism amid growing concerns over the safety of the procedure.
Advertisement
Fracking heartlands 'to get £800K' to stave off criticism
Communities affected by controversial "fracking" will be offered huge sums of money in a bid to win hearts and minds, according to reports.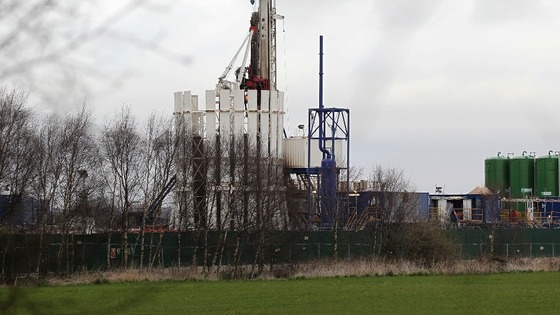 Communities in potential hacking sites, due to be identified in the British Geological Survey later today, will be offered an average of £800,000 in additional compensation efforts, the Times reports.
Mr Cameron will make the announcement as the survey is published, later today.
Developing fracking 'an urgent national priority'
Fracking is a "non-solution" to global warming, dwindling natural resources and dependency on foreign gas, a leading environmental charity has said.
Greenpeace UK chief scientist Dr Doug Parr criticised the Lords Economic Affairs Committee for "cherry-picking" evidence to support Government plans to go "all out for shale".
The real urgent national priority is to push ahead with the renewable technology and efficiency measures which would much more rapidly address the security issues flagged up by the Ukraine crisis.

The Lords spent seven months cherry-picking the wafer thin evidence that fits a foregone conclusion about the benefits of shale gas.

This is just more taxpayer-funded cheerleading from unelected politicians who seem all too happy to ignore the country's legitimate concerns about fracking.
– Dr Doug Parr
Developing fracking 'an urgent national priority'
Fracking could "potentially" be a "remarkable opportunity" for the UK to develop a new industry which would create jobs and deliver greater independence from the global energy market, a leading member of the House of Lords said.
Lord MacGregor, the chairman of the Lords Economic Affairs Committee said:
The Committee strongly supports the Government's decision to go 'all out for shale'.

But here in the UK we have not yet left the starting gate.

Developing a successful shale gas and oil industry in the UK must be an urgent national priority.

Potentially it's a remarkable opportunity for this country.

We're calling for streamlining not weakening the regulation and we believe the Government needs to get its act together faster and more comprehensively.
– Lord MacGregor
Developing fracking 'an urgent national priority'
Developing the UK's fracking industry is "an urgent national priority", according to a committee of peers.
Read: Green MP Caroline Lucas cleared over fracking protests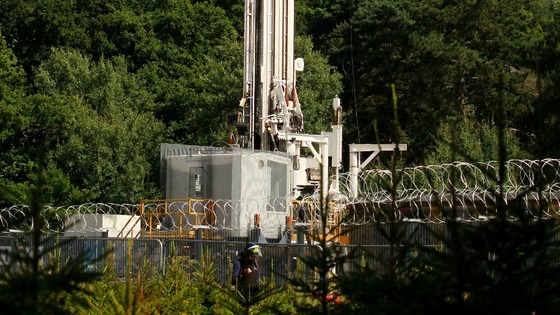 The Lords Economic Affairs Committee pointed to the shale gas industry as a way of creating jobs, cutting emissions and making the UK less dependent on foreign gas and oil.
Ministers also needed to do more to drive forward exploratory drilling and appraisal of shale resources to see how much could be developed economically, a report by the Lords said.
They also backed moves by the Government to change trespass laws so that shale companies could drill under people's property without their permission to ensure development could go ahead "without undue delay or cost".
Read: Hague: Fracking can 'weaken Russia's grip over Europe'
Advertisement
Friends of the Earth campaigner Brenda Pollack said "councillors have not listened to local people" over fracking and claimed an imminent exploration project was an attempt to "set the wheels in motion for dirty fossil fuel extraction."
A West Sussex County Council report said the number of vehicles involved in the oil and gas exploration project near Balcombe was not concerning and emissions would be controlled to ensure water quality would not be compromised.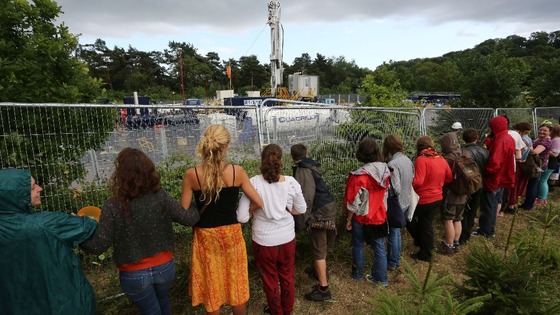 The report also said the rig and flare on the site would be visible at times but that it would be short lived. The plan involves cleaning the existing borehole and carrying out "flow-testing" by pumping fluids from the well into tanks on the site and flaring any gas.
A planning committee said the conditions of the approval were "proportionate and fair".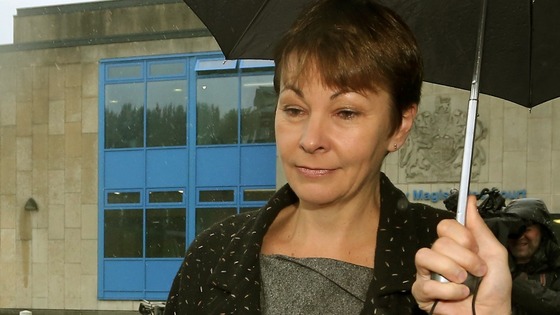 Green MP Caroline Lucas will stand trial today after being arrested at the height of anti-fracking protests in West Sussex.
The Brighton Pavilion MP was held outside energy firm Cuadrilla's exploratory oil drilling site on the outskirts of Balcombe on August 19 last year.
Last October, Lucas, 53, denied two charges - wilful obstruction of the highway and breaching section 14 of the Public Order Act.
She is due to stand trial alongside four others. Last summer the Cuadrilla site became a national focal point for anti-fracking protesters fearful of the potential impact of the extraction method.
Hague: Fracking can 'weaken Russia's grip over Europe'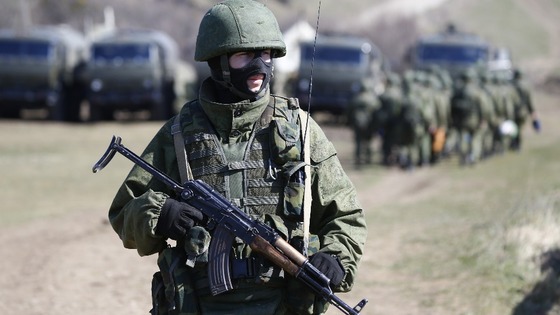 Britain and its allies should consider imposing lasting limitations on arms sales as part of a new relationship with Russia following the "outrageous" annexation of Crimea, Foreign Secretary William Hague said in an article for the Sunday Telegraph.
"This would involve Russia being outside some international organisations, facing lasting restrictions on military cooperation and arms sales, and having less influence over the rest of Europe," he wrote.
Read: Russian troops storm Ukraine air base leaving one injured
Read: Hague: Fracking can 'weaken Russia's grip over Europe'
Hague: Fracking can 'weaken Russia's grip over Europe'
Ideas are being discussed for how Europe can build greater energy security, the Foreign Secretary has said, suggesting 'fracking' schemes could help reduce Russia's leverage over Europe.
In an article for the Sunday Telegraph, William Hague wrote:
We would need to boost investment in gas interconnections and terminals in Europe, and develop indigenous European energy supplies for countries wishing to develop their own resources, such as shale gas.

And it would mean helping Ukraine and neighbourhood countries to liberalise their energy markets, increase energy efficiency and ensure more resilient energy supplies. Russia's actions in Ukraine should make it much more likely that the European Union takes such decisions.
Read: Hague: Fracking can 'weaken Russia's grip over Europe'
Read: Russian troops storm Ukraine air base leaving one injured
Load more updates
Back to top