Feminist activists threw themselves on Dominique Strauss-Kahn's car in protest as the ex-IMF chief arrived at court to testify over his alleged role in sex parties with prostitutes.
Several topless protesters from the FEMEN group wore slogans painted in black on their chests and torsos as they tried to climb onto the vehicle, before police pulled them away.
Strauss-Kahn, 65, is accused of instigating parties he knew involved prostitutes between 2008-2011 in the northern French city of Lille, Washington DC, Brussels and Paris.
Allegations that he participated in a French sex ring emerged after criminal charges that he sexually assaulted a hotel chambermaid maid in New York were dropped in 2011.
Footage from Marseille shows police remonstrating with parents outside a school that was evacuated following an apparent drug-related shooting incident in the city today.
Advertisement
A school in Marseille has been evacuated by French police responding to an incident in which they were fired on by gunmen armed with Kalashnikov rifles.
Caroline Pozmentier, deputy mayor of the city, suggested the shootings were linked to a problem related to drug trafficking. She told Reuters:
This battle against drug trafficking is a long-term battle.
– Caroline Pozmentier
Riot police have now blocked off the Castellane housing project in the north of the city following the incident.
French prime minister Manuel Valls was due to visit France's second-largest city to talk about security and education.
Police can be seen gathered at the scene of a reported shooting in the French city of Marseille in footage posted on the Daily Motion website.
Sorry, this content isn't available on your device.
Hooded gunmen armed with Kalashnikov rifles fired on police in the French city of Marseille, where Prime Minister Manuel Valls was paying a visit on Monday, a police source told Reuters.
BREAKING: Shots fired in Marseille France, special forces on the scene, hours beforz PM valls visits Marseille. http://t.co/LCR8oqa8xG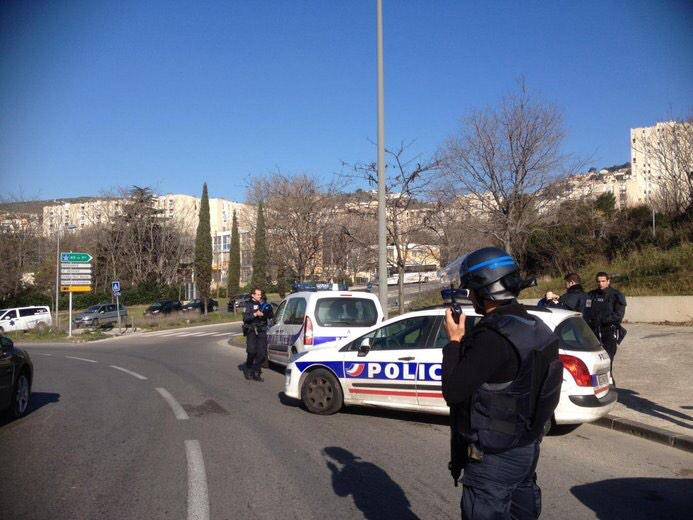 Elite police trooops are being sent to the scene, in the northern suburbs of the Mediterranean port city, after the shots, Reuters said.
Hooded gunmen have fired at police in the French city of Marseille, where French Prime Minister Manuel Valls is due to visit, a police source told Reuters.
Advertisement
German Chancellor Angela Merkel and French President Francois Hollande will meet Ukraine's Petro Poroshenko in Kiev today and Vladimir Putin in Moscow tomorrow to discuss how to stop the violence in eastern Ukraine.
"In view of the escalating violence in recent days, the chancellor and President Hollande are intensifying their efforts, which have been going on for months, for a peaceful settlement to the conflict in eastern Ukraine," Merkel's spokesman Steffen Seibert said in a statement.
Police investigators are at the scene where French soldiers were attacked by a man with a knife.
The attacker was detained but two people with him are believed to have fled after the stabbing in Nice's city centre.
The attacker pulled a knife at least eight inches long out of a bag before setting upon the soldiers, a police official told the Associated Press.
The man who attacked three soldiers at a Jewish community centre in Nice has been detained, AFP reported.
None of the soldiers are believed to be seriously injured following the attack.
France has been on high alert since the Paris attacks hat left 20 people dead, including the gunmen.
Three French soldiers patrolling the Jewish community centre in Nice have been attacked with a knife, France 24 reported, citing local police.
Load more updates