President Francois Hollande said French fighter jets will soon strike against Islamic State militants in Iraq once reconnaissance missions have identified targets.
When asked when French airstrikes in Iraq would begin, he told a news conference: "As soon as we have identified targets, that means in a short time frame.
"It will be air support to protect Iraqi soldiers and Kurdish Peshmerga forces to reduce and weaken this terrorist group."
Number 10 has tweeted this photo showing world leaders watching this morning's flypast at the Nato summit in Wales.
But French President Francois Hollande (far left) appears singularly unimpressed by the display as he looks in the wrong direction.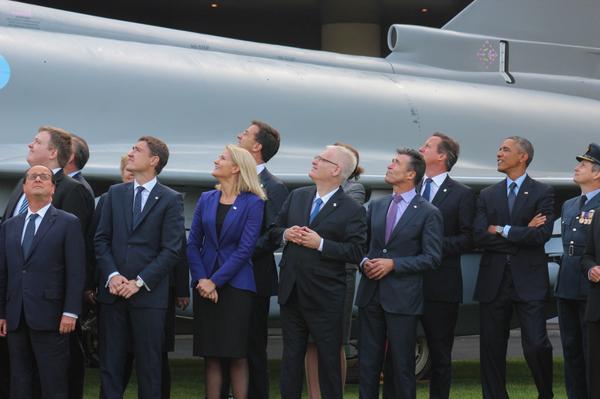 Advertisement
France's President Francois Hollande has said he will soon propose holding an international conference on Iraq and how to deal with the Islamic State insurgency.
France has offered to host a summit with Nigeria and its neighbours focused on Islamist militant group Boko Haram, President Francois Hollande said.
"With Nigerian President Goodluck Jonathan, I have proposed to hold a meeting with the countries bordering Nigeria," Hollande said during a visit to the Azeri capital of Baku.
Global outrage over the Boko Haram's abduction of 200 schoolgirls last month has focused attention on the group, which has destabilised large swathes of northeast Nigeria and its neighbours.
French President Francois Hollande dismissed a referendum on self-rule in east Ukraine, saying the only vote that mattered was a presidential election on May 25.
Separatist rebels went ahead with the vote in defiance of Ukraine's pro-Western government and one announced plans to form their own state bodies and military once results are announced.
Advertisement
France's President, Francois Hollande, has warned of "chaos and civil war" in Ukraine if the upcoming presidential election is postponed.
Mr Hollande called on western governments to maintain a "simple, single message" to Russia that there will be more sanctions if Moscow tries to stop the election taking place.
"The whole of Europe and the US must put pressure [on Russia] through sanctions and it's in Russia's interests because they do not want to be seen as the country that is stopping another country, in this case Ukraine, from voting," he said.
Speaking about the election, Mr Hollande said: "If it does not take place that would mean chaos and the risk of civil war".
The former partner of Francois Hollande has been appointed to the French president's new cabinet as environment and energy secretary.
The return of Segolene Royal, who ran for president herself in 2007, comes amid a cabinet reshuffle after heavy losses for the ruling socialists in local elections.
President Hollande of France sacked his Prime Minister, after a terrible set of results for their socialist party over the weekend. France's far-right National Front party triumphed at the polls, gaining its greatest election success to date.
Europe Editor James Mates reports.
French President Francois Hollande has named Interior Minister Manuel Valls as the new prime minister.
In a prerecorded televised speech Hollande said Valls would lead a "combative government". Hollande also said it was "time to start a new state" after his Socalist party suffered heavy losses in elections.
Load more updates