Manchester City have admitted making mistakes in their communication of Frank Lampard's move to the club
Read the full story ›
Frank Lampard has sought to draw a line under the controversy regarding his extended stay at Manchester City
Read the full story ›
Advertisement
Frank Lampard has said he will visit the memorial to 9/11 victims after his move to New York City FC was met with hostility from local press over allegations he "mocked" American tourists in the wake of the terror attacks.
Admitting he was "young and naive" at the time of the incident, the former Chelsea midfielder told ITV News that he would visit the memorial to pay his respects.
Frank Lampard told ITV News he regrets drunkenly abusing Americans in the wake of the September 11 attacks, admitting he "was young and naive".
The midfielder, who has joined New York City FC, said: "I was young and naive...and now have some regrets about what I did.
"I categorically didn't set out to insult anyone and have badly tried for 13 years at Chelsea to be a good man on and off the pitch and I want everyone to see that I have improved.
"The most important thing to say is, I did not set out to hurt anyone. I was misrepresented by the British newspapers at the time.
"I will go to the 911 memorial to pay my respects and to show New Yorkers who I am and to apologise."
ITV News Deputy Political Editor Chris Ship has tweeted:
NEW: Lampard tells us he's sorry over his 2001 drunken abuse of Americans post-9/11 & WILL go to 9/11 memorial now he is playing for NYCity
Former Chelsea midfielder Frank Lampard has joined New York City FC, the Major League Soccer franchise have announced.
The 36-year-old left Chelsea at the end of last season after 13 seasons and as the clubs record goal scorer with 211 goals.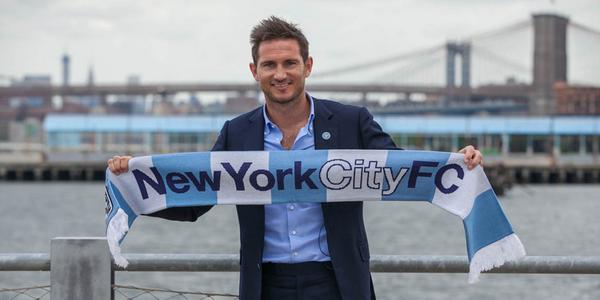 Frank: "I will fight to make #NYCFC a club that New Yorkers will be proud of."
New York City are co-owned by Manchester City and Major League Baseball's New York Yankees.
Lampard start with New York in February 2015, when the MLS season gets underway.
Advertisement
Frank Lampard's transfer to New York is being met with hostility after the resurfacing of reports that he "mocked" US tourists after 9/11.
Read the full story ›
Frank Lampard has confirmed that he will leave Chelsea this summer after 13 years at Stamford Bridge.
Speculation had been rife over the 35-year-old's future with his contract set to run out in west London. The midfielder has been linked with a move to the US to join New York City FC in recent days.
Chelsea legend Frank Lampard has reportedly agreed a free transfer to New York City, with Atletico Madrid marksman David Villa is set to join him.
According to the Sunday Mirror, Lampard and Villa met with Jason Kreis, installed as New York City head coachin January by the Premier League champions' chief executive officer Ferran Soriano. Lampard broke off from his preparations with England for the World Cup to sort out his move.
Lampard is understood to be have agreed to a basic wage significantly less than the £150,000-a-week that he picked up at Chelsea.
Frank Lampard has been confirmed as England captain for Friday's friendly against Chile at Wembley.
The Chelsea midfielder will be awarded a golden cap to commemorate his 100 caps for England, and will be joined by his two daughters Luna and Isla, who are mascots at the match.
Regular captain Steven Gerrard was ruled out of the match with a hip injury, so Lampard was chosen to lead the team out at Wembley.
The FA is expecting 60,000 fans for Friday's game against the South Americans while 80,000 are due to attend the game versus Germany four days later.
Load more updates