Gareth Southgate insists he does not know whether he will be England's next permanent manager as his caretaker spell draws to a close.
Read the full story ›
Gareth Southgate was full of praise for Jesse Lingard after the Manchester United winger made his first England appearance in Saturday's 2-0 win over Malta at Wembley.
For me, a real positive was Jesse Lingard. I think he had an outstanding debut. He really linked the play well and looked a real threat.

That's why we wanted to give him the start. He's got a strong mentality. He's an exciting player.

The stage was made for him really. He's enjoyed Wembley.
– Southgate to ITV Sport
Advertisement
Sir Trevor Brooking believes Gareth Southgate is the right choice to be the next permanent England manager, despite persistent speculation linking the Football Association with an approach for Arsenal boss Arsene Wenger.
Southgate enjoyed the perfect start to his four-game caretaker spell on Saturday as England beat Malta 2-0 at Wembley, and Brooking thinks the 46-year-old is the ideal candidate to build for the 2018 World Cup in Russia and beyond.
I think he should get the job. In the next three games hopefully he does enough.

I am confident that then he'll get the two years taking us up to the World Cup.

And with the players coming through - because there are some younger ones, it's about the timing of when he brings them in - I think then he could kick on for another two years as well.

At the stage the FA are, with St George's Park and everything, it cries out to stay English now.

Gareth, with that experience, is the person that could take that on.

Arsene is a great foreign option. I wouldn't do it now, even though a few years ago I'd have certainly considered it.
– Brooking to BBC Radio 5live
Gareth Southgate won his first England game as manager as his team dominated from start to finish against Malta.
Read the full story ›
England U21 coach Gareth Southgate was disappointed with his side's 1-1 draw with Switzerland.
Read the full story ›
Here, we look at three players likely to provide the biggest talking points in Gareth Southgate squad and whether they might feature or not
Read the full story ›
Advertisement
Gareth Southgate has shown the England Under-21s squad clips of players such as Marco Verratti and Isco to whet their appetite ahead of this summer's European Championship.
The Young Lions head to the Czech Republic in June looking to continue the fine form which saw them progress to the finals unbeaten.
Friendly wins against the hosts and Germany last month only bolstered confidence which Southgate attempted to harness by showing them a montage of stars from the previous edition.
David de Gea, Alvaro Morata, Isco and Thiago Alcantara were part of the triumphant Spanish side in Israel two years ago, when Verratti, Fabio Borini and Lewis Holtby were amongst the stars.
We put a montage on for the players from the last tournament for the players.

You've got people like Verratti and Isco, who really came to prominence in Israel even though they were already well known before the tournament.

So that's the level we're playing at and I don't think any of our guys are bigger than those two in terms of where they are at this moment in time.
– England under-21 manager Gareth Southgate
Gareth Southgate is confident his England Under-21 players will benefit from having to dig deep to beat fellow European Championship finalists Germany 3-2 in a five-goal thriller on Monday night.
Nathan Redmond and skipper James Ward-Prowse struck within three minutes of each other at the end of an absorbing contest at the Riverside Stadium to turn defeat into victory and set themselves up perfectly for their summer adventure in the Czech Republic.
However, manager Southgate was as pleased with the lessons they learnt at the hands of a strong German team as he was with the result.
We are really pleased with the comeback, definitely. To go behind twice... We believe we have a group of players that have got character and they showed that.

Sometimes you have to go into those positions to realise what you have got as a group, so that part is pleasing. There are elements of the performance that we weren't pleased with and that we can be better at - and that we will have to be better at.

Germany were a very good side and looked very composed. We weren't as composed as we have been and can be, certainly in the first 25 minutes. Some of our passing was sloppy and we can play at a better level than that, which we showed as the game progressed.
– England under-21 manager Gareth Southgate
Tom Ince has been omitted from the England under-21 squad at his own request after choosing to concentrate on his football at Derby County.
The forward has been helping the Rams in their quest for Championship promotion having joined on loan from Premier League club Hull, where he failed to make an impact.
It's a decision which hasn't gone down well with England under-21 manager Gareth Southgate, and could yet cost Ince his place in future squads.
Speaking to the press today, Southgate said:
I've have had discussions with Tom and his dad over the last week or so and he has decided he does not want to considered for the Under-21s.

I have to say I was surprised. He has obviously been a regular for us all the way through the campaign.

But he feels at this moment in time he has got some priorities at club level. There is some uncertainty about where he is going to be at club level next season.
– England under-21 manager Gareth Southgate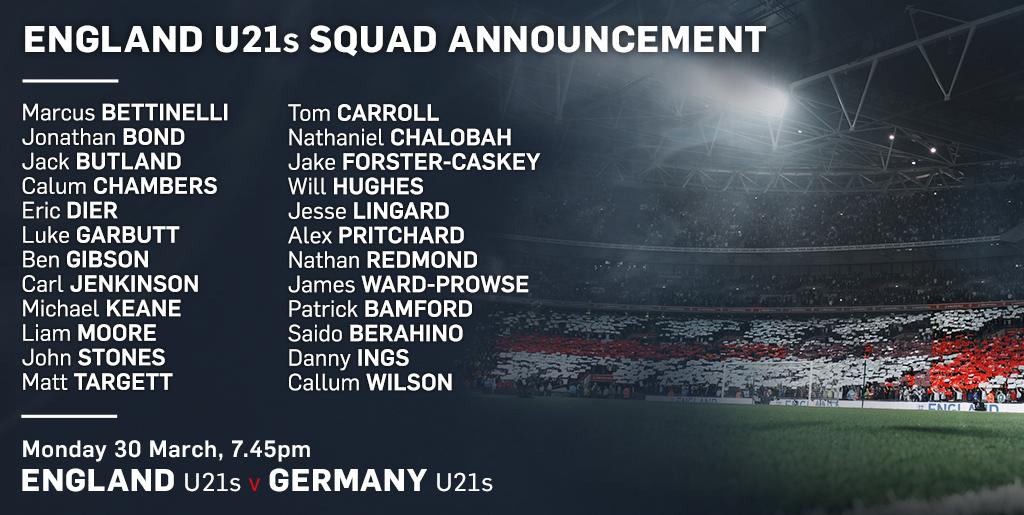 John Stones and Calum Chambers have been included in Gareth Southagate's England under-21 squad for this month's fixtures against the Czech Republic and Germany.
Southgate's side travel to Prague on Friday where they'll come up against this summer's Euro 2016 under-21 hosts before returning to England, in Middlesbrough, for a friendly against Germany.
Load more updates