Zac Goldsmith has resigned as an MP in protest at the Government's decision to build a third runway at Heathrow Airport.
ITV News Deputy Political Editor Chris Ship tweeted:
Zac Goldsmith HAS resigned as MP
The Treasury confirmed the Conservative was forcing a by-election in a Richmond Park constituency that sits underneath Heathrow's flight path.
Mr Goldsmith earlier condemned the expansion in the House of Commons as a "doomed" project that would be a "millstone around this Government's neck for many, many years to come".
The expansion of the London airport will affect the whole of the UK, with more domestic routes, while impacting air fares and house prices.
Read the full story ›
Advertisement
Transport Secretary Chris Grayling has told ITV News Political Editor Robert Peston that despite opposition within the government over Heathrow expansion, a third runway will go ahead after consultation.
It shouldn't be a decision between expanding either Gatwick or Heathrow but both, a spokeswoman for the Association of British Travel Agents said.
Victoria Bacon told ITV News: "By the time this additional runway gets built in 2025 there will be a need for more capacity so planning right now for the long term is really important. We don't think it's either or, it's both."
Foreign Secretary Boris Johnson has said a third runway at Heathrow is "undeliverable", adding: "I think it very likely it will be stopped."
The long-time opponent of Heathrow expansion has been given permission to publicly speak out against the Government decision.
Mr Johnson said the project would cause "inevitable degradation" to the quality of life of people under the potential new flight paths.
"A third runway is undeliverable," he said. "The day when the bulldozers appear is a long way off, if indeed they ever materialise."
Several ministers will soon join Foreign Secretary Boris Johnson and Education Secretary Justine Greening in publicly condemning the Government's plans to build a third runway at Heathrow Airport, ITV News has learned.
ITV News Deputy Political Editor Chris Ship tweeted:
I'm told more ministers will join Boris and Justine in opposing #Heathrow in the coming days. Not Cabinet - but ministerial level
Advertisement
Labour has reiterated its support for another runway in south-east England
but said the Government's confirmation of plans to build a third runway at Heathrow fails to meet the party's test for expansion.
We welcome any decision that will finally give certainty on airport expansion, much needed in terms of investment and growth in our country. However the Government's announcement today is not the end - it is yet another step in the process, rather than the final detail.

Labour has consistently been in favour of building an additional runway in the South East of England, but this support has always been conditional on four tests being met: on capacity, climate change, noise and air quality and the wider national benefits. Today's announcement, heralding another consultation, does not yet do that.
– Shadow transport secretary Andy McDonald
Shadow chancellor John McDonnell has condemned "devastating" Government plans for a third runway at Heathrow and pledged to continue campaigning against its expansion "so that it never sees the light of day".
The Labour MP has long fought the expansion plans at an airport sited within his west London constituency of Hayes and Harlington.
My response to the Government's announcement today to support a third runway at Heathrow in my constituency. https://t.co/V7OaiZ8XGn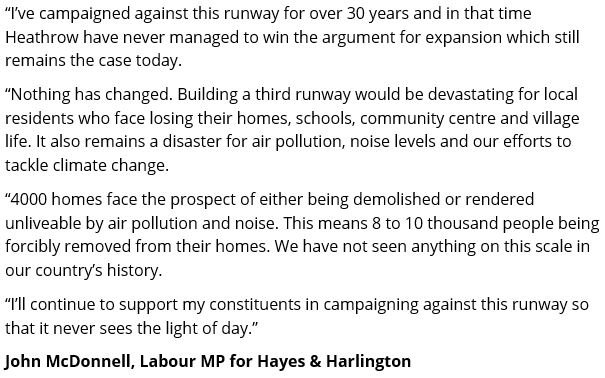 The Government's decision to build a third runway at Heathrow has received a mixed reaction from leading airline chiefs, who variously branded it "good news", a pricy risk or a "piecemeal" expansion that does not go far enough.
Willie Walsh, chief executive of British Airways owner IAG, said his group was "pleased" a decision had been made but warned: "The cost of this project will make or break it."
He added: "Heathrow want it, argued for it and now must ensure it's the UK and the travelling public who get the benefits from the runway, not the airport's owners."
Ryanair chief executive Michael O'Leary said choosing between Heathrow and Gatwick was the wrong approach.
"The best way to deliver additional runways in a timely and cost-efficient manner is to approve three additional runways - one each at Heathrow, Gatwick and Stansted."
But Carolyn McCall, chief executive of easyJet, offered the largest support.
"This is good news for UK consumers and businesses and will help ensure that the UK is better connected to the rest of the world," she said.
Building a third runway at Heathrow was the most controversial of the three expansion options, so why is it going ahead?
Read the full story ›
Load more updates