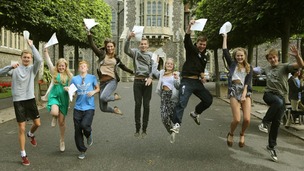 Pupils around the country received their long-awaited GCSE results today - here are some of the stories behind the results.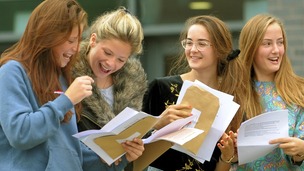 The proportion of GCSEs awarded at least a C grade this summer fell 1.3%, marking the biggest fall in the exam's 25-year history.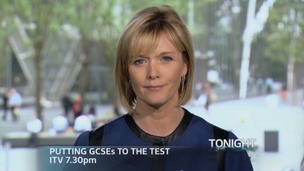 On the day that 650,000 students get their GCSE results, the Tonight programme asks whether the exams are fit for purpose.
Live updates
GCSE grades fall for second year
GCSE grades have fallen for a second consecutive year, with a drop in the proportion of entries scoring at least a C in English, maths and science.
In English, 63.6% of entries gained a C or higher, down from 64.1% last summer.
In maths, 57.6% of entries scored an A*-C grade, compared to 58.4% in 2012.
In Science, there has been a 7.6% fall in the proportion of entries awarded a C grade or higher.
The drop in English comes amid a rise in the number of younger students taking the GCSE exams, the Joint Council for Qualifications said.
The fall in Science follows a move by Ofqual to toughen up the qualifications after a 2009 report by the regulator found that the courses were too easy.
GCSE grades fall for second year
The proportion of GCSEs awarded at least a C grade has fallen for the second year running.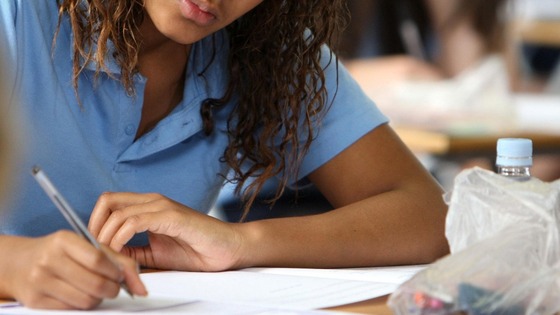 The number of entries who scored A*-C this summer dropped by 1.3% to 68.1% - the biggest fall in the exam's 25-year history.
Those gaining top grades has also fallen by 0.5% - with 6.8% achieving an A*.
Advertisement
GCSE grades fall for second year
GCSEs are "not the be all and end" and there are numerous colleges, vocational courses and charities which will help pupils disappointed with their results get back on track, according to a Prince's Trust ambassador.
Wretch 32 aka Jermaine Scott Sinclair told Daybreak he did not do as well as he would have liked in his GCSEs and urged pupils with poor results not to give up.
GCSE grades fall for second year
Four brave pupils from from Trinity High School in Redditch opened their GCSE results live on Daybreak.
London
A teenager who was murdered in Poplar ten days ago achieved top grades in his GCSEs, it was revealed today.
Ajmol Alom, who was 16, got 8 grade As in subjects including Maths, Science and Geography and three B grades in English language, humanities and physical education.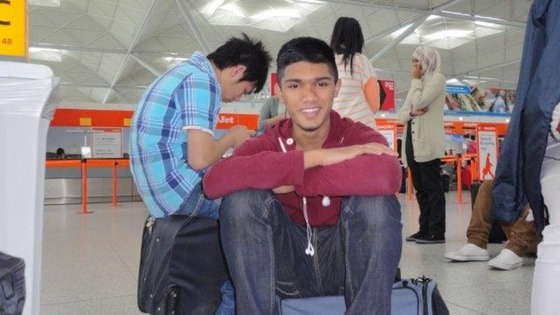 Ajmol had hoped to become a doctor in the future and his headmaster, Chris Dunne paid tributes to him:
"One of the careers he was considering was in medicine, and these results would have made that a very real possibility in terms of university entrance. All the many journalists who interviewed me after the horrifying event of his murder wanted to know how 'good' he was as a student."
"I was able to say without hesitation that he was very able, looking forward to GCSE results at a very high level and very capable of going on to achieve the kind of grades which would have secured him a place at any one of our best universities."
GCSE grades fall for second year
In 2012 the proportion of GCSEs awarded at least a C fell for the first time in the exam's history, with 69.4% getting this grade or higher, down 0.4 percentage points on 2011.
There was also a fall in the proportion of GCSEs awarded the top grades and drops in the percentage of English, maths and science GCSE entries achieving passes at A*-C.
Advertisement
GCSE grades fall for second year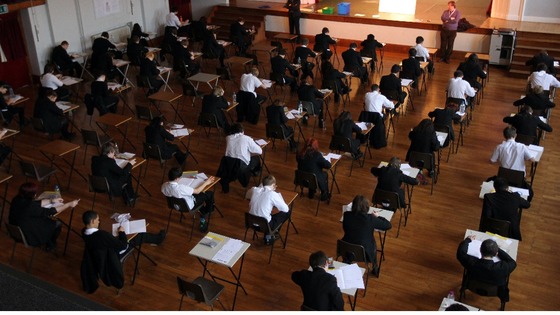 GCSE results could fall this year amid major upheaval in the exams system, it has been predicted.
Attempts to "secure standards" along with changes to key GCSEs and moves by students to sit different exams could combine to cause a drop in the pass rate, according to one education expert.
The prediction comes as teenagers across England, Wales and Northern Ireland prepare to receive their results.
Professor Alan Smithers, director of the Centre for Education and Employment Research at Buckingham University, said it was "likely" that results will drop this year.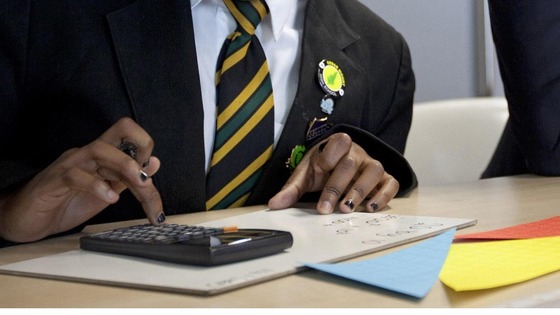 Too many children are taking maths GCSE early or multiple times because of a "target-driven culture" which ends up damaging their education in the subject, experts have warned.
The Advisory Committee on Mathematics Education (ACME)'s comments come amid predictions that next week's GCSE results will show a continuing decline in maths grades.
ACME committee member Richard Browne: "The practice of early entry has a negative effect on most students' mathematical education and hinders their progression to a wide range of subjects post-16 and in higher education."
He added: "Repeated resitting and multiple entry reduces the time spent developing student's mathematics skills and knowledge, as well as having significant extra cost for schools."
England's exams regulator Ofqual recently suggested early and multiple entries were being driven by the pressure of league tables and the importance of gaining at least a C grade in the subject.
Clever pupils 'being let down'
Ofsted have warned that many of England's most able pupils are being failed by a culture of low expectations.
The report found that in non-selective schools, 65 per cent of pupils who achieved top levels in English and Maths in primary school did not gain an A or A* at GCSE.
The education watchdog called on schools to do more to challenge the minds of the brightest pupils and to consider streaming pupils when they first start secondary school.
ITV News reporter Martha Fairlie reports:
Clever pupils 'being let down'
The National Union of Teachers have labelled the evidence behind Ofsted's claims that schools are failing the most academically able as "wrong".
Christine Blower, the General Secretary of the largest teachers' union, said the evidence supporting the claims was "wrong" because Key Stage two test results were never designed as a predictor for future GCSE grades.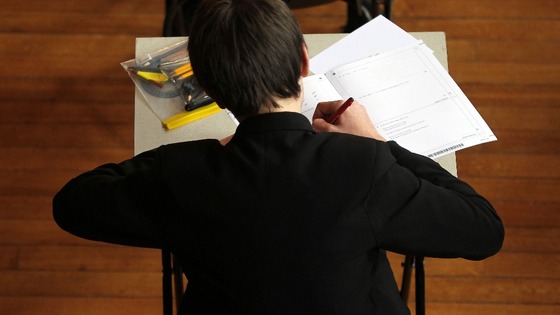 The General secretary said young people's aspirations had been deeply harmed by the reduction in the Education Maintenance Allowance, the increase in tuition fees and cuts to schools' career services.
"While schools are never complacent it has to be remembered that Ofsted's own Annual Report found that 70% of all schools are now good or better. Ofsted has a role to support schools and ensure they are sharing best practice in schools. This report does neither.
"For schools to help and encourage all pupils to reach their full potential we need a curriculum which engages students and is relevant to all the career paths available to young people in the modern workplace".
Load more updates
Back to top