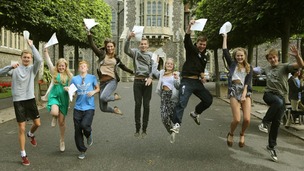 Pupils around the country received their long-awaited GCSE results today - here are some of the stories behind the results.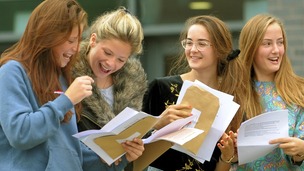 The proportion of GCSEs awarded at least a C grade this summer fell 1.3%, marking the biggest fall in the exam's 25-year history.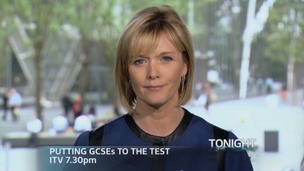 On the day that 650,000 students get their GCSE results, the Tonight programme asks whether the exams are fit for purpose.
Live updates
GCSE grades fall for second year
Congratulations to all my students on your GCSE maths results. I'm very proud x
My Year 11 Tutor Group: 100% A* - C! 5 got 11A*s. Fantastic job, very proud of all of you. Good luck to you for the 6th Form wherever you go
GCSE grades fall for second year
West Country (W)
Ten year old Monty Rix from St Austell has achieved a grade 'B' in his GCSE Astronomy.
He is the youngest person in the country to study the subject and follows in the footsteps of his father.
Our Cornwall Reporter Steve Hardy visited Monty back in February.
Here is his report again:
Advertisement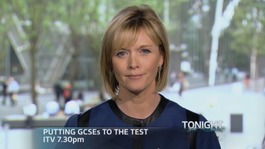 On the day that 650,000 students get their GCSE results, the Tonight programme asks whether the exams are fit for purpose.
Read the full story
GCSE grades fall for second year
Meridian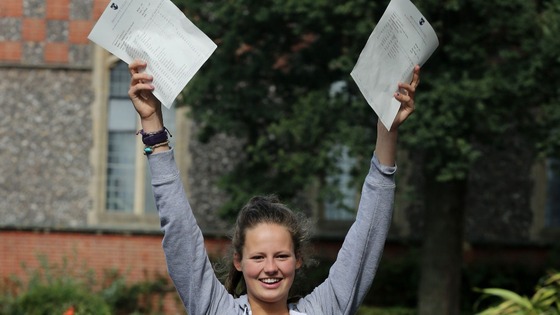 The great-granddaughter of Sir Winston Churchill, from East Sussex, has received one of the best results in her school year.
Isabella Soames, who is 16-years-old, was also scouted by leading modelling agency Storm, who also work with Kate Moss and Lily Cole.
The teenager, who is the daughter of Conservative Mid Sussex MP Nicholas Soames, gained 11 A*s at independent Brighton College.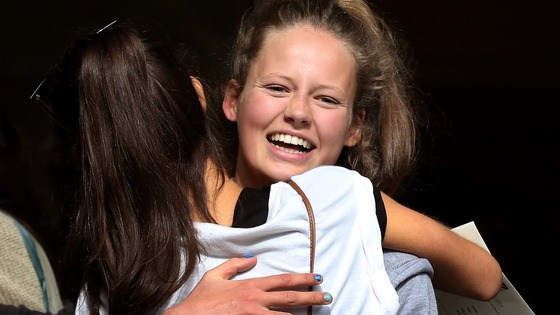 The school's headteacher, Richard Cairns, said: "I think it is a proud moment for the city that a Brighton school can outperform much more selective schools in London and elsewhere in the South East."
"I really do believe that if you have a kind, considerate and supportive environment, children will achieve more than you might expect. Happy children are, by and large, successful children."
GCSE grades fall for second year
Anglia
The proportion of pupils getting the top grades in GCSEs at a school in Norwich has risen to 75% this year compared to 38% just three years ago.
The Executive Principal of Ormiston Victory Academy in Costessey, Rachel De Souza, said: "I cannot tell you how proud and delighted I am. It's all come from hard work and commitment."
GCSE grades fall for second year
An impressive 43 A* and 44 A grades have been notched up by six sets of twins who attend the same school.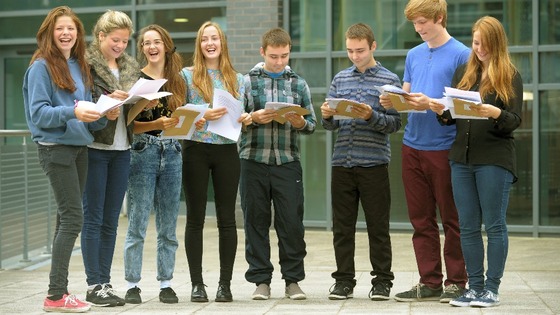 The siblings are all in the same year group at St Mary Redcliffe and Temple School in Bristol, where results shot up by six per cent.
Dorothy and Florence Hislop, 16, scored 13 A*, six As and one B between them.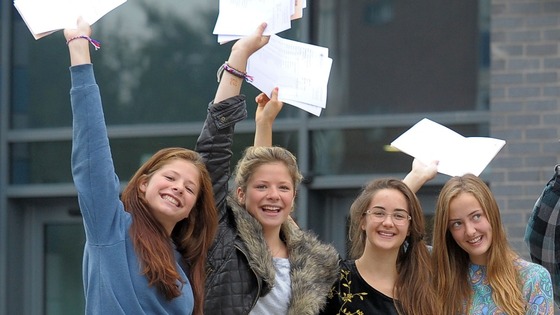 Dorothy, who gained seven A*s, two As and one B, said: "We were so nervous, everyone kept saying the grades were slipping, so today was a surprise. I am really happy with my results."
Advertisement
GCSE grades fall for second year
General Secretary of the National Union of Teachers, the largest teachers' union, said the "obsessive target driven culture" in schools is "stifling learning".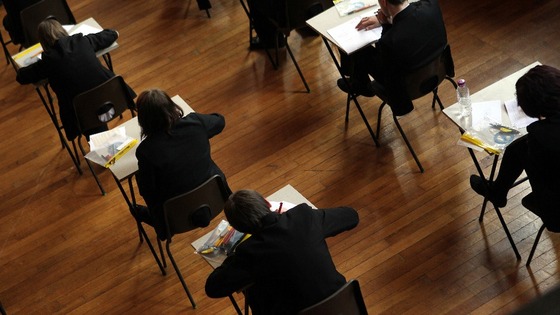 Christine Blower said: "Congratulations to all pupils and teachers for the hard work they have put into passing this year's GCSEs.
"The great results speak for themselves and have been achieved despite persistent criticism from the Education Secretary about the validity of GCSEs as a qualification, and the continual shifting of pass rate criteria.
"Schools and pupils are being put under ridiculous pressures to meet the latest demands from Ofsted and Government. As exam and test results are increasingly the only measure by which schools are judged it is no surprise some schools are entering pupils for different exams or entering them earlier.
"Everyone wants the best for pupils but the obsessive target driven culture imposed on schools is stifling learning and pupil engagement."
GCSE grades fall for second year
Exam boards have criticised the rise in the number of 15-year-olds taking GCSE exams, with 91,000 children sitting the tests a year early.
Why oh why do we now get a significant increase in 15-year-olds taking GCSE?
– Andrew Hall of the exam board AQA
Early entry does not benefit the students. The results are far lower for 15-year-olds - these qualifications are designed for 16-year-olds.

Students should be left to learn for those two years and that is what we would encourage.
– Mark Dawe of the exam board OCR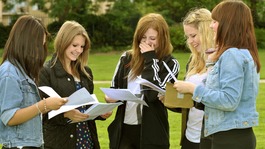 Whether you received the results you expected today or not, there is a wealth of information online to help you plan your next step.
Read the full story
GCSE grades fall for second year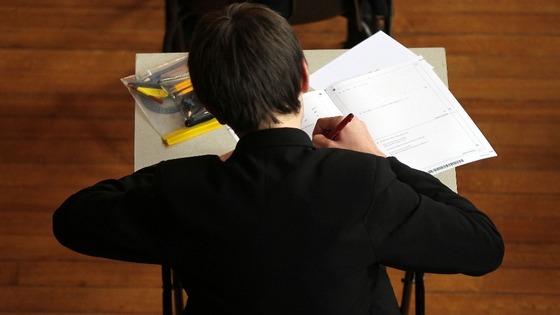 The overall GCSE A*-G pass rate also fell slightly this year to 98.8% compared to 99% last year.
Load more updates
Back to top