The UK economy grew by 0.8% in the last quarter, driven by growth in services and production, the ONS said.
Output increased in two of the four main industrial services: Services grew by 1%, production grew by 0.4%, whilst construction and agriculture were both down slightly, by 0.5% and 0.2% respectively.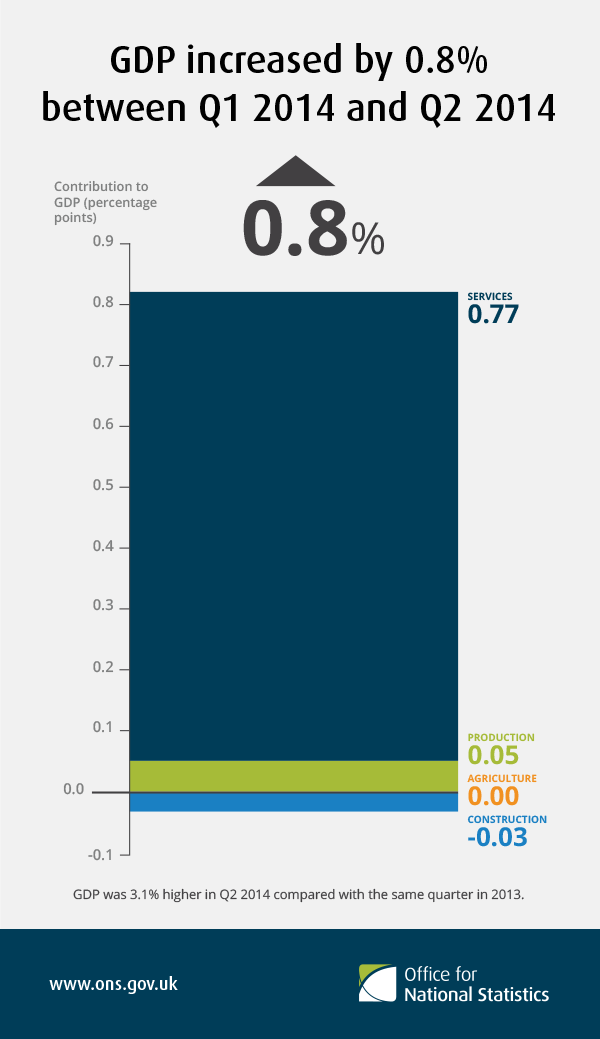 Britain's gross domestic product has grown 0.8% in the second quarter of the year, following the first quarter growth of 0.6%.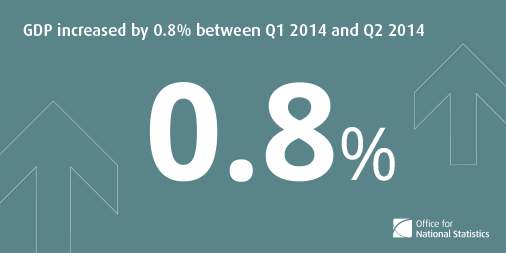 The economy is now 0.2% ahead of its pre-crisis peak in early 2008, the ONS said.
Advertisement
Labour shadow Chancellor Ed Balls said GDP growth did not mean the recovery was being felt by ordinary people, as real terms pay is falling, resulting in "a lost decade for living standards".
He rejected the Coalition's claim that the expected figures show their economic policies are working. Writing the Guardian, Ed Balls said:
Not only is it two years later than the Chancellor's original plan said, and three years after the US reached the same point, it's also the case that GDP per head won't recover to where it was for around another three years - in other words, a lost decade for living standards. So while David Cameron and George Osborne complacently claim the economy is now fixed, most people are worse off.
– Ed Balls, Labour's Shadow Chancellor
Official figures on the state of the UK economy released today are expected to show gross domestic product (GDP) has recovered to pre-recession levels.
GDP is forecast to have grown 0.8% in the second quarter of the year, maintaining the pace of the first quarter
Growth in the first three months of the year was just 0.6% of its previous peak in early 2008
The IMF has again raised its forecasts for Britain's GDP growth - just a year after warning that the Chancellor was "playing with fire".
Read the full story ›
Advertisement
The UK economy grew by 0.8% during the first quarter of 2014, the Office for National Statistics estimated today.
The economy grew by 0.7% during the final quarter of 2013, unrevised from the preliminary estimate, the Office for National Statistics said today.
The UK's gross domestic profit (GDP) increased by 0.8 per cent in the third quarter of 2013, the ONS has announced.
The figure is unrevised from the previously published estimate.
The growth follows increase of 0.7 per cent in quarter two of 2013.
Alex Salmond says that an independent Scotland would have a lower level of debt as a share of GDP than the whole of UK. This is because GDP would be higher, he added.
Load more updates