George Michael has been discharged from hospital and is resting at home, a spokesperson has confirmed.
A statement read: "In response to newspaper reports today we can confirm George was admitted to hospital on 22nd May. He was discharged last weekend and is well and resting. He is very much looking forward to the release of his new single in July.
"Given the personal nature of this matter there will be no further comment."
A London Ambulance Service spokesman told the Mirror: "We were called just before 8am on May 22.
"We sent two ambulance crews and staff treated one patient, a man, who was then taken to hospital."
Advertisement
George Michael has suffered a series of medical problems since 2011.
The singer, 50, has been out of the spotlight since last year, when he fell out of a car on the M1 motorway and was airlifted to hospital with a head injury.
In 2011 he suffered severe pneumonia which left him temporarily in a coma and meant he needed to undergo a tracheotomy in order to breathe.
He has also battled depression and drug addiction.
Singer George Michael has been rushed to hospital after "suffering a mystery collapse," the Sun newspaper reported.
It said the former Wham! star, 50, was taken to hospital in an ambulance from his home in north London.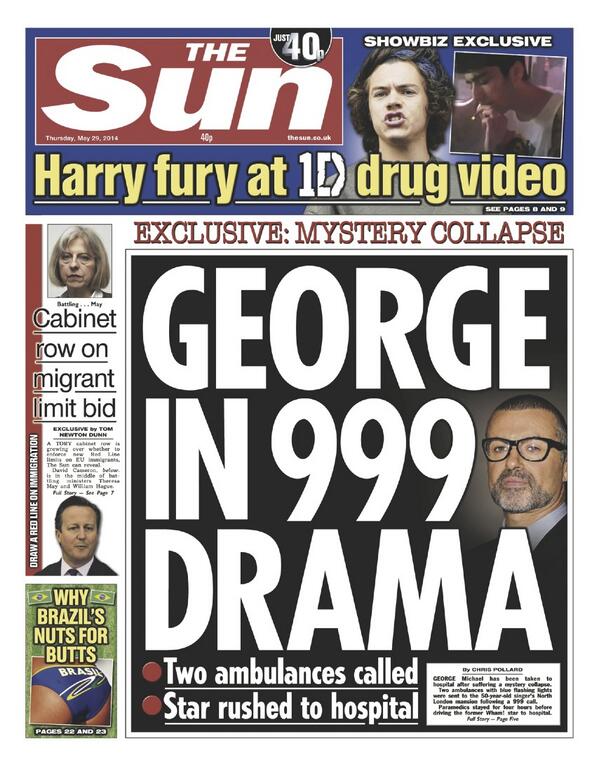 George Michael has announced he will release a new album later this year.
He will release his sixth solo album, Symphonica, which he began recording during his 2011-12 orchestral concert tour of the same name.
The studio album will include highlights from his back catalogue as well as covers of songs, such as Nina Simone's My Baby Just Cares For Me and Ewan MacColl's The First Time Ever I Saw Your Face.
Symphonica will be released on March 17 and one track from the album, Praying For Time, will be available to download for free.
George Michael has been discharged from hospital after he sustained head injuries in a car accident on the M1 on 17 May.
A statement said the singer "continues to rest and recuperate. He is well and thanks everyone for all the messages of support".
Advertisement
Singer George Michael has been airlifted to hospital for treatment to head injuries after a motorway accident.
The 49-year-old was a passenger when the incident occurred on the M1 in Hertforshire. East of England Ambulance Service said:
[He] sustained a head injury and following treatment, stabilisation and immobilisation by land and air ambulance crews, he was flown to hospital for further care
Only one vehicle was involved in the incident, according to the singer's spokeswoman.
George Michael suffered minor injuries last night after he was involved in a rush-hour motorway crash on the M1, according to reports.
The incident reportedly happened at 5.50pm yesterday and one man had to be flown by air ambulance to a special trauma centre in London.
The singer's representative told www.times-series.co.uk: "George Michael was a passenger in a vehicle involved in a traffic accident yesterday evening, no third party was involved.
"He is being treated for superficial cuts and bruises but is fine. We have no further comment at this time."
Following his cameo at the Olympics closing ceremony, George Michael made a healthy return to the stage in Vienna last night after fighting for his life 10 months earlier.
The 49-year-old declared it was "great to be alive" as he resumed his postponed Symphonica tour in Austria, where he spent weeks in hospital battling pneumonia last November.
The singer donated 1,000 tickets to medical staff to thank them for saving his life.
Michael will now play in Paris and Amsterdam, before returning to the UK for gigs in Birmingham, Manchester, Cardiff and London.
Load more updates