The Conservatives will not raise income tax or national insurance if they gain power again in May, Chancellor George Osborne has said.
The pledge comes a week after David Cameron ruled out a rise in VAT at the final Prime Minister's Questions before the general election.
Mr Osborne told The Sun: "You have a very clear commitment from us that we are not going to increase VAT, national insurance or income tax. That is our commitment to working people, that we are there to help them."
In a joint interview by Mr Osborne and David Cameron, the Prime Minister also confirmed that he wanted to keep Osborne as Chancellor if the Tories return to Number 10.
The UK economy grew by 0.6% in the fourth quarter, revised up from a previous estimate of 0.5%, official figures released today show.
The economy grew by 2.8% during 2014, up 0.2% from a previous estimate, the Office for National Statistics said.
GDP was previously estimated to have increased by 2.6% in 2014.
The Chancellor hailed the ONS figures as a "hat trick of good news".
Hat trick of good news just out from ONS: GDP revised up, consumer confidence up, living standards up. #LongTermEconomicPlan working
Advertisement
The Conservative party will not publish details of their planned welfare cuts until after the General Election, Chancellor George Osborne has said.
Mr Osborne said that they would set out how they intend to achieve the planned £12 billion in savings from the welfare budget if they are returned to power after the General Election.
"We will set out our plans as part of a spending review when you can make these balanced judgments," he told Channel 4 News. "We have said in the spending review in the summer."
Work and Pensions Secretary Iain Duncan Smith came under fire at the weekend after he suggested that it was not "relevant" to explain where the cuts would fall if the Conservatives regained power.
However, Mr Osborne insisted they had shown from their record in the last parliament that they had would protect the most vulnerable claimants
The Government has raised a further £500 million from the sale of shares in Lloyds Banking Group, George Osborne has announced.
We have raised a further £500m through Lloyds share sales. £9bn now recovered & being used to pay down our national debt
The size of the stake owned by British taxpayers in Lloyds has fallen below 22%, according to a regulatory filing.
When Lloyds was rescued in 2009 the Government took a 40% percent stake.
George Osborne says he is going to get £12 billion out of the welfare budget in the next parliament, but how? There are two possibilities...
Read the full story ›
A respected think tank has urged George Osborne to explain where the big cuts, pencilled in in yesterday's Budget will fall. The Institute for Fiscal Studies says that should be before the election. The Chancellor merely insisted future cuts would be no worse than those already achieved. Labour claimed he could only balance the books by increasing VAT or cutting NHS spending. An attempt by the Lib Dems to deliver an "alternative budget" ended in farce.
ITV News political correspondent Emily Morgan reports:
Advertisement
The Prime Minister has hit out at the other parties saying they would take Britain "back to square one" - as he arrived in Brussels for a European Union summit.
David Cameron said: "When I first came here as Prime Minister five years ago, Britain and Greece were virtually in the same boat. We had similar-sized budget deficits.
"The reason we are in a different position is we took long-term difficult decisions and we had all of the hard work and effort of the British people. I am determined we do not go backwards.
"Listening to other parties' reactions to yesterday's excellent Budget shows they want to borrow, spend and tax more. I say let us build on the success that we've had and not go back to square one."
The Treasury has outlined plans to strengthen the law on tax evasion following George Osborne's Budget yesterday.
Danny Alexander, the chief secretary to the Treasury, said a new strict liability criminal offence would be introduced so offshore tax evaders "could no longer plead ignorance" in an attempt to avoid prosecution.
"Strict liability will bring an end to the defence of, 'I knew nothing - it was my accountant my Lord,'" Alexander told the Commons.
He said the Government would also enforce a new offence of corporate failure to prevent tax evasion, so no organisation is allowed "to get away with facilitating or abetting others to evade tax".
Anyone who helps tax evaders will also be handed new civil penalties, Mr Alexander announced, meaning those found guilty will be forced to pay fines that matches the sum of the tax dodged.
During his speech in the Commons, Mr Alexander was met with angry heckling from Labour MPs who accused him of abusing his ministerial office by Labour to set out the Liberal Democrats' "alternative Budget".
George Osborne has revealed he almost spilt his coffee when he saw the The Sun's post-Budget front page.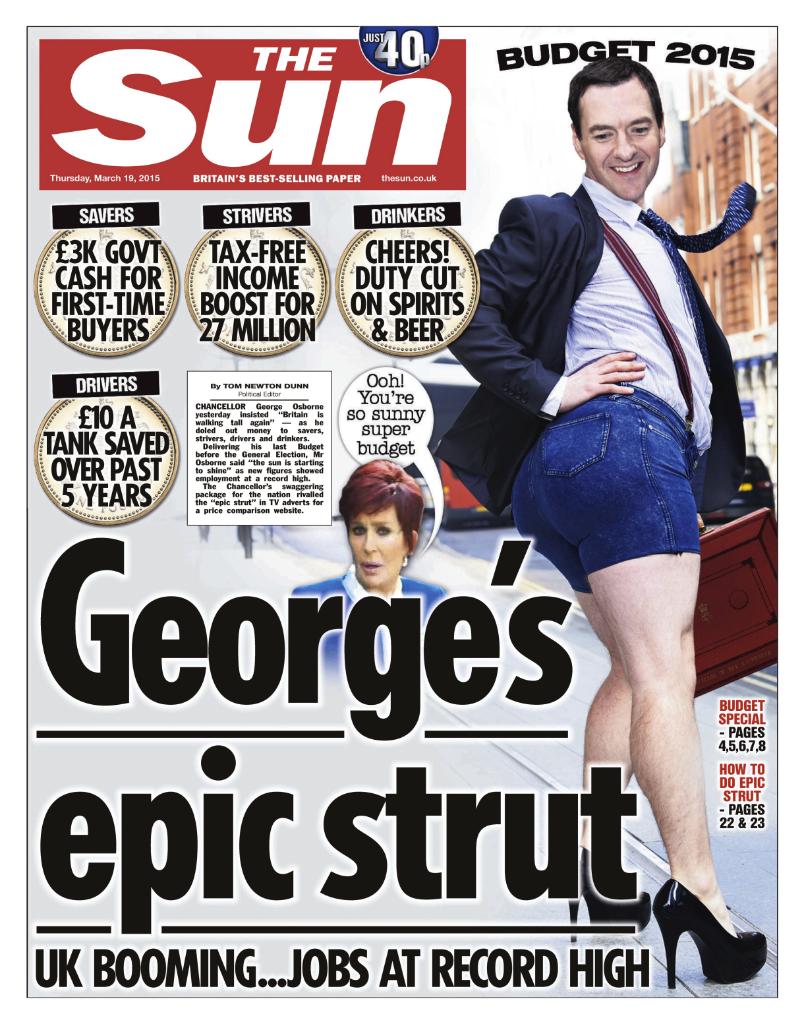 The paper depicted the Chancellor strutting like the "epic" character Dave in the popular TV advert for Money Supermarket, adapting the catchphrase to say: "Ooh, you're so sunny super budget."
Mr Osborne told BBC Breakfast: "I almost spilt my coffee this morning when I read the front page of The Sun.
"What's great is that they have always got a way of bringing life to the Budget and it's the geniuses of The Sun who can come up with that front page."
Labour would not reverse George Osborne's Budget pledges if the party won power in May, Ed Balls has said.
While warning that Mr Osborne's spending cuts was a "pretty scary prospect" for voters, the shadow chancellor said Labour would not scrap measures including the Help to Buy ISA, the £1,000 tax-free savings allowance and the increase in income tax personal allowances to £11,000.
Mr Balls said voters had a big choice at the next election, telling BBC Radio 4's Today programme: "The truth at the election will be, do you want Labour's more balanced, fairer approach to deficit reduction, which focuses on raising wages and being fair, or do you want to go for even deeper spending cuts over the next three years?"
The Chancellor earlier defended his Budget, saying "difficult decisions" needed to be made to ensure vital services like the NHS were protected.
Load more updates