The leader of the GMB union has mocked George Osborne's economic boasts in the Autumn Statement, saying: "If this is success, I would not like to think what failure looks like."
Paul Kenny, general secretary of the GMB union, said: "The so-called prudent Mr Osborne will borrow more in five years at the Treasury than Labour chancellors he labels as profligate did in 13.
"The welcome increase in economic activity is partly linked to population growth as GDP per head is still 3% below 2007 levels.
"The real value of take-home pay for workers is 13% below pre-recession levels while many of the new jobs are precarious and badly paid."
Ed Balls has urged George Osborne to rule out a VAT rise.
The Shadow Chancellor claimed the Conservatives had yet to come up with funds for their planned £7bn tax cuts over the next Parliament, and suggested they might hike VAT to pay for them.
When families are paying £450 more in higher VAT, does he really think people are going to fall for the Prime Minister's latest promise off a £7bn unfunded tax cut in the next Parliament which even the Business Secretary has called 'a fantasy'.

Two months on the Chancellor gave us no details at all of where he's going to get the money from, not a single penny. Is he planning to pay for it with a further rise in VAT? He said at the weekend he had no plans to raise VAT - that's what he said before the last election then he raised it after the general election.
– Ed Balls
Advertisement
Industry leaders have praised George Osborne for listening to the "needs of business" in his Autumn Statement.
By focusing on key business priorities, such as Britain's broken business rates system and the difficulty of accessing finance for growth, the Chancellor has demonstrated that he is committed to solving problems that hinder the growth aspirations of many firms. The Government has listened to our calls to improve conditions for business growth.
– John Longworth, British Chambers of Commerce
The FSB is delighted to see the double small business rate relief remain for another year and a full review of the outdated business rates system - something we've long argued for.

The £400 million released to back the British Business Bank and an extension to the Funding for Lending scheme will provide much needed cash for small businesses.
– John Allan, chairman of the Federation of Small Businesses
Shadow Chancellor Ed Balls took on George Osborne over growth, pointing out that the Office for Budget Responsiblity's predictions have been revised down for 2016, 2017 and 2018.
The figures the Chancellor announced actually reveal that growth has been revised down in 2016 from 2.6% to 2.2%, in 2017 from 2.6% to 2.4% in 2018 from 2.7% to 2.3% - why is growth being revised down year, after year, after year?
– Ed Balls
The Shadow Chancellor, Ed Balls, has hit out at George Osborne over the UK's export performance.
Responding to the Autumn Statement, Mr Balls said:
The weakness of the eurozone cannot explain why, despite the notable successes of a number of our companies our export performance has been so poor and so much worse than other eurozone countries. Since 2010 our export performance has nto only been 16th in the G20, in the EU it's been 22nd out of 28 EU countries - three quarters of EU countries have done better than us.
– Ed Balls
Coming less than six months before an election, it was always likely that George Osborne would include a few voter-friendly measures.
Read the full story ›
Advertisement
There were a limited number of new measures, but it is the headline figures on growth that ministers will really want to shout about.
Read the full story ›
Chancellor George Osborne has announced plans for a total overhaul of the "badly-designed" stamp duty system paid on the purchases of homes.
The reform will mean new marginal rates that the Chancellor says will mean a stamp duty cut for 98% of homebuyers.
No tax on first £125,000 paid
2% on the portion up to £250,000
5% up to £925,000
10% up to £1.5 million
12% on everything over that
"Total welfare spending is now set to be £1 billion a year lower than forecast at the Budget and will go on falling as a share of our GDP," George Osborne said.
The tax-free personal allowance will rise to £10,600, Chancellor George Osborne has announced.
The Treasury tweeted a graphic to mark the ongoing increase: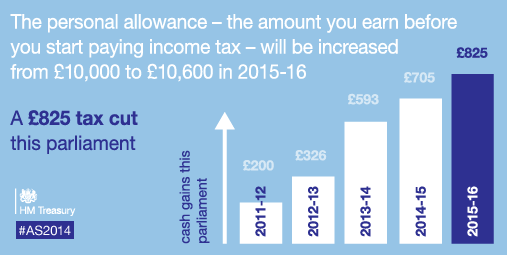 Load more updates