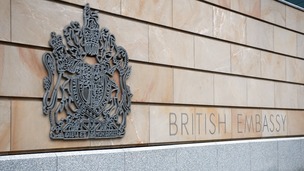 Spying on your friends and allies is a serious charge.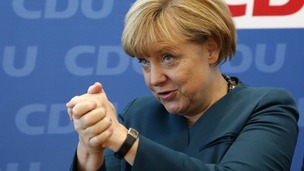 Angela Merkel's Conservative party is just seats short of an absolute majority, but her Liberal coalition partners have been destroyed.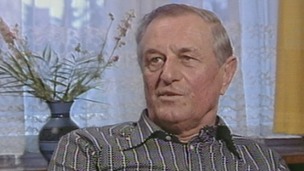 Rochus Misch, who served as Adolf Hitler's bodyguard for most of World War II, has died aged 96 after a short illness.
Live updates
Manchester United players suffered a scare on their arrival in Germany after the plane they were travelling in aborted its landing at the last minute.
The Monarch Airlines airbus dropped to a height of 400 metres as it prepared to land, only for the plane to suddenly take off again leaving a number of passengers shaken.
Read: Man U apologise for Swastika-style logo in fan mail
Although a stewardess initially said there had not been a problem, the captain later came onto the speakers and explained he had been forced to abort the landing because there was another plane on the runway, Press Association Sport understands.
The landing left travellers shaken, with one passenger saying "that was not pleasant" while defender Rio Ferdinand tweeted:
Landed in Germany....just....I've only just recovered after that choppy landing! #TouchedCloth !! #mufc
United's entire first-team squad and coaching staff were on board ahead of tonight's Champions League fixture with Bayer Leverkusen.
Commuters travelling on the Tube yesterday were joined by the stars of the German national team.
Led by manager Joachim Lowe, the entire squad including Per Mertesacker, Mats Hummels and Andre Schurlle took the London Underground to Wembley for training as they prepared for tonight's friendly against England.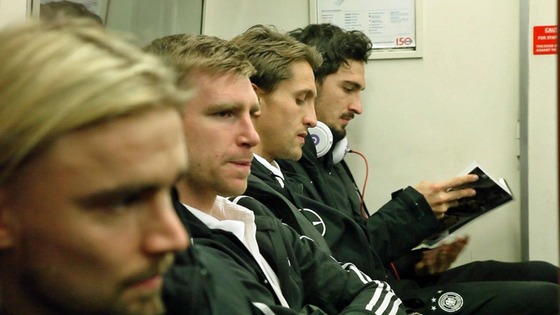 The German football association (DFB) claimed this was the first time the "A-Team" had used the "subway".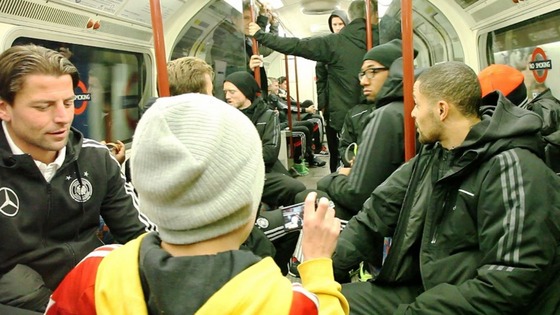 The DFB said the journey was not a publicity stunt, but a way of escaping the congested streets of the capital.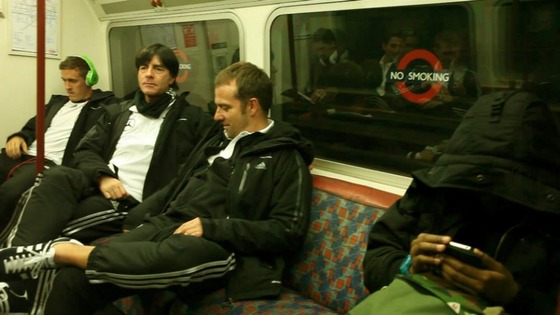 Germany and England are set to face each other tonight at Wembley as both Roy Hodgson and Joachim Lowe begin to assess their respective squads ahead of the World Cup in Brazil next year.
For all the build up to tonight's match and for live coverage of the game, visit ITV Sport
Advertisement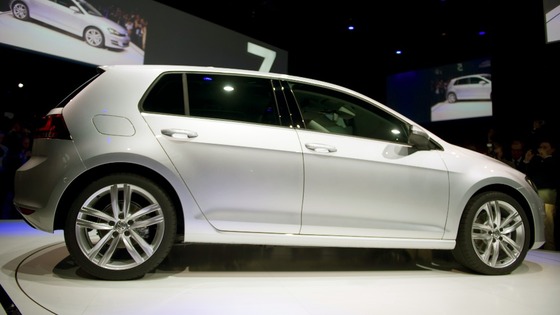 An Italian man has been reunited with his car five weeks after reporting it "swallowed by the Earth" at a famous German beer festival.
The man had driven to Oktoberfest in Munich but could not remember where he had parked his silver VW Golf on October 5th.
He returned to the city three times in attempt to find his vehicle before issuing posters with a reward of €200 (£168) if anyone helped him locate it.
But earlier this week the 44-year-old man, who asked to remain anonymous, was contacted by a reader of a German newspaper who spotted the car after reading a report about the mystery.
"Someone has read the story in your newspaper, saw the car and called me. Thank you so much," he told Abendzeitung Muenchen.
President: Typhoon killed 2,000
As one of the most powerful storms ever recorded killed at least 10,000 people in the central Philippines, German Foreign Minister Guido Westerwelle promised the region quick help after the natural catastrophe.
"We mourn the many many victims, we mourn with the many many families about the victims", he said after returning from the talks in Geneva. "It is self-evident that Germany will be be among those who will try to ease the suffering".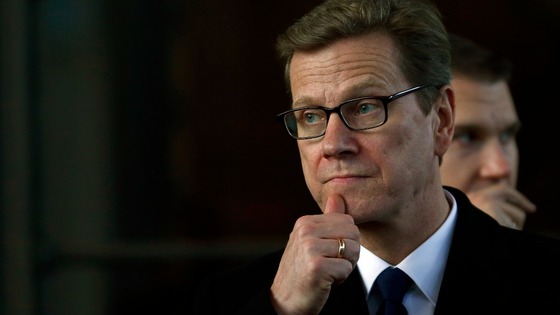 Westerwelle said that Germany will show their support with an immediate help of 500,000 euros and in the longer run to assist technologically.
"A team of the THW (technical support) is on its way. And with the help of the crisis centres in the embassies Germany will decide what else can be done. Because we want the suffering of the people to ease as soon as possible", he said.
A health spa in Germany has apologised for promoting a "romantic Kristall Nacht evening" on the 75th anniversary of Kristallnacht, 'the night of broken glass' when coordinated gangs of Nazis attacked Jewish homes, synagogues and businesses, killing at 91 people.
The Kristall Sauna-Wellnesspark in central Germany, had invited visitors to: "Enjoy the evening in romantic candlelight", adding that the "magical atmosphere" would continue to midnight, The Times of Israel said.
The spa has changed the name to 'the long romantic night' and issued an apology online:
We are extraordinarily regretful and of course this was unintentional - believe us, we are quite ashamed about our mistake.
Remembrance events on November 9 will mark the 75th anniversary of Kristallnacht, named because of all the broken windows of synagogues and Jewish owned buildings.
UK-Germany 'spying' meeting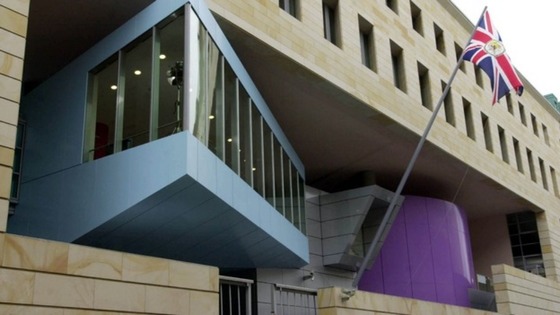 The news Germany's foreign minister met the British ambassador over reports of spying from the British embassy in Berlin has been taken a lot more seriously in the German capital than some people in Britain might imagine.
Reports claim top-secret listening posts were operating in the centre of the city and the Germans really don't know how much or how many conversations 'spies' were able to listen into.
This latest tapping of communications speculation comes just a fortnight after Chancellor Angela Merkel's own phone was tapped into by the Americans.
The Germans would have suspected the UK Government Communications Headquarters (GCHQ) may have been involved in this.
However, reports a European ally, a member of the European Union, Britain, was spying for the Americans effectively right in the heart of the Germany has provoked a furious response from some politicians who want to impose financial sanctions.
By and large the general response is a bit more moderate but it couldn't have come at a worse time for Prime Minister David Cameron.
Advertisement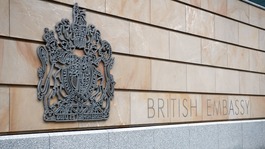 UK-Germany 'spying' meeting
The divided city of Berlin wasa hotbed of spying activity throughout the Cold War, with one famous operation involving atunnel being built by the British and US into Communist East Berlin to enablecommunications cables to be tapped.
Russia's KGB knew about the tunnel thanks to the treachery of George Blake, but did not take action against it in order to protect their mole in British intelligence.
In the 1950s, the US National Security Agency (NSA) used Berlin's highest hill, the Teufelsberg, as a listening station.
The site was frequently used by American soldiers and its five large satellite domes on top of the building, though unused, can still be seen today.
UK-Germany 'spying' meeting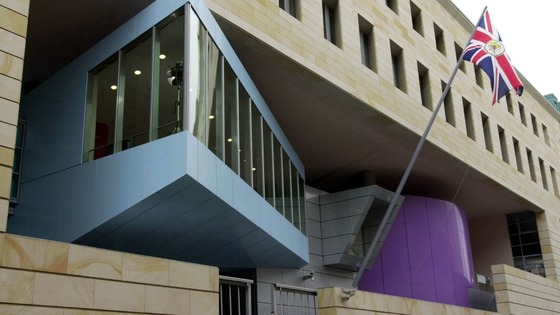 A listening postalleged to have been operating on the roof of the British Embassy in Berlincould have been used to gather economic and political intelligence to benefitthe UK, an expert has suggested.
Spying on "friendly" countries occurs throughout the world as nations attempt to gain an advantage over rivals and there are "big stakes at play", Professor Richard Aldrich said.
Warwick University's professor of international security said the kind of activity allegedly carried out by the British in the heart of Berlin's political district was "pretty universal".
He said: "This stuff is so ubiquitous and we now have documentary evidence to show that Britain regularly runs covert listening stations out of embassies and consulates, as does everybody else."
UK-Germany 'spying' meeting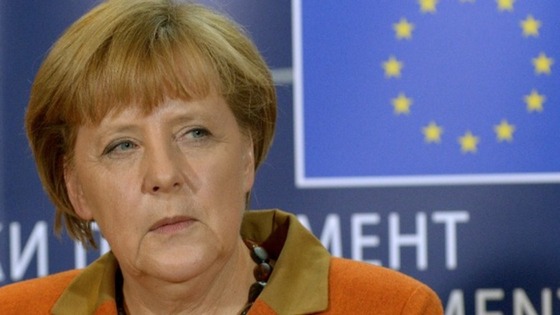 Allegations surrounding National Security Agency (NSA) spying derived from fugitive whistleblower, Edward Snowden, and overshadowed last month's European Council summit.
It led to a joint call from German Chancellor Angela Merkel and French president Francois Hollande for talks with the US authorities to rebuild trust between the nations
At his post-summit press conference, Prime Minister David Cameron refused to be drawn on whether the UK Government Communications Headquarters (GCHQ) was spying on EU allies through its Tempora programme of internet surveillance, saying only that the agency operated within a proper legal framework.
He did emphasise that Britain shared its intelligence extensively with EU partners, and he echoed recent comments by MI5 director-general Andrew Parker condemning the way its efforts were being jeopardised by leaks.
Load more updates
Back to top