Germany's Mezut Ozil has tweeted a picture of himself and his teammates following their return to the country as World Cup winners.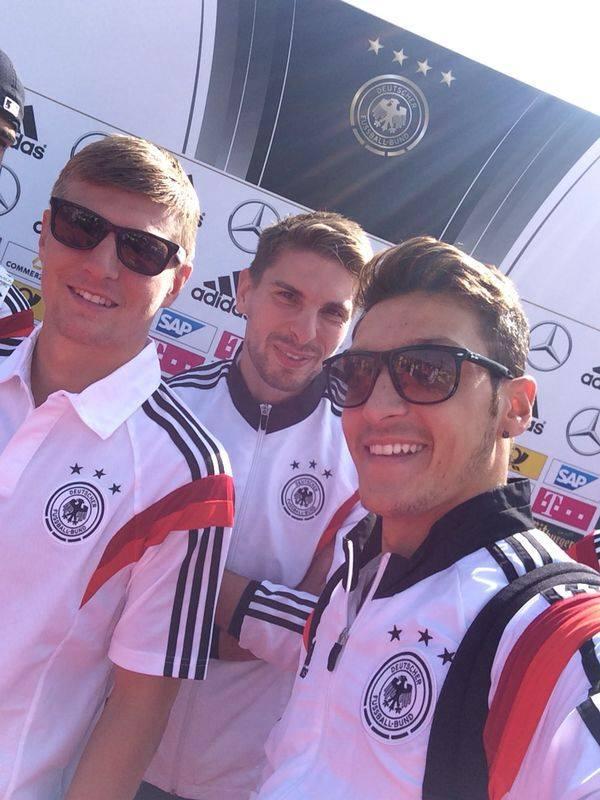 Germany's victorious football team have returned to the country following their World Cup win.
Fans have amassed in their thousands to greet the nation's football team as they return to Berlin with the World Cup trophy.
The victory is the nation's first since the reunification of East and West Germany in the early 1990s.
Advertisement
Germany told the CIA station chief in Berlin to leave the country today in a dramatic display of anger from Chancellor Angela Merkel after officials unearthed two suspected US spies.
The scandal has chilled German relations with Washington to levels not seen since Merkel's predecessor Gerhard Schroder opposed the US invasion of Iraq in 2003.
ITV News Correspondent Lewis Vaughan Jones reports:
The German government has poured scorn on the alleged espionage by the US that prompted a CIA official to be asked to leave Berlin.
Interior Minister Thomas de Maiziere said the information the United States appeared to have obtained was "laughable", contrasting that with the "disproportionate and serious political damage" the scandal had caused.
Chancellor Angela Merkel was "not amused", Finance Minister Wolfgang Schaeuble said, adding: "This is so stupid, it can only make you weep."
Tensions between the longtime allies have risen since revelations last year stemming from documents leaked by Edward Snowden, a contractor with the US National Security Agency.
Those caused Berlin to demand a mutual "no-spy deal", which Washington has resisted.
Chancellor Merkel called US President Barack Obama last year after revelations that the US may have spied on her mobile phone.
State Department Spokeswoman Jen Psaki would not confirm whether the United States continues to spy on its European ally, but said the country's "security and intelligence relationship with Germany is a very important one".
Psaki said: "We have many areas we work together on. We have areas certainly where we may disagree, but the sign of a strong relationship is being able to work through those disagreements or challenges."
Chancellor Merkel had reacted angrily after German officials unearthed two suspected US spies.
Germany has asked a US intelligence official at the embassy in Berlin to leave the country in connection with investigations into American spies, a German government spokesman said.
"The request was made in light of the ongoing investigation by the chief federal prosecutor and questions that have been raised for months about the activities of US intelligence services in Germany," Steffen Seibert said in a statement.
"Spying on allies is a waste of energy," German Chancellor Angela Merkel said when asked about the two suspected spy cases.
"We have so many problems, we should focus on the important things," Merkel said, adding that priorities should include "dealing with challenges in Syria and fighting terrorists".
Advertisement
Argentina's coach Alejandro Sabella believes Germany will have the advantage in the World Cup final.
Speaking after his team knocked the Netherlands out of the tournament 4-2 on penalties, Sabella said the fact Germany has a extra day's rest while his players faced extra time and a gruelling penalty shootout could be "crucial".
"Some of our players are sore, beaten, tired - the results of a war so to speak," he told reporters.
The match is extremely difficult ... Germany is always a difficult hurdle to overcome", Sabella added.
Social media users quickly made light of Brazil's turmoil as they were knocked out of the World Cup by Germany in a crushing defeat.
Read the full story ›
It took 22 firefighters to rescue an American exchange student from a giant vagina sculpture at a university in Germany.
Read the full story ›
Load more updates