A silent vigil has been held by neighbours, friends and family members of Karen Buckley close to where the Irish student lived.
Residents of the Garnethill area of Glasgow gathered to remember the 24-year-old, whose body was found at a farm north of the city four days after she went missing on a night out.
Approximately 120 people attended the vigil, lighting 1,000 small candles in the shape of a Celtic symbol.
Organiser Jane Sutherland said the whole community was still reeling from the death.
It's a wee close-knit community up here, although it's quite a transient population with the students, it's a small community and the news of this young girl going out on a Saturday night and then never coming back is just unbearably sad.

This is just a moment for the neighbourhood to come together. Since she went missing nobody has talked of anything else.

Words fail me - that's why we wanted to do a wee silent candlelit vigil - 1,000 points of light for the one point of light that went out.
– Jane Suthwer
Around 300 people attended a vigil in George Square in Glasgow in memory of student nurse Karen Buckley who was found dead on a farm in the city after a four-day search.
Family, friends and colleagues of the 24-year-old joined hundreds of mourners at the event.
Advertisement
Friends, family and even some who never knew her have gathered in Glasgow to remember nurse Karen Buckley.
A 21-year-old man has appeared in court charged with her murder.
ITV News Scotland correspondent Debi Edward reports.
Karen Buckley's parents, John and Marian, have arrived at a vigil which is being held in memory of the nurse.
The 24-year-old student's body was discovered by police after she disappeared in the early hours of Sunday morning.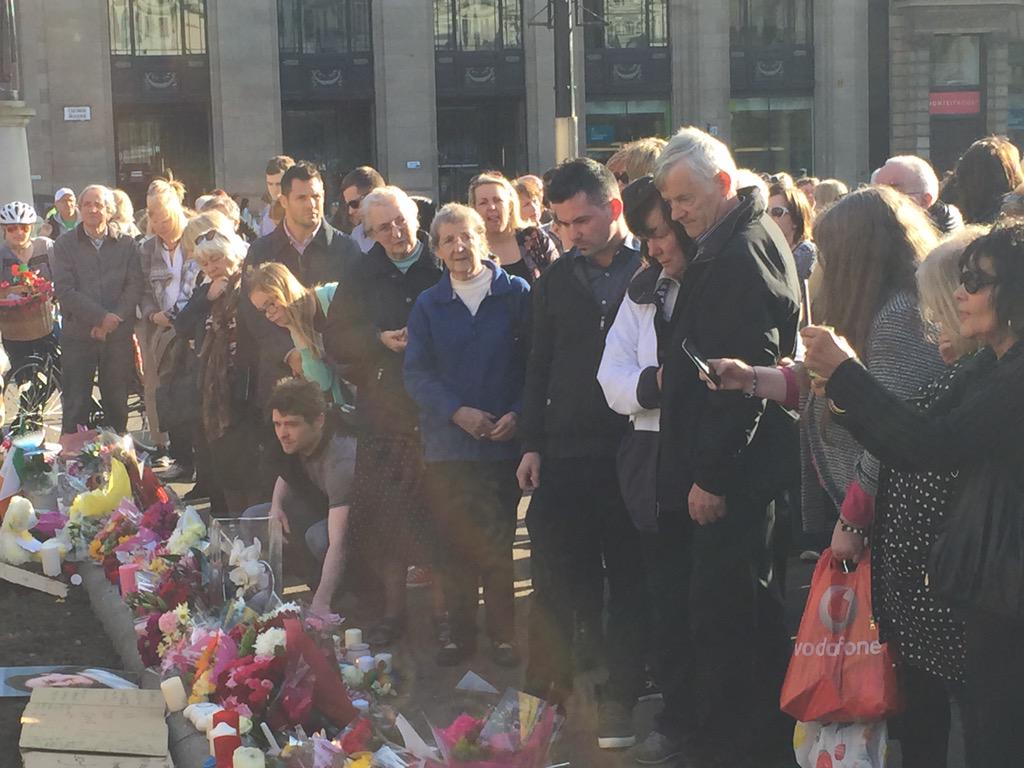 The vigil was organised online and is being held in the area of Glasgow where she lived, flowers have already been laid as mourners and well-wishers gathered this evening.
A vigil is to be held to show support for family and friends of student Karen Buckley in Glasgow.
People are being encouraged to bring flowers and candles to the event in George Square in Glasgow city centre at 5pm.
The vigil is being organised by former Scottish Socialist politician Rosie Kane.
Writing on Facebook Ms Kane said: "If folk can come to George Square tomorrow at 5pm we could embrace each other in Karen's honour and hope that those hurt by loss and fear and trauma will know we care."
Miss Buckley, who was from Cork in Ireland, had been missing since Sunday and her body was found on Thursday on farmland on the outskirts of Glasgow.
A 21-year-old man will appear at Glasgow Sheriff Court later after being arrested in connection with the death of the 24-year-old.
Three women were arrested at a Valentine's Day screening of Fifty Shades Of Grey after becoming "too rowdy".
Read the full story ›
Advertisement
A teenager who posted offensive comments on Twitter about the Glasgow bin lorry crash which killed six people has been let off with a caution.
Ross Loraine, 19, from Sunderland, was arrested after a number of people complained about his tweet just hours after the tragedy on December 22.
Northumbria Police said he had been arrested on suspicion of making a malicious communication after he handed himself in following the outcry.
A police spokesman said: "A 19-year-old man has been given a caution for making a malicious communication."
Hundreds of people have gathered at a Glasgow church today for the funeral of a primary school teacher killed in the bin lorry crash tragedy
Read the full story ›
A teenager who was injured in the Glasgow bin lorry crash has described how she was thrown several feet after being hit by the heavy truck.
Danielle Dawson, 13, recalled hearing a scream and said after that she "could just see green" as the vehicle came towards her.
Miss Dawson told the Sunday Mail she had met friends Alix Stewart, 14, and Irene McAuley, 18, near the statue of Duke of Wellington in nearby Royal Exchange Square.
I heard a scream and just turned and looked over my shoulder. I was standing closest to the gallery. Irene was in the middle and Alix was on the outside by the pavement.

The lorry was right there. I could just see green. I was thrown three or four metres.
– Danielle Dawson
In total, six people were killed and 10 more injured after the lorry lost control in the city's Queen Street and George Square almost two weeks ago.
Mourners gathered at St Patrick's RC Church in Dumbarton today to pay their final respects to three members of the same family who were killed when a bin lorry crashed into Glasgow shoppers three days before Christmas.
During the service Archbishop Tartaglia described the deaths of Erin McQuade, 18, and her grandparents Jack Sweeney, 68 and Lorraine Sweeney, 69, as "cruel and meaningless."
ITV News' Scotland correspondent Debbie Edward reports:
Load more updates