Residents in Renfrew near Glasgow are being advised to keep their windows closed as firefighters tackle a major blaze at an industrial recycling establishment.
A spokesperson for the Scottish Fire and Rescue Service said: "Firefighters are currently tackling the blaze using a number of main water jets, including one from a specialist height vehicle.
"Residents in the area are advised to keep their windows closed due to the large plume of smoke. "
A huge fire is under way at an old scrapyard near Glasgow with flames 40-50ft high.
Advertisement
With two weeks to go until the start of the Games in Glasgow, a cast from all over Scotland prepares for the opening ceremony.
Read the full story ›
Former Manchester United manager Sir Alex Ferguson has returned to hometown of Glasgow to visit Southern General Hospital in his role as Unicef ambassador.
The retired Manchester United manager met new mother Rebecca Young and her twin boys Elliot and Sandy, along with nurses at the hospital to see how Unicef supports new families.
"As a father and grandfather, I value strong family relationships. Seeing this level of expertise at this hospital emphasises to me how important it is for mothers to have the vital support they need to help nurture their children and give them the best start in life," Sir Alex said.
The 72-year-old also met Kimberley Black, who has spent the last week in the hospital's neonatal unit with her 12-day-old son Jason.
The charity is working with the Glasgow 2014 Commonwealth Games to promote its baby-friendly initiative 'Put Children First', which aims to improve health and reduce disease, poverty and exploitation among children.
A salvage operation has continued through the night to "save everything that can be saved" from a fire at Glasgow School of Art's Charles Rennie Mackintosh building.
Flames engulfted a world-famous art school building yesterday as students worked to complete their end-of-year assessments.
Firefighters who were at the scene within four minutes of receiving the first emergency call brought the blaze under control and said more than 90% of the structure was "viable".
Part of one of Europe's leading art schools, the listed Mackintosh-designed building is a tourist attraction in its own right and at over a hundred years old is one of Scotland's most "iconic" structures.
We are of course very conscious the Mackintosh is a world renowned building that is a key feature of this great city, and that the artworks it stores are not only valuable but also cherished.
– Fire brigade assistant chief officer Dave Boyle
Fire crews tackling a major blaze at a world-famous art school said they have prevented the destruction of the building's structure and the majority of its contents.
Flames engulfed Glasgow School of Art's Charles Rennie Mackintosh building at around 12.30pm, with firefighters battling all day to save one of Scotland's most famous structures.
The blaze has now been brought under control after what has been described as a "very black day" for the institution.
Advertisement
Celebrities in Scotland have expressed their sadness after fire ripped through the Glasgow School of Art.
Singer Lily Allen who is currently on tour in Scotland, Scottish actor Colin McCredie, who played DC Stuart Fraser in detective drama Taggart and Edinburgh-based crime writer Ian Rankin all tweeted about the fire:
Oh no! This Glasgow School Of Art fire is devastating.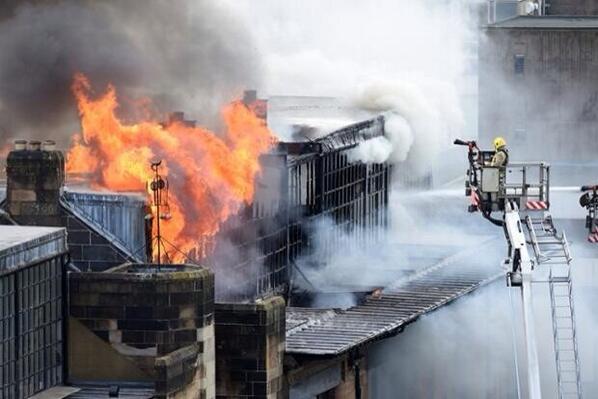 Just heard about devastating fire at Glasgow School of Art - one of Scotland's most iconic buildings. Sad sad news.
Fire crews have blasted the flames with a water jet while flames could be seen through the scorched windows and billowing out of the roof of Glasgow School of Art's (GSA) Charles Rennie Mackintosh building.
The Scottish Fire and Rescue Service have sent several appliances from Cowcaddens, Yorkhill and Maryhill fire stations to the fire at the famous sandstone building.
Footage has emerged of a blaze at the Glasgow School of Art where firefighters continue to battle with the fire.
Load more updates