A bin lorry reached speeds of up to 40mph as it careered into pedestrians in Glasgow city centre last December, an inquiry has heard.
Waste collector Matthew Telford, who was in the backseat of the lorry when it crashed, told the hearing the truck was initially travelling at around 10mph before accelerating.
ITV News Scotland Correspondent Debi Edward said Mr Telford explained how the truck went "fast then slow and then fast again" during the incident in which six pedestrians were killed.
Mr Telford estimates the truck reached 30/40mph after starting at around 10mph #binlorry
Asked to indicate speed Mr Telford says: "it went fast then slow and then fast again." #binlorry
Advertisement
A video showing the moment a bin lorry crashed in Glasgow, killing six people, has been shown at an inquiry into the accident.
ITV News Scotland Correspondent Debi Edward said the video was "too awful" to describe, but revealed how many bystanders rushed to help those hit.
Video was too awful a scene to describe but you could see just how many people ran to help those struck #binlorry
The families of those killed left the court for the showing of the video, our correspondent adds.
The families of those killed and injured in the bin lorry crash have not come in to court for the showing of this video. #binlorry
An inquiry into a bin lorry crash which killed six people days before Christmas has begun.
Read the full story ›
Three people have managed to escape serious injury after the car they were travelling in burst into flames on a motorway.
Read the full story ›
A silent vigil has been held by neighbours, friends and family members of Karen Buckley close to where the Irish student lived.
Residents of the Garnethill area of Glasgow gathered to remember the 24-year-old, whose body was found at a farm north of the city four days after she went missing on a night out.
Approximately 120 people attended the vigil, lighting 1,000 small candles in the shape of a Celtic symbol.
Organiser Jane Sutherland said the whole community was still reeling from the death.
It's a wee close-knit community up here, although it's quite a transient population with the students, it's a small community and the news of this young girl going out on a Saturday night and then never coming back is just unbearably sad.

This is just a moment for the neighbourhood to come together. Since she went missing nobody has talked of anything else.

Words fail me - that's why we wanted to do a wee silent candlelit vigil - 1,000 points of light for the one point of light that went out.
– Jane Suthwer
Advertisement
Around 300 people attended a vigil in George Square in Glasgow in memory of student nurse Karen Buckley who was found dead on a farm in the city after a four-day search.
Family, friends and colleagues of the 24-year-old joined hundreds of mourners at the event.
Friends, family and even some who never knew her have gathered in Glasgow to remember nurse Karen Buckley.
A 21-year-old man has appeared in court charged with her murder.
ITV News Scotland correspondent Debi Edward reports.
Karen Buckley's parents, John and Marian, have arrived at a vigil which is being held in memory of the nurse.
The 24-year-old student's body was discovered by police after she disappeared in the early hours of Sunday morning.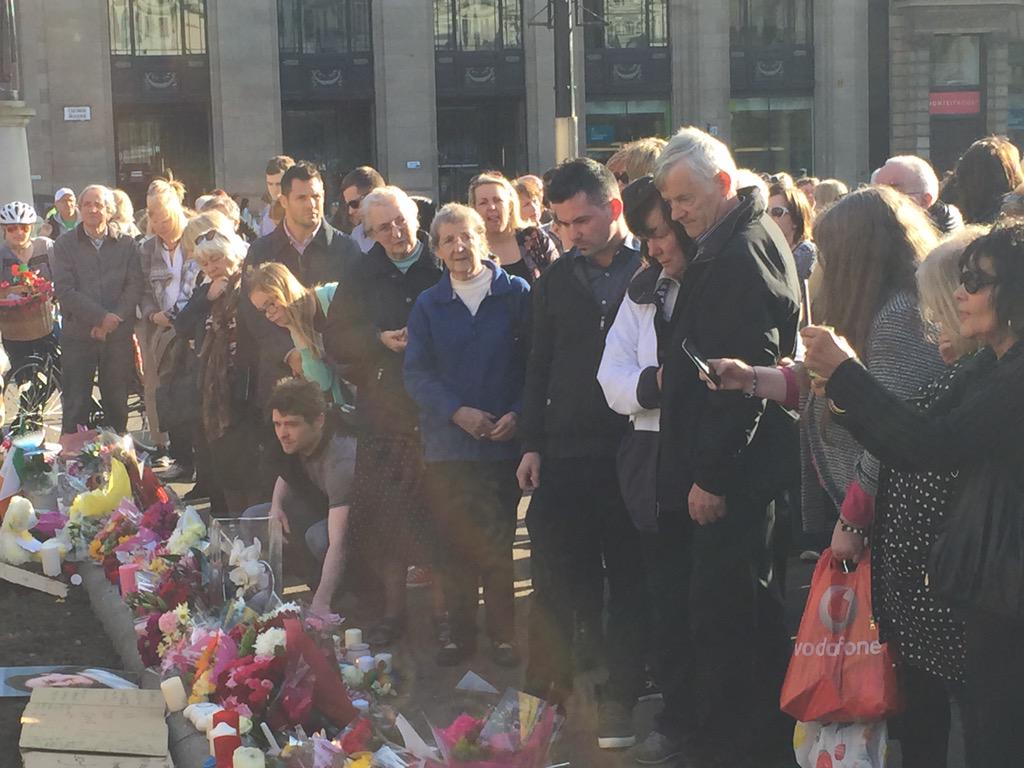 The vigil was organised online and is being held in the area of Glasgow where she lived, flowers have already been laid as mourners and well-wishers gathered this evening.
A vigil is to be held to show support for family and friends of student Karen Buckley in Glasgow.
People are being encouraged to bring flowers and candles to the event in George Square in Glasgow city centre at 5pm.
The vigil is being organised by former Scottish Socialist politician Rosie Kane.
Writing on Facebook Ms Kane said: "If folk can come to George Square tomorrow at 5pm we could embrace each other in Karen's honour and hope that those hurt by loss and fear and trauma will know we care."
Miss Buckley, who was from Cork in Ireland, had been missing since Sunday and her body was found on Thursday on farmland on the outskirts of Glasgow.
A 21-year-old man will appear at Glasgow Sheriff Court later after being arrested in connection with the death of the 24-year-old.
Load more updates